Trail Blazers' Thomas Robinson cited for going 107 mph
Portland forward Thomas Robinson was pulled over on Friday for going a ludicrous speed in his Porsche.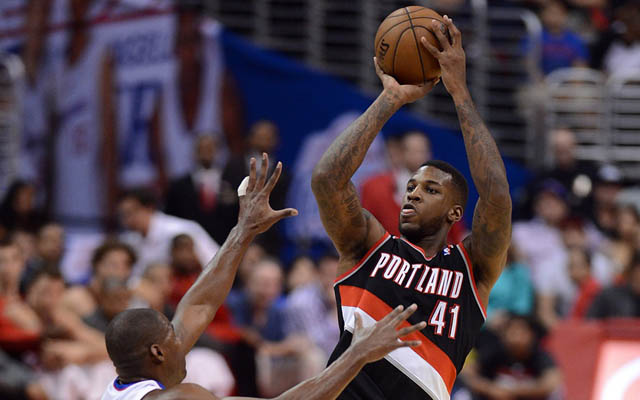 Portland Trail Blazers forward Thomas Robinson was cited by Portland police over the weekend for driving 107 miles per hour. From the Oregonian: 
An officer "observed a white 2013 Porsche Panamera traveling at a high rate of speed on the freeway," said Sgt. Pete Simpson, Portland Police Bureau, in an email. "The officer's LIDAR would clock the vehicle at 107 MPH in a 55 MPH zone."

Robinson was cited for violation of the Basic Rule (100 MPH +), which carries a fine of $1,150, Simpson said.

Robinson was polite and cooperative during the encounter, Simpson said.

On Sunday morning, Robinson tweeted the following: "Apologies for that speeding ticket rip city gotta be more careful with watching the speed limit my first and last one tho for sure"
via Portland Trail Blazers' Thomas Robinson cited for driving 107 mph on Interstate 5 | OregonLive.com.
Hey, at least it wasn't 107 in a school zone or something. I do like how Robinson says "gotta be more careful with watching the speed limit." Makes sense. He just thought he was in a 110 miles per hour zone. Happens to me all the time. 
The former Jayhawk has had a tumultous year. After being drafted fifth overall in the 2012 draft, Robinson was unable to get floor time and was traded twice within a calendar year. He's hoping that Portland allows him to get a (/shades) fast start to get his career back on the road. 
Show Comments
Hide Comments
The Spurs have homecourt advantage, and will host Game 1 Monday night at 9:30 p.m. ET

All-Star guard flew to Washington after Game 6 vs. Bulls to attend his sister's funeral Sa...

Some love for the Rockets over the Spurs, and at least one expert says the Cavs are going...
Ball is expected to be one of the top picks in the NBA Draft later this summer

The Bulls guard fielded questions about his future during exit interviews on Saturday

The two teammates were still up playing at 4 a.m.