Barry Trotz opens himself up to criticism following Game 4 loss
The Predators were shut out in Game 4 on Friday night, and that is going to leave Barry Trotz open to criticism for benching Alexander Radulov and Andrei Kostitsyn.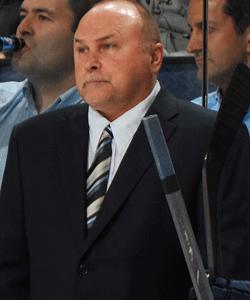 The Nashville
Predators
lost to the Phoenix
Coyotes
on Friday, 1-0, and will be facing elimination on Monday night when the series shifts back to the desert.
And a lot of that has to fall on Predators head coach Barry Trotz.
Friday's game was one where they certainly could have used a couple of gifted offensive playmakers like
Alexander Radulov
and
Andrei Kostitsyn
. Neither one was in the lineup, of course, as they were both benched for a second consecutive game for violating team rules (staying out too late) before Game 2 in Phoenix.
It's a decision that has received a wide range of reactions across the hockey community.
Some have celebrated the decision for being gutsy, bold and sending some sort of message to the team. Others have criticized it for taking two top offensive threats out of the lineup at a critical moment in the series. I think there's a pretty easy way to settle the debate: In the two games the Predators have played without Radulov and Kostitsyn they have scored a total of two goals. Both coming in Game 3, and both came less than two minutes apart (and one of them came after a brutal giveaway by Phoenix goalie
Mike Smith
, leaving
David Legwand
with an empty net to shoot at).
Other than that? They've been blanked. But at least they sent a message, right?
I understand why the Predators did what they did. Rules were violated, punishments had to be handed out, and it would be unfair to the other players to look the other way for star players (even though this always happens in sports).
You know what else is unfair to the other players on the team? Putting an inferior product on the ice when you're down in a playoff series, helping to push a team that some around the league think has Stanley Cup potential to the brink of elimination. Doing it for one game is at least understandable. I don't necessarily agree with it, but I can understand it. But the fact the Predators were able to squeek out a win in Game 3 gave them an excuse to do it again.
The old, "it ain't broke, don't fix it" mindset. The problem is that it was broken. It's still broken.
Radulov was
grilled following his Game 2 performance
(even before we knew about his late-night exploits prior to the game) but he was still one of Nashville's best and most dangerous players in the series. No player on the roster generated more chances or helped to drive the play into the offensive zone over the first two games more than him. Taking him out of the lineup (along with Kostitsyn) has been a crushing blow to the offense. Especially on a night where one shot or one chance could have been the difference between a 2-2 series heading back to Phoenix, and the 3-1 series we now have.
Friday's loss also featured a questionable in-game decision by the Nashville coaching staff near the end of the third period. With less than 50 seconds to play, and following a timeout, the Predators were set for an offensive zone faceoff to the right of Smith. This was one of the biggest draws of the season to this point, and should have led to their best faceoff man being in the circle. That would be
Paul Gaustad
, who also happens to be one of the best faceoff men in the entire league. The Predators felt so highly of his abilities at the trade deadline that they were willing to give up a first-round pick to acquire him from the Buffalo
Sabres
.
Instead of using him to gain possession off the draw, the Predators went with Legwand, a player that won just 46 percent of his draws during the regular season and was one of the worst faceoff options on the team. Predictably, Legwand lost the draw, Phoenix was able to get the puck out of the zone and Nashville was offside on its attempt to re-enter. An offensive zone opportunity was wasted.
Trotz is the only coach the Predators organization has ever known, and he's done a wonderful job during his tenure.
But this series has not been his finest moment behind the Nashville bench.
Photo: Getty ImagesFor more hockey news, rumors and analysis, follow @EyeOnHockey and @agretz on Twitter and like us on Facebook.
Pittsburgh also has been linked to Matt Duchene and could be in the mix for Tyler Bozak

Nashville extends its 24-year-old restricted free agent with what could be bargain numbers

Calgary forward is all for playing for the Flames, but he also likes the idea of going to...
Plans for renovating KeyArena are now also being overseen by NHL-to-Seattle hopefuls

With Leslie Anderson selling the Rockets, there is newfound hope for hockey in Houston

Pittsburgh Penguins' repeat Conn Smythe Trophy winner has more than hockey on his athletic...