Leafs CEO doesn't see second team in Toronto, still envisioning parade
Maple Leaf Sports and Entertainment CEO Tim Leiweke doesn't see a second team coming to Toronto; Seattle and Quebec city are first. And that parade talk won't stop.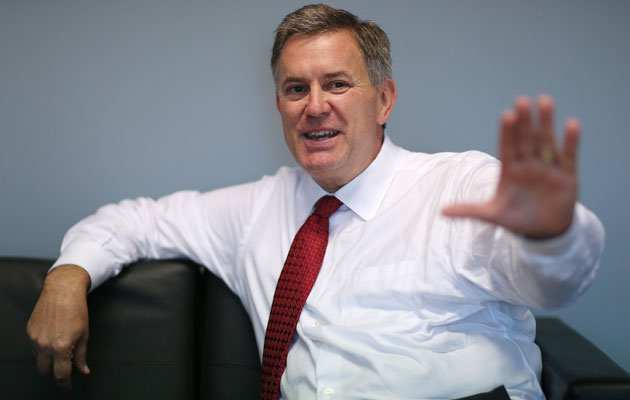 More NHL: Scores | Standings | League Leaders | Odds | Injuries | Power Rankings
Toronto Maple Leafs (and Raptors and Toronto FC) CEO Tim Leiweke is a well-connected man in the sports business world. He moved to Toronto this summer after overseeing operations in Los Angeles, helping the Kings to win a Stanley Cup as well as championships for the LA Galaxy and the Lakers. He's been around in some big markets and knows a thing or two.
So when on Tuesday he had a state of the Maple Leaf Sports and Entertainment union of sorts where he talked about the three properts that make up MLSE and their sports overall, people listened.
While Leiweke saying the MLS team is in complete disarray and that Toronto Mayor Rob Ford is like Tommy Boy are interesting, this here is a hockey blog and Leiweke had some interesting hockey things to say too.
Specifically, there has been some hope in the Greater Toronto Area that a second arena in the works for nearby Markham would bring a second NHL team to the market that could probably support four teams. However Leiweke says that's not going to happen anytime soon.
Leiweke said no second team for Toronto any time soon. Said Seattle, Quebec have to happen first, then Vegas, Kansas City are possibilities.

— David Shoalts (@dshoalts) October 29, 2013
Leiweke said NHL has to get into Seattle when its arena built. Also said "we need to give Quebec another shot."

— David Shoalts (@dshoalts) October 29, 2013
First, the qualifier: Leiweke isn't speaking truths or revealing trade secrets here, he's merely giving his opinion on the matter. Surely a well-founded opinion.
Regardless, this would be approximately clue No. 947 that Seattle and Quebec City are the most likely desitinations for the NHL's inevitable expansion in a matter of years (debate whether it should happen all you want but in the current alignment 32 teams works a heck of a lot better than 30). Quebec is in the process of building an arena while they have the plans, they just need the teams to start in Seattle.
As far as Toronto goes, there's no denying that a second team could inhabit the area and thrive. There is more than enough demand in Toronto as it is for the Leafs. But you can imagine that Leiweke and MLSE wouldn't be keen on another team in the market, that would take away some from their massive hold of hockey's biggest market.
Oh, and by the way, Leiweke still isn't backing off the planning the parade talk for the Leafs. He's bold, you have to give him that.
Show Comments
Hide Comments
Ottawa's defense came up big in Game 1 to beat New York, and the Penguins beat the Capitals...

Series schedules, results and updates from the second round of the Stanley Cup race

Subban had three points in Nashville's 4-3 win over St. Louis in Game 1, while Edmonton dropped...
Washington and Pittsburgh figure to go neck and neck, as do Anaheim and Edmonton

Cassidy went 18-8-1 after replacing Claude Julien in 2016-17

With the playoff field cut in half, the stakes keep getting raised