NHL rumors: Martin Brodeur would not be surprised if Devils traded him
Martin Broduer not with the Devils is unthinkable, but not to Broduer. He said he wouldn't be stunned if they tried to trade him away.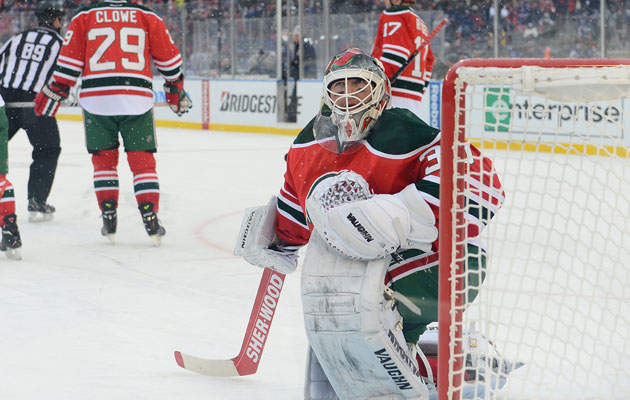 More NHL: Scores | Standings | League Leaders | Odds | Injuries | Power Rankings
Even before Martin Brodeur gave up six goals in two periods at Yankee Stadium on Sunday, it had started to become plainly obvious (if it wasn't before the season already) that Cory Schneider was the better option for the Devils in net. Their numbers this season aren't really even comparable, Schneider has been that much better.
Although Brodeur has more starts this season, Schneider has nearly equalled him in that department with seven starts in the last 10 games for New Jersey and it doesn't look like that trend is going to change.
That brings us to the unthinkable: would the Devils consider trading Brodeur to give the job completely to Schneider? While nobody has really suggested this -- because the idea of the Devils trading Brodeur just seems absolutely crazy -- Brodeur has thought about it and says it wouldn't surprise him if it happened. Really.
Rich Chere of the Newark Star-Ledger spoke with Brodeur and specifically here's what he had to say about the possibilities.
"It's within the team's rights to try and make themselves better. The fact is, I have the luxury to decide what I want to do. I hope if he [Lamoriello] is able to help the team, he'll ask, regardless of what it is. It's definitely something that is possible."

Brodeur said he would not be insulted if he is asked to accept a trade. In fact, it might be attractive if he gets a chance to play more often. Schneider's start against the St. Louis Blues Tuesday night at Scottrade Center will be his seventh in 10 games.

"I don't know how I'd feel. I don't know where I'm at with that," Brodeur said with honesty. "I don't know what I'd think if it were to happen. I definitely would like to play more, so if there is a chance somewhere...

"But I'm not looking for that. I want to make sure this team gets on a playoff run. We'll see what happens, but stranger things have happened."
Even with Brodeur's struggles, it's still tough to imagine a world where GM Lou Lamoriello would trade Brodeur away. If nothing else, you could be in worse positions than to have the sport's most decorated goaltender ever as your backup. Schneider won't start every game the rest of the season.
That also does'nt mention that it's fair to wonder how much trade interest Brodeur could garner even if he were available. At this point he is holding a save percentage below .900 and is at the not-so magical age of 41 (42 in May), which can't be that appealing to teams, especially ones in the hunt as Brodeur suggests. Remember, he does have a no-trade clause.
It's probably not something that will have to come up at all and Brodeur is going to have to learn how to take a backseat for pretty much the first time in his great career, but if push comes to shove, it's interesting to know Brodeur isn't against moving. That doesn't mean he wants to leave New Jersey but clearly he wants to play. Though at this point I have to say it would be a shame if Brodeur finished his career anywhere but New Jersey.
Show Comments
Hide Comments
Series schedules, results and updates from the second round of the Stanley Cup race

Subban had three points in Nashville's 4-3 win over St. Louis in Game 1, while Edmonton dropped...

Washington and Pittsburgh figure to go neck and neck, as do Anaheim and Edmonton
Cassidy went 18-8-1 after replacing Claude Julien in 2016-17

With the playoff field cut in half, the stakes keep getting raised

Green has led Vancouver's AHL affiliate since 2013