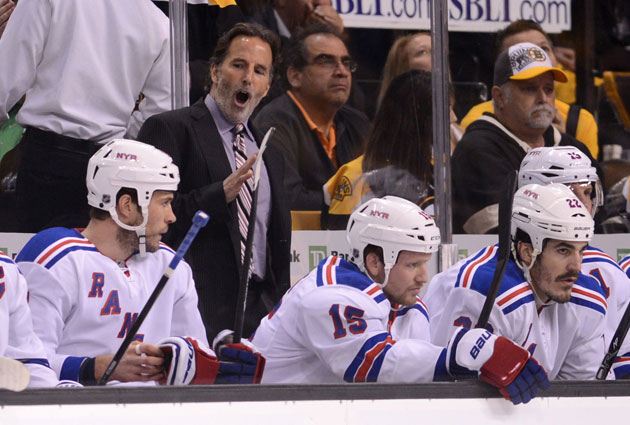 More NHL Playoffs: Scores | TV Schedule | Expert Picks | Odds | Mock Draft | Rumors
When asked what the reason why John Tortorella was fired as coach of the New York Rangers, GM Glen Sather didn't say much other than to say there wasn't any one particular thing. That's because he couldn't say the players told him to.
If there is any truth to the abundance of rumors circulating the day after the gruff coach was given the boot on Broadway, that seems to be what most precipitated the decision. One of those rumors/reports comes from Larry Brooks of the New York Post, saying things changed dramatically when Sather had his exit interviews with the players.
The Rangers players had had enough of the coach and they said so during their exit meetings on Monday. Sources have confirmed Sather had no intention of dismissing Tortorella in the wake of the team's second-round elimination by the Bruins until a critical mass of players informed the GM that the coach's overbearing personality had become a roadblock to success.

When Henrik Lundqvist told the press Monday he would need time to think about committing his future to the Rangers, that was the tip of the iceberg. The franchise goaltender did not sing an executioner's song, but we've learned that he was troubled enough by what had become a deteriorating dynamic between the coach and his teammates that he believed it was necessary to give voice to it.

We're told that though there were no ultimatums issued by the players, the overwhelming sentiment was that Tortorella had become the problem rather than the solution for the Rangers, who are now going on 20 years and 19 seasons since their last Stanley Cup in 1994.
Before you go thinking that this is just coming from some kind of ax that Brooks has to grind with Tortorella, two guys who had some verbal sparring matches over the years, it was pretty much echoed by Pat Leonard of New York's Daily News. Not to mention Elliotte Friedman of Hockey Night in Canada tweeted very soon after the firing that Lundqvist's comments "changed everything."
There is plenty of smoke to see the fire here.
Everybody sees the Tortorella in the media who is occasionally pleasant but most often surly and blunt. He apparently is pretty much the same guy behind the closed doors because the act definitely seems to have worn thin. Sather referred to coaches all having "shelf lives" in his comments on Wednesday, and that's certainly true for a guy like Tortorella, who is so demanding and rough around the edges. That eventually can get tiresome for the players.
Just to add a little more credence to the idea of Tortorella not being every player's favorite coach, here is a sampling of a few of his former players' thoughts after he was fired. That would be Marian Gaborik, who was treated like a scapegoat under Tortorella until he was traded to Columbus, and Matthew Barnaby, who played for him with Tampa Bay.
Everything happens for a reason...

— Marian Gaborik (@MGaborik10) May 29, 2013
Torts is awful to play for. A good guy away from the rink but NO fun at all to be around. Very smart hockey guy but I played for him and ugh

— Matthew Barnaby (@MattBarnaby3636) May 29, 2013
The players' pushing for Tortorella's exit would seem to obviously be more than just the tip of the iceberg here, but it is also a move that probably isn't made if the Rangers had found a little more success. But when you have a near mutiny on your hands, you have little choice if you're Sather than to make Tortorella walk the plank.