Toledo WR: Gators 'don't go as hard' in second half, can be worn down
All-MAC wideout Bernard Reedy may have raised a few eyebrows in Gainesville when he suggested Florida tires out in the second half.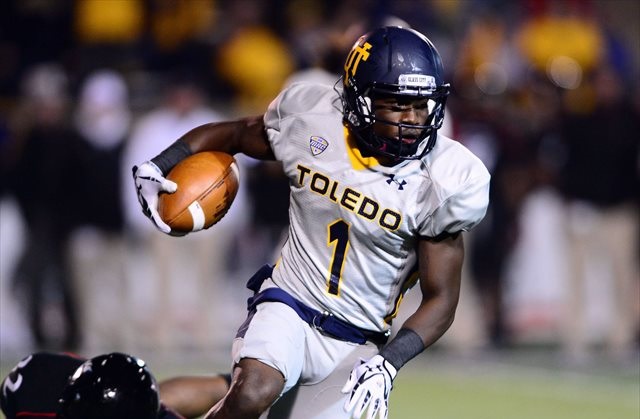 First things first: The professional opinion here is that Toledo senior All-MAC wide receiver Bernard Reedy was not "talking trash" or providing "bulletin-board material" in his assessment of Florida ahead of his Rockets' Week 1 trip to Gainesville. Like any college football player before the first week of the season, Reedy is confident, and the motivation behind his remarks was almost certainly simply to explain that confidence.
That said: There's no doubt those remarks are going to cause more than a few raised eyebrows among the Gators and Gator faithful. Because whatever Reedy's intent, you can't sound like you're knocking another team's effort and/or conditioning and have those comments go unnoticed. And that's exactly what it sounds like Reedy's doing.
"Since I've been watching film on them, I've seen that late in the game ... they still don't go as hard as they do in the first and second quarters," Reedy told reporters. "So I feel like if we can just keep pressure on them the whole game, we could eventually wear them down."
Via WNWO, here's the video:
This has got to be the first time a MAC team's strategy for taking on a top-10 SEC team on the road (in what promises to be scorching heat) has been to "wear them down," right? And whatever the merits of Reedy's analysis, it seems an odd thing to say about a team that earned its biggest victories of the 2012 season -- at Texas A&M, vs. LSU, at Florida State -- with overpowering second-half surges. 
Reedy also added that the Gators "don't have a lot of experience," which is at least verifiably true for the offense, and less so for the defense.
But whatever's verifiably true or not, whatever's confidence on Reedy's part rather than smack talk, it doesn't make Reedy's comments smart. The Rockets aren't 23.5-point underdogs by accident. If they're serious about leaving Gainesville with a victory -- and given that Will Muschamp's team flirted with yielding one to Toledo's conference-mates at Bowling Green to start the 2012 season, they should be -- they should come in as quietly as possible, let Florida look blithely ahead to their Week 2 showdown with Miami, and hope the Gators don't wake up until the Rockets already have the upper hand.
In short: Letting sleeping dogs lie might be a cliché, but it's also good advice. And Reedy's comments might be loud enough that the Gators just cracked an eye. 
Show Comments
Hide Comments
Our Latest Stories
USF senior Hassan Childs was injured in a shooting on Saturday night

Harris chose the Tar Heels over Texas and other options

Jim Harbaugh is concerned about the funding for the Legal Services Corporation
Jarrett Stidham may be getting most of the reps, but that doesn't mean he'll start this fa...

Spanier was found guilty on one count of child endangerment

These five coaches need to win games in 2017