Arum: Pacquiao will run for President of the Philippines
According to promoter Bob Arum, Manny Pacquiao will eventually run for president of his home country.
• 1 min read
Even if Manny Pacquiao is conquered by Floyd Mayweather Jr. on May 2, he's still got a pretty meaningful future ahead of him -- a future full of interviews, strategists, and savvy opponents.
According to promoter Bob Arum, when Pacquiao decides to step out of the ring for good, he'll turn to politics. But his ambition isn't limited to being a congressman -- his current political status -- or a senator.
Instead, as Arum told TMZ Sports, Pacquiao will run to be the President of the Philippines at some point in the future.
"Forgot that," Arum said after being asked about Pacquiao's potential future as a singer. "He's going to be a president."
When Pacquiao was 32, he was elected to the House of Representatives in the Philippines. According to Arum, Pacquiao will run for a position in the Senate in 2016. Then, in 2022 or later, he'll attempt a run at President of the Philippines.
"I think he has a political career," Arum said.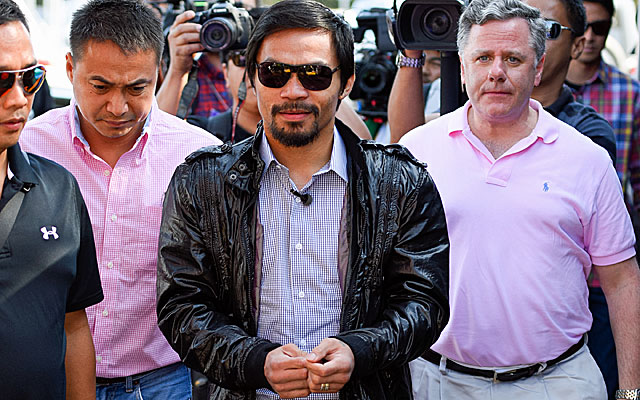 Considering Pacquiao just recorded an entrance song for the Fight of Century called "Lalaban Ako Para Sa Filipino" or "I Will Fight for the Filipino," beating Mayweather Jr. could be his first significant political win of his eventual presidential campaign.
Show Comments
Hide Comments
Stewart will hit the track on the same weekend the cup series heads to the site of his last...

Boston could be one key piece away from beating the Eastern Conference champs

The 12 skippers each jumped over the rope over 18 times for a total of 225 skips
All of the information you'll need to watch the Toyota/Save Mart 350 from Sonoma

After winning the Monster Energy NASCAR Cup Series race at Michigan, Larson dominates in sprint...

The two coaches from Tishomingo used the bus to go and buy alcohol during an out-of-town t...