Triple H talks building a legacy entering his 20th WWE WrestleMania
From the squared circle to the boardroom, Paul "Triple H" Levesque is running WWE. He discussed his WrestleMania history and the future of the business with CBS Sports.
As busy as Paul "Triple H" Levesque is these days, it's no surprise that he might neglect to stop and appreciate a career milestone.
On camera, Triple H is a sadistic and violent WWE world heavyweight champion, an extreme representation of abuse of power. He's preparing for a main-event showdown with Roman Reigns with the title on the line at WrestleMania 32, set for Sunday, April 3 at AT&T Stadium in Arlington, Texas. That much on its own -- being relied upon to be one of the top performers in a show expected to break attendance records -- is a lot to deal with.
Away from the bright lights, Levesque is WWE's executive vice president of talent, live events and creative. In the simplest terms, he's in charge of the lifeblood of WWE: the wrestlers, the storylines, the overall experience of a live WWE show. Taking his eye off that ball could have very dire consequences for WWE.
So it's no wonder Levesque hadn't taken a beat to notice that he was about to cross an impressive threshold for an active WWE superstar. On April 3, Triple H will wrestle in his 20th WrestleMania match.
Only one other person -- The Undertaker, who will perform in his 24th WrestleMania match vs. Shane McMahon this weekend -- has ever crossed the 20-match mark at the biggest event of the year.
During a candid interview with CBS Sports, Levesque seemed a bit surprised to hear his match count was so high.
"I was unaware of my milestone," Levesque said. "Thank you for pointing it out."
Most wrestlers are lucky to have 20-plus active years in the ring, period. In the physical sense, Levesque's 20 WrestleMania matches mark an extraordinary achievement. Looking back at his list of opponents in past years -- names like Shawn Michaels, Undertaker, Ultimate Warrior, Owen Hart, The Rock and Sting, to name a handful -- Levesque feels appreciative.
"Starting out with Warrior [at WrestleMania XII in 1996], that being my first WrestleMania, and walking into the ring with the Ultimate Warrior?" Levesque began. "I don't know that the average person can put that into context for themselves, you know? 'Hey, it's your first WrestleMania. You want to work with one of the biggest stars ever in the business?' It's like, 'Yeah.' You know, all the way through to moments I had with Owen [Hart] and just ... it's just been an incredible ride."
At age 46, Levesque keeps himself in impeccable physical condition. He still can -- and does -- hold up his end of a great match, as displayed just a few weeks ago in his impressive title match against Dean Ambrose at WWE Roadblock. With his in-ring ability still at such a high level, Levesque said it feels odd to look back on his past.
"You know, it's funny that all of a sudden you find yourself at a point in your career where people are talking about your legacy," he said. "It's a weird thing.
"I've been lucky. I've been lucky to have a great career and a large number of very talented people to work with along the way at all of these different WrestleManias."
After all this time, Levesque said he's still awestruck by the magnitude of the so-called "Showcase of the Immortals."
"It is a pretty cool thing," he said. "I'm in the main event of WrestleMania in front of a record-breaking crowd in Dallas. That's gonna be amazing and mind-blowing to me."
Across the ring from Triple H will be Roman Reigns, a main-event babyface whose ascension to the top of the WWE ladder has been met by occasional resistance from fans. While Triple H is Reigns' hated adversary in storylines, Levesque has nothing but praise for the youngster.
"He's a great kid, and I'm really happy for his success and how well he's done," Levesque said. "But it's a tough road and a long road. That success has come fast. Sometimes that can be a blessing and sometimes it can be a curse. So I think he's done the best that he can with it."
As for the mixed crowd reactions for Reigns, Levesque chalks that up to the changing times.
"You know, the hardest thing in this business to do now is, as a character, to either make everyone love you or everyone hate you," Levesque said with a laugh. "The world is a divided place in politics, in music and everything. Choices now, and people's opinions, are front and center more than ever. The Internet makes that readily available to everybody. They know all of the machinations of everything and the behind-the-scenes of everything, you know.
"It used to be that the good guy was the guy that didn't cheat, you know what I mean? It was just very simple. The world has changed. I think [Reigns has] done a phenomenal job. He's, you know, from a behind-the-scenes standpoint, a great human being. I'm really happy for his success, as I am for all of them."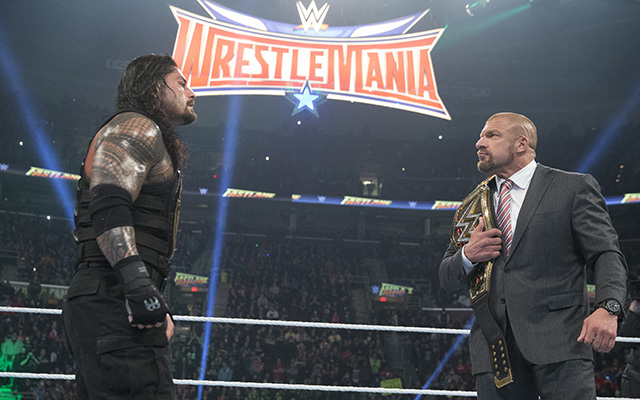 Reigns is certainly not alone in getting polarized reactions from the WWE audience. Gone are the days when the lion's share of cheers went to the babyface -- the "good guy" -- simply because he was in the role of the hero.
"The days of everybody loves the white knight and everybody hates the dark knight are gone," Levesque said. "You've seen it for, what, the last 10 years with John Cena. I used to say to John all the time, 'You're the Red Sox and the Yankees in the same game. Half the place hates you, half the place loves you, but it's full, so who cares?'"
Regardless of one's opinion of Reigns' character or his position on the card, it's hard to deny that he's wrestling at the level of a main-event superstar. Even dating back to last year's WrestleMania and his gutsy performance against Brock Lesnar, Reigns has repeatedly shown his merit. He's likely to do it again this year. For Levesque, that means that in order to be believable as a champion that can dominate a guy like Reigns, he must be in top physical condition.
Easier said than done. A well-documented workout enthusiast his entire life, Levesque admits that his age, along with years of bodily wear and tear, made it necessary to change his approach to working out.
"One of the biggest benefits to me physically in my life has been the guy that I train with, Joe DeFranco," he said. "There was a period of time where I had many injuries starting to pile up. I was starting to be in a place physically that I was just getting really, really beat up. I actually took some time off and was making a movie for the company that they'd asked me to make, and I got injured while I was doing that. I just realized that I needed to change the way I was doing things."
Finishing lower body workout w/ 1 arm burpees officially sucks!#DoTheWork #MidnightWorkout pic.twitter.com/K0vLw496Rc

— Triple H (@TripleH) March 25, 2016
The most critical part of that change in fitness philosophy? Pay less attention to the mirror.
"I had always just kind of approached training from a 'Hey, as long as I look good, I'm all right,'" Levesque said. "That was kind of how I approached my training, even though I would tell everybody under the sun 'No, no, we're athletes' and we're all of these things. I just didn't have that knowledge base yet of training like an athlete.
"Once I started training with Joe, one of the first things he said to me was, 'We need to revamp how you train. You need to train like an athlete. Don't worry, the way you look will take care of itself when you're in that kind of physical condition.' Over the years, it's been the best thing in the world for me."
Slowing down and stretching thoroughly also became key to Levesque's new fitness routine. It's tedious but necessary.
"At 46, it takes me as long to warm up as the actual training usually does," Levesque said. "It irritates the hell out of me. Like when I train with my wife, usually she's finishing training and I'm just getting to my workout."
Approaching the 20-match mark at WrestleMania is impressive simply due to the mileage that a lengthy pro wrestling career puts on a person's body. In Levesque's case, he's also had some high-profile injuries that required significant recovery time. It took a lot of effort, but he bounced back every time, and in 2016, he still feels great.
"My injuries have been fairly well documented because most of them happened on live TV, unfortunately," he said. "I've torn both my quads completely off. I've torn my bicep. I've had numerous injuries, all of those things, and I can tell you I feel as good now as I ever have in my career. My knees don't hurt. When I see guys say, 'Oh, I tore my ACL once or I had my meniscus torn, and I just can never squat again and I can't do this or that, and I can't run,' I'm like, 'Yeah you can.' You just gotta train and build your way back up to it. I do all that stuff.
"Knock on wood, anybody can get injured at any time," he continued, "but my knees don't bother me when I'm going up stairs. I don't have issues with my back. My neck is good. But I've been meticulous about how I've stayed in shape over the years. Maybe it wasn't the right, athletic way for a long time, but I always trained. I always ate right. I always did the things I needed to do."
Headlining WrestleMania means having an excellent match in the ring, of course. But part of the appeal of WrestleMania is the grandiose stage and light shows, the pyrotechnics and the special, extended ring entrances many wrestlers get. The mere act of getting from the entrance ramp to the ring has become its own bit of self-contained theater at WrestleMania.
Each year, Triple H's ring entrance is one of the most elaborate and entertaining. One year he dressed in an outfit that resembled He-Man. Last year, he emerged on stage wearing a Terminator-inspired outfit, complete with a video intro starring Arnold Schwarzenegger himself.
Levesque can't spill the beans about his WrestleMania 32 entrance, but he is clearly excited about it.
"Oh, it's gonna be cool," he said.
Naturally, trying to top the previous WrestleMania every year is a daunting task. The entrances of many wrestlers, Triple H included, are a part of that effort.
"This year we're dealing with injuries and a lot of unfortunate circumstances, but we will outdo," Levesque said. "And part of that is making a spectacle, and I think you're going to see that in a lot of talent this year.
"I've put a lot of thought into [this year's entrance], and it's ... The Authority will be there in full force, let's just say that," he said.
Once that entrance is complete, Triple H will begin his 20th WrestleMania match, this one against Reigns, who also happens to be his 20th unique WrestleMania opponent (he has worked against some, like The Undertaker, multiple times, but he has also had individual matches with more than one opponent).
"I'm fortunate to still be doing it and I really look forward to this year," Levesque said. "Just to say that I'm involved in some way in the show that is going to break the attendance record for WrestleMania III, break our own record, is amazing."
After the matches are over, the fans file out of the stadium and the crew begins tearing down the set, the process begins anew for Levesque and his staff, responsible for constantly improving the quality of WWE's product.
"One of the things we try to do every year is make WrestleMania special and make it bigger than it was the year before," he said. "It's one of the challenges of when you get done at WrestleMania each year. It's like you've climbed Mount Everest and now you have to climb a higher mountain next year and figure out how you're gonna do it better."
Later this week on CBS Sports: More from our candid interview with Levesque, including an in-depth look at WWE's rapidly growing NXT brand.
CBS Sports will offer continued coverage of WrestleMania 32 throughout the week. The event can be viewed live internationally on WWE Network (free for new subscribers) and pay-per-view.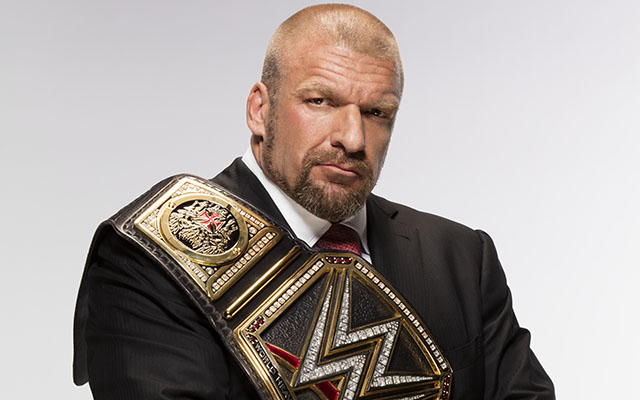 Show Comments
Hide Comments
Our Latest Stories
The first Raw-branded pay-per-view featured one new champion in Roman Reigns

Table tennis trick shots and sketch comedy ... what else do you need?

Alistair Brownlee decided that finishing with his brother was more important than winning
The main attractions in Chicago will be the heroes in a half-shell

The Woodlands engaged in a tremendous show of sportsmanship

Gordon was in disbelief after an apparent murder-suicide