2014 team preview: Arizona Diamondbacks
After finishing 81-81 in each of the last two years, are the Diamondbacks ready to move beyond mediocrity? Let's preview their season.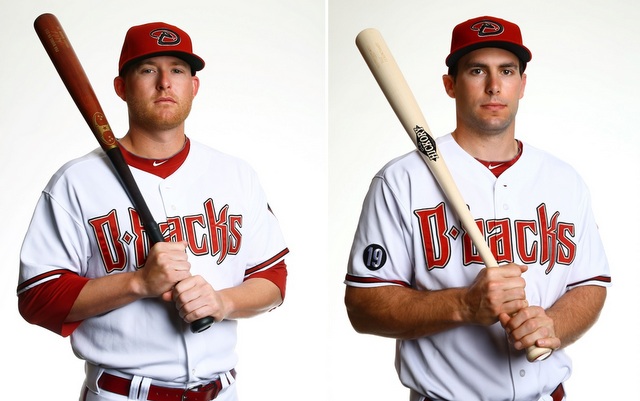 MORE: Likes, dislikes | Over/unders | All Team Previews | Spring Training
The Arizona Diamondbacks have talked the talk more than they've walked the walk the last few years. The organization has been talking about getting tougher -- GM Kevin Towers went so far as to advocate intentional beanings -- and they've taken numerous shots at the rival Dodgers, including some from manager Kirk Gibson. All of that talk has come with back-to-back 81-81 seasons, the very definition of mediocrity. Will Arizona be any better in 2014 after a busy offseason? Let's look.
Probable lineup
1. RF Gerardo Parra
2. 2B Aaron Hill
3. 1B Paul Goldschmidt
4. C Miguel Montero
5. LF Mark Trumbo
6. 3B Martin Prado
7. CF A.J. Pollock
8. SS Didi Gregorius
Bench - C Henry Blanco, 1B/3B Eric Chavez , IF Cliff Pennington , OF Tony Campana , OF Matt Tuiasosopo
Cody Ross will miss the first few weeks of the season as he works his way back from last year's gruesome hip dislocation. When he returns, he'll presumably take over in right field with Parra moving over to center. Montero had a poor year in 2013 (83 OPS+) and if that continues, he could find himself hitting lower in the order in a hurry. Trumbo's huge power should get a boost with the move into the hitter friendlier park, but does he have the plate discipline to take full advantage? How much value will he give back with his defense? Oh, and Chris Owings could very easily wind up starting at short over Gregorius rather than opening the year in Triple-A.
Probable rotation
1. LHP Patrick Corbin
2. RHP Trevor Cahill
3. LHP Wade Miley
4. RHP Brandon McCarthy
5. RHP Bronson Arroyo
Corbin and Cahill are slated to get the ball in the team's upcoming season-opening series against the Dodgers in Australia, though Cahill jammed his knee on Tuesday and is day-to-day. Arroyo is dealing with a back issue and may not be ready in time for the start of the season, in which case Randall Delgado figures to step into the rotation.
Probable bullpen
Closer - RHP Addison Reed
Setup men - RHP David Hernandez , RHP Brad Ziegler
Middle men - RHP J.J. Putz , LHP Oliver Perez ,
Long men - RHP Josh Collmenter , RHP Randall Delgado
Delgado is out of options, meaning he can't go to Triple-A without first clearing waivers, and there's no chance a 24-year-old with his pedigree slips through waivers unclaimed. If he is needed in the rotation, right-hander Will Harris figures to get the roster spot over lefty Joe Thatcher . Putz is a spring trade candidate.
Under-the-radar offseason transaction
Re-signing Chavez to a one-year deal worth $3.5 million. He drew interest from several other clubs but opted to stay close to home in Arizona. The now 36-year-old Chavez is far from the player he was with the Athletics way back when, but he's a quality bench player who hit .281/.332/.478 (120 OPS+) last year and .281/.341/.488 (123 OPS+) over the last two seasons. He can fill in at first and third and also DH during interleague games. Chavez has become an excellent role player following his injuries.
Underappreciated in Fantasy: Patrick Corbin
"Corbin's sensational sophomore season could easily be forgotten by some owners, as he limped to the finish line with a terrible seven-start stretch. Through his first 25 starts, Corbin got swings- and-misses on 11 percent of his pitches (per Baseball-Reference.com) and walked just 42 batters in 172 1/3 innings, contributing to a 2.45 ERA and 1.02 WHIP. Over the final five weeks, Corbin's whiffs dried up, and while he had previously benefitted from a generous .261 BABIP, his luck more than evened out by allowing a .387 batting average on balls in play. Maybe fatigue set in, as Corbin did lose some velocity over those late-season starts, but regardless of the reason, he showed over a large portion of the season that he can be trusted as a must-start in virtually all formats. Though he may have left a bad impression by ending with a slump, it's still reasonable to expect Corbin to repeat as a top 30 starting pitcher in 2014." - Al Melchior (Full D-Backs fantasy preview)
Biggest strength
Right-handed power, which is getting harder and harder to find these days. Goldschmidt swatted 36 home runs last season. Trumbo has hit the fifth most homers in baseball over the last three years (95), and a healthy Aaron Hill is capable of 20+ home runs as well. The D-Backs could use a big left-handed bat to balance things out -- Montero returning to his 2011-12 form (122 OPS+) would work -- but their righties sure do offer a lot of thump.
Biggest weakness
Rotation depth, especially with Arroyo's back already acting up. He was signed to be the innings eater too, something he's done very well over the last decade. McCarthy has been on the DL at least once every year since 2007, mostly with shoulder problems. Delgado is a nice sixth starter to have lying around, but with Tyler Skaggs gone in the Trumbo trade, there's not much after him at all. Not unless they're ready to throw top prospect Archie Bradley into the fire even though he could use some more minor league seasoning to iron out his strike-throwing ability. Arizona has used no fewer than nine starting pitchers in each of the last five years and there's little reason to think 2014 will be different. No club makes it through a 162-game season with only five or six starters these days.
Outlook
By trading youngsters Matt Davidson (for Reed), Adam Eaton and Skaggs (both for Trumbo), the D-Backs have made it clear they view themselves as a win now team. The Arroyo signing and last-minute Oliver Perez signing speak to that as well. The NL West is a tough division with the Dodgers at the top and both the Padres and Giants likely to be better, so contending will not be easy.
I think the D-Backs are better than the .500 team they've been the last two years but not nearly good enough to challenge the Dodgers for the division crown. They should be good enough to made a nice run a wild-card spot, but ultimately I think there are too many good teams in the league for Arizona to land one. I could honestly see the D-Backs finishing anywhere from second through fourth in the NL West; the race figures to be pretty tight.
---
Coming Thursday: Previewing the Detroit Tigers.
Show Comments
Hide Comments