Dodgers take Game 3 of NLDS with blowout win: Quick hits
The Dodgers and Braves went back and forth early in NLDS Game 3 on Sunday night before the hometown club pulled away for a 13-6 win.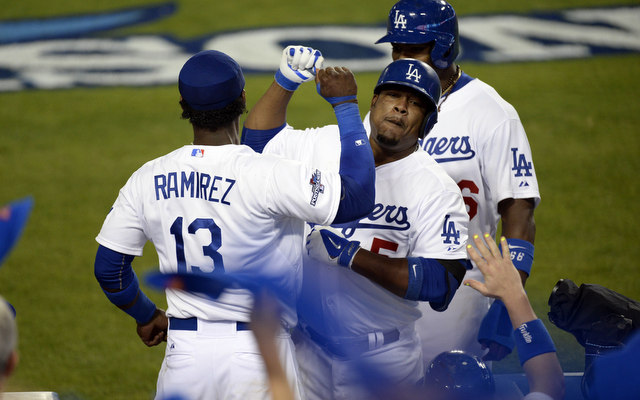 More: Game 3 box score |  Game 1 quick hits | Game 2 quick hits | Who has the edge?
After the two clubs split the first two games of the NLDS, the Dodgers took a two games-to-one series lead over the Braves on Sunday night with a 13-6 blowout win. Neither starter made it into the fourth inning, but the difference was the bullpens. One team got great work from their relievers, the other far from it. Let's break down the pivotal Game 3.
Hero: The Dodgers lineup as a whole. It would be easy to single out Hanley Ramirez (3-for-4 with 2 RBI), but that would be ignoring Carl Crawford's three-run homer in the third or Juan Uribe's two-run homer in the fourth. Yasiel Puig went 3-for-5 with 2 RBI as well. It takes a total team effort to score 13 runs -- the most the Dodgers have ever scored in a playoff game since moving to Los Angeles -- so the hero of this game is everyone to swing a bat while wearing Dodger blue.
Goat: Julio Teheran. I want to cut the rookie some slack, but the Braves staked him to a 2-0 lead in the first before he gave it back (and then some) in the second. Atlanta rebounded to tie the game at four in the third and Teheran immediately gave back the lead in the bottom half of the inning. Six runs on eight hits and one walk in just 2 2/3 innings is a disaster start. No way around it.
Turning point: With two outs in the bottom of the third, Hyun-Jin Ryu was lifted for a pinch-hitter while Teheran was pulled for a reliever. Both starters were out of the game at the same time. Braves lefty Alex Wood came in and allowed four runs in 2 1/3 innings -- all unearned thanks to his own error -- while Chris Capuano restored order for the Dodgers. He chucked three scoreless innings and settled things down.
It was over when: Uribe swatted his two-run homer off Wood in the fourth inning to make it 10-4. The two clubs were trading runs for the first three-plus innings, but the Dodgers put this one to bed with a four-run fourth. Uribe's dinger was the exclamation point.
Next: Same two teams for Game 4 on Monday night, when the Dodgers will have a chance to earn their first trip to the NLCS since going back-to-back in 2008-09. Ricky Nolasco and Freddy Garcia is the pitching matchup. That game is scheduled to begin at 9:37pm ET (6:37pm local time).
Show Comments
Hide Comments