In Wainwright wake, Nats' Scherzer advocates for DH in both leagues
Nationals ace Max Scherzer says they are plenty of reasons to stop pitchers hitting.
MIAMI -- Nationals ace Max Scherzer cringed when he saw the replay of the Adam Wainwright injury that will likely sideline the Cardinals star pitcher for the season. And while Scherzer said he enjoys hitting, after seeing the Wainwright accident, Scherzer said it's probably time for both leagues to go to a DH system.
The Cardinals acknowledged that Wainwright is probably lost for the year with an Achilles injury suffered while trying to leave the batters box after hitting a popup (he'll have a definitive answer Monday when he is examined by a doctor). And, in the wake of that blow to all of baseball, Scherzer, who called the news "brutal," suggested he has come to the conclusion the use of a designated hitter throughout baseball makes sense.
"I wouldn't be opposed," Scherzer said.
While Scherzer, who just signed back in the National League after the past several years in the DH-using American League with Detroit, said he loves preparing and competing as a hitter, he questions whether anyone cares to watch it. Scherzer isn't terrible at bat, as he hit .226 his one full season batting in Arizona, though his career average has slid to .159 with sporadic at-bats since.
Though he enjoys batting, he suggested it's more important what the fans want to see.
"If you look at it from the macro side, who'd people rather see hit -- Big Papi or me?" Scherzer said. "Who would people rather see, a real hitter hitting home runs or a pitcher swinging a wet newspaper? Both leagues need to be on the same set of rules."
And, with Wainwright's injury likely to greatly impact the Cardinals' season and the NL playofff race, Scherzer is pretty sure which set of rules both leagues need.
"If you look at it long-term, I think eventually, there will be a DH in the National League," said Scherzer, who's off to an excellent start with a 1.26 ERA but said he is "day to day" with his jammed thumb injury and seems unlikely to make his scheduled start Tuesday at Atlanta. (The injury, by the way, was suffered when he was jammed with a pitch while batting.)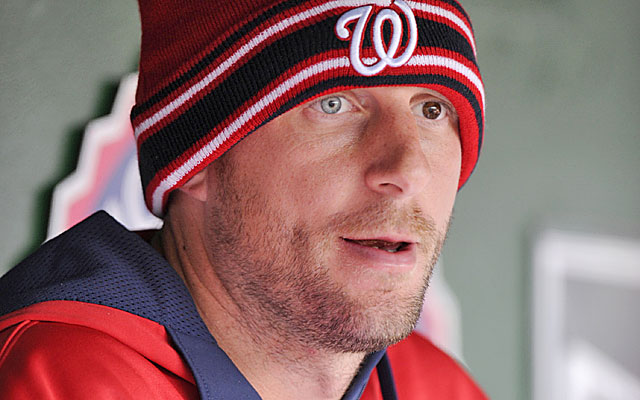 "Those kids, they want to see V-Mart hit," Scherzer said, pointing out a group of children on the field at Marlins Park. "Those kids don't want to see me hit. No one want to see a pitcher hit. No one pays money for that."
Beyond the obvious injury concern for pitchers, Scherzer sees other reasons the DH is preferable. While Scherzer says he likes "swinging the bat, working at it and competing, and trying to be better at hitting than the other pitcher," he sees too many plusses to removing pitchers from the batters box.
"It also helps position players, as it enable teams to have a rotation at DH," Scherzer said.
Beyond that, it would aid scoring, he pointed out.
"We keep searching for offense," Scherzer said. "This would be the easiest way to add offense."
Show Comments
Hide Comments