Marco Scutaro leaves game with hip injury innings after Matt Holliday's takeout slide
Giants second baseman Marco Scutaro stayed in the game after a hard takeout slide by the Cardinals' Matt Holliday in the first inning of Game 2 of the National League Championship Series. Scutaro left the game after the fifth inning.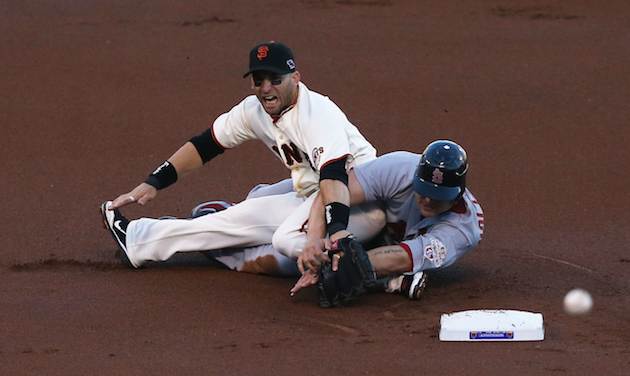 Matt Holliday prevented a double play by taking out second baseman Marco Scutaro. (Getty Images)
SAN FRANCISCO -- The National League Championship Series got its first bit of controversy early in Game 2. Cardinals left fielder Matt Holliday took out Giants second baseman Marco Scutaro for the first out of the first inning, breaking up a potential double play. Scutaro left after the fifth inning with a left hip injury.
Whether the play was clean or dirty likely falls somewhere in a gray area and will be shaded by rooting interests. On Twitter, some Giants fans are already calling for a suspension and immediate out. Some Cardinals fans blame Scutaro for "being on the bag."
This much is sure: Holliday started his slide a few feet before the bag, skimmed it with the lower part of his left leg and then made contact with Scutaro behind the bag. Scutaro was off the bag by the time Holliday made contact with him.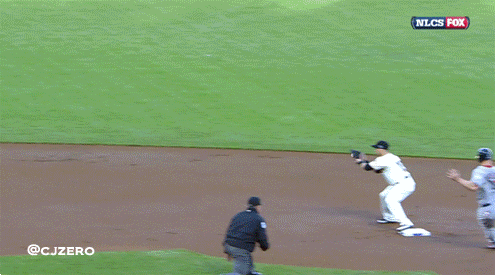 Scutaro was examined by the Giants' trainer but stayed in the game. He singled in the bottom half of the inning and again in the fourth, driving in two runs and another scored on the play as Holliday overran the ball for an error. Scutaro left the game after the fifth inning and was getting an X-ray.
The rule that governs this play is 7.09(e), and it reads:
If, in the judgment of the umpire, a base runner willfully and deliberately interferes with a batted ball or a fielder in the act of fielding a batted ball with the obvious intent to break up a double play, the ball is dead. The umpire shall call the runner out for interference and also call out the batter-runner because of the action of his teammate. In no event may bases be run or runs scored because of such action by a runner.
With that definition, it's tough to say Holliday did anything but "willfully and deliberately interferes" with Scutaro "with the obvious intent to break up a double play."
Photos seem to tell a good bit of the story, as well.
Here's the series as shot by US Presswire:
For more baseball news, rumors and analysis, follow @EyeOnBaseball on Twitter, subscribe to the RSS feed and "like" us on Facebook.