NLDS Dodgers-Braves Game 1 preview: Medlen vs. Kershaw
Game 1 of the Braves-Dodgers NLDS is set for Thursday night. It pits aces Kris Medlen and Clayton Kershaw on the hill. Let's break it down.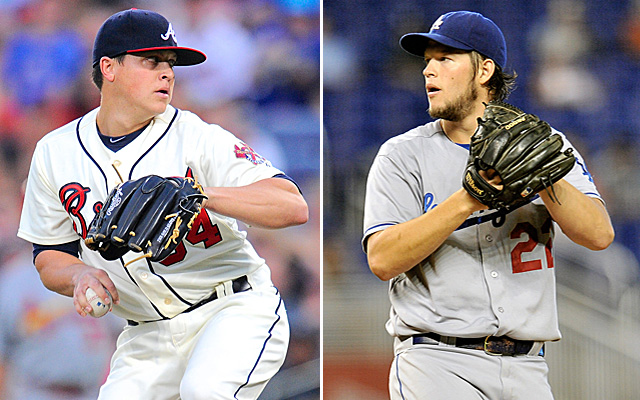 Who has the edge? Pirates-Cardinals | Dodgers-Braves | Tigers-A's | Rays-Red Sox
Game 1 of the NL Divisional Series between the Atlanta Braves and Los Angeles Dodgers begins at 8:37 p.m. ET/5:37 L.A. time Thursday night. The two clubs faced off seven times this season, with the Braves taking five of those games. It should be noted that those all took place prior to when the Dodgers became the good Dodgers.
The weather should be excellent. The weather.com forecast shows a zero percent chance of rain with clear skies all night, seeing temperatures sit between 67 and 72 degrees.
Our pitching matchup is Kris Medlen (15-12, 3.11 ERA, 1.22 WHIP, 157 K in 197 IP) against surefire NL Cy Young winner Clayton Kershaw (16-9, 1.83 ERA, 0.92 WHIP, 232 K in 236 IP).
Kershaw vs. Braves
He hasn't faced the Braves this season, so any data is a bit outdated. In his career, Kershaw is 2-2 with a 3.74 ERA in four starts against the Braves. He's made only one start in Turner Field, in which he worked seven innings, allowing two earned runs on eight hits while striking out 10.
The Braves have trouble with left-handers, generally. They hit .239/.321/.380 against lefties this season, as compared to .252/.321/.409 against righties. So it's not a drastic divide. Still, Kershaw's the best lefty in baseball.
In terms of individual batter vs. pitcher matchups, Kershaw owns the Braves. Their roster is collectively hitting .133/.191/.217 in 89 career plate appearances. Only Justin Upton has faced him more than 13 times, though, so small sample caveats apply across the board.
Upton is hitting just .103/.161/.207 in his 31 PA against Kershaw. Chris Johnson is 1-for-12 with four strikeouts. No one else has faced Kershaw more than four times. Jason Heyward is 0-for-4 with four strikeouts. Freddie Freeman, however, is 1-for-2 with a homer and two walks against him.
Medlen vs. Dodgers
Medlen took on the Dodgers twice this season, and he was brilliant. He worked 13 2/3 innings, allowing only seven hits and zero earned runs. He struck out 11 and walked four.
He's also much better at home, sporting a 2.26 ERA and 1.18 WHIP in Turner Field this season (compared to 4.04 and 1.27 on the road).
In terms of the individual matchups, Medlen hasn't faced any Dodger more than 12 times, so, again, all of this means very little. We'll post it nonetheless and let anyone draw any conclusions they wish.
Hanley Ramirez is 5-for-9 with a homer against Medlen. Adrian Gonzalez is 0-for-5, but has drawn three walks. Juan Uribe is 0-for-6. Carl Crawford is 0-for-3 while Yasiel Puig is 1-for-3.
Show Comments
Hide Comments