On this day in 1942: FDR asks MLB to keep playing
On Jan. 15, 1942, President Franklin Delano Roosevelt sent a letter to MLB commissioner Judge Landis, urging him to keep the MLB season on schedule -- despite World War II.
Here's a cool artifact from the intersection of United States history and Major League Baseball history, courtesy of presidential historian Michael Beschloss on Twitter (where else these days?).
Here FDR after Pearl Harbor implores baseball czar to keep MLB going thru World War II, this week 1942: pic.twitter.com/R4JqeV3ldj

— Michael Beschloss (@BeschlossDC) January 12, 2014
Here's an enlarged version of the picture he tweeted: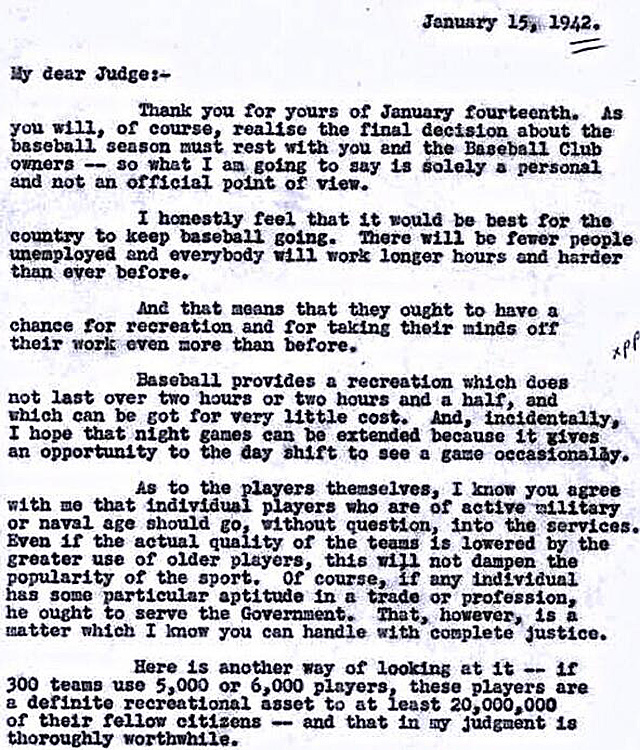 That would be a letter from President Franklin Delano Roosevelt to MLB commissioner Judge Kenesaw Mountain Landis, roughly five weeks after Pearl Harbor bombing.
As we know, Landis heeded the advice of FDR and baseball was a go in 1942. After going 106-48 in the regular season, the St. Louis Cardinals took down the 103-51 New York Yankees in the World Series, four games to one.
Cardinals starting pitcher Mort Cooper (22-7, 1.78 ERA) and Yankees second baseman Joe Gordon (.322/.409/.491) took home respective league MVP honors.
Show Comments
Hide Comments