Rays at Indians: AL wild-card game starting lineups and rosters
The Rays and Indians meet in the AL wild-card game tonight. One will advance to the ALDS, the other will go home. Here are the starting lineups and rosters.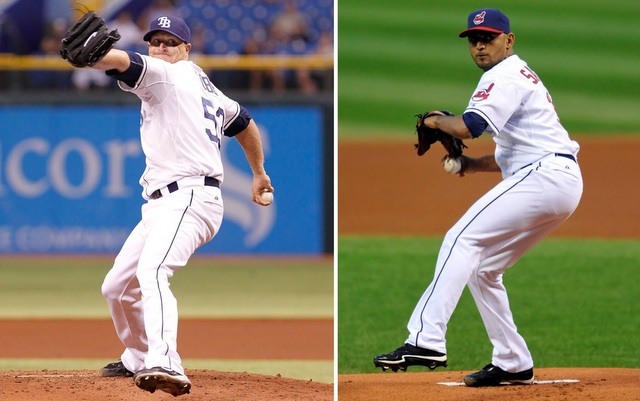 Related: Rays at Indians: Who has the edge?
After playing one winner-take-all game on Monday, the Rays are back at it tonight. They beat the Rangers in the Game 163 tiebreaker to advance to the ALDS wild-card game against the Indians, which will be played at Progressive Field in Cleveland. First pitch is scheduled for 8:07pm ET and can be seen on TBS.
With the clock counting down to first pitch, here are the starting lineups and full 25-man rosters for each team. Keep in mind the winning team will be able to set a new roster prior to playing the Red Sox in the ALDS, which is why both clubs left their unavailable starting pitchers off the roster in favor of extra bullpen arms and bench players.
Tampa Bay Rays
LF

David DeJesus

RF

Wil Myers

1B

James Loney

3B

Evan Longoria

2B

Ben Zobrist

CF

Desmond Jennings

DH

Delmon Young

SS

Yunel Escobar

C

Jose Molina
Starting Pitcher: RHP Alex Cobb
Bench: C Chris Gimenez , C Jose Lobaton , OF Sam Fuld , 2B/OF Kelly Johnson , OF Matt Joyce , OF Kevin Kiermaier and UTIL Sean Rodriguez .
Bullpen: RHP Chris Archer , LHP Jake McGee , LHP Matt Moore , RHP Joel Peralta , RHP Fernando Rodney , LHP Alex Torres , RHP Jamey Wright and LHP Wesley Wright .
Cleveland Indians
CF

Michael Bourn

1B

Nick Swisher

2B

Jason Kipnis

DH

Carlos Santana

LF

Michael Brantley

RF

Ryan Raburn

SS

Asdrubal Cabrera

C

Yan Gomes

3B

Lonnie Chisenhall
Starting Pitcher: RHP Danny Salazar
Bench: IF Mike Aviles , DH Jason Giambi , IF Jose Ramirez , OF Matt Carson and OF Drew Stubbs .
Bullpen: RHP Matt Albers , RHP Cody Allen , LHP Rich Hill , LHP Scott Kazmir , RHP Corey Kluber , RHP Justin Masterson , RHP Chris Perez , LHP Marc Rzepczynski , RHP Bryan Shaw and RHP Joe Smith .