Royals GM Dayton Moore blames team's lack of walks on ballpark
The Royals are one of the lowest scoring teams in the league, due in part to their lack of walks. GM Dayton Moore has an unusual explanation.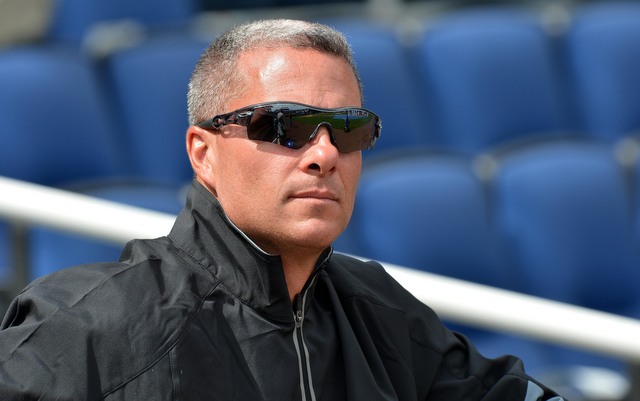 More MLB: Scoreboard | Standings | Probable Pitchers | Sortable Stats | Odds
At 3.93 runs per game, the Royals have the fourth-worst offense in the league this year. Unsurprisingly, they have hit the fewest home runs (37) and drawn the fourth-fewest walks (177) in baseball. Walks and homers have a tendency to create runs, and teams that don't do those things struggle to score. This isn't rocket science.
Kansas City's inability to draw walks is nothing new, however. In fact, if you go back to the start of the century, the Royals have the lowest walk rate in baseball at 7.3 percent. That's half a percent worse than the next lowest team. Go back to 1990, and they still have the lowest walk rate in baseball at 7.6 percent, again half a percent worse than the next lowest team.
Why do the Royals hate walks? GM Dayton Moore came up with an interesting culprit: Kauffman Stadium, the team's home ballpark. Here's what he said to Jeffrey Flanagan of Fox Sports Kansas City:
"We have the largest ballpark in terms of square footage of any ballpark in baseball," Moore says. "When pitchers come here, they have the mindset to use that park -- put the ball in play, throw strikes, attack the zone. There isn't the same fear factor of getting beat deep that you might have elsewhere.
 
"I think that plays a huge factor in that walk statistic."
Former hitting coach Kevin Seitzer unsurprisingly agreed with his GM. "If your lineup isn't hitting home runs, pitchers aren't pitching around you. They're going after you. There's no need not to," he said. He is right to a certain extent, but does it explain a trend that dates back more than two decades? Probably not.
Moore's theory is easily testable. The Royals have a 6.6 percent walk rate at home this year compared to a 7.0 percent rate on the road. Since 2000, it's 7.6 percent at home and 7.0 percent on the road. Since 1990, it's 7.6 percent at home and, again, 7.0 percent on the road. Kansas City has typically drawn more walks at home than on the road over the years, though 2013 is an exception.
Now here's the question: Does the team's lack of walks have more to do with the ballpark or with players like Jeff Francoeur, Chris Getz, Alcides Escobar and Miguel Tejada? Francouer had a far-below-average career 4.9-percent walk rate before ever joining the Royals and being sucked into the walkless vortex known as Kauffman Stadium. Getz was at 7.1 percent, Escobar 4.0 and Tejada 6.1.
It seems like the problem is the roster more than the ballpark, and you know what? That's fine. You can win without walks. It's not easy, but it's doable. This feels more like a made-up excuse by the GM of a sub-.500 team who is in year seven of a five-year rebuilding plan than a viable explanation.
Maybe the ballpark really is the problem. But after seven years on the job, Moore should find a solution and not an excuse.
Show Comments
Hide Comments