Someone finally got to Michael Wacha, and it was the world champs
Michael Wacha entered Game 6 of the World Series having been nearly unhittable in his past five starts, but the Red Sox got to him Wednesday.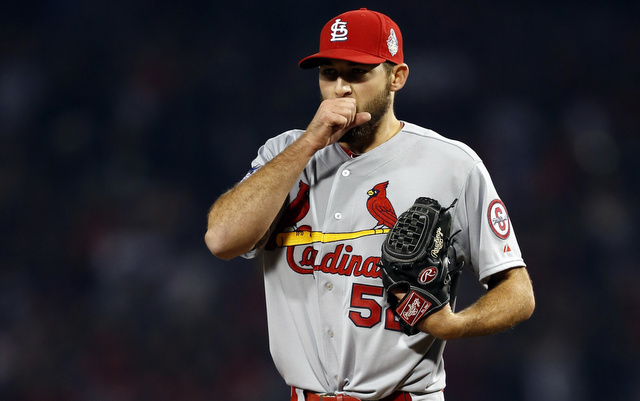 World Series Game 6: Quick hits | Grades | Cardinals RIP | Red Sox non-RIP | Ortiz MVP
BOSTON -- Cardinals rookie Michael Wacha had been carving his way through the postseason and his dominance traced back into the regular season. He was making a name for himself as an ace, especially after he won two starts against Clayton Kershaw and then took down Boston in Game 2 of the World Series in unfamiliar Fenway Park.
His string finally stopped Wednesday night in Game 6 of the World Series, fittingly against the World Series champion.
Wacha would cough up six runs on five hits and four walks in only 3 2/3 innings. He even hit a batter. It could have been worse, too, as he was bailed out in the second with two on and no out by two foul popouts before he was able to strike David Ross out.
In the third and fourth, though, Wacha was unable to get out of jams and the Red Sox essentially iced the game before it was halfway over.
This was a guy who going back to his last start of the regular season was virtually unhittable.
In that last regular-season start, he worked 8 2/3 shutout innings, only allowing one hit with nine strikeouts. In the postseason, he entered Game 6 4-0 with a 1.00 ERA and 28 strikeouts in 27 innings. The only three runs he allowed came on two homers -- mistake pitches to big-time power hitters David Ortiz and Pedro Alvarez. He could be forgiven for those.
Even in Game 2, when Wacha could have taken the loss if not for his offensive teammates making a comeback, he only gave up three hits.
So what happened?
Wacha's velocity was fine, in fact, he was throwing harder than in Game 2. So I don't think we could necessarily say he was worn down.
Then again, sometimes command goes before velocity when exhaustion kicks in. He had only walked three guys combined in his first three playoff starts. In Game 2 against the Red Sox, he walked four. This time around, he walked four in only 3 2/3 innings -- though two were intentional -- and hit a batter. It was his first hit batsman in his big-league career and opened the door for Shane Victorino's two-out, three-run double that opened the scoring.
Also, on the command front, Wacha got knocked around the yard on some meatballs. Several of the pitches on which he gave up big hits were right down the middle. In the past few outings, he had been more fine with his location.
"They seemed to take advantage of mistakes," Cardinals general manager John Mozeliak said. "The hit batsman, for example, and all of a sudden the inning becomes big."
Maybe there was also something to the Red Sox having already seen him. Last time out, they basically had very little idea what kind of stuff he had. I remember Victorino saying, "I know he throws hard, that's about it" at media day. Generally speaking, unfamiliarity favors the pitcher.
For Game 6, they had seen six innings worth of him from either the batter's box, the on-deck circle or the opposing dugout. That's a big difference.
"That's the one thing, is when you've finally first seen a guy, I feel like now it's a hitter's advantage," Jacoby Ellsbury said on the field after the game. "You can make your adjustments, you've seen his arm slot before and all that. I thought we did a tremendous job tonight."
We also need to keep in mind that this wasn't exactly the Houston Astros Wacha was facing. The Boston Red Sox are a stellar offensive team. They led the majors in runs by a healthy margin in the regular season. They also led the majors in doubles, total bases, on-base percentage, slugging percentage and (obviously) OPS.
"I think what you saw tonight from Boston was what got them here," Mozeliak said. "It's the type of lineup they have. It's obviously deep and obviously talented. To win 97 games, it's obviously not by accident. I think it just got to us."
So the takeaway from Wacha's outing in Game 6 really shouldn't be anything of the negative variety, aside from lamenting the timing of when it happened from the perspective of the Cardinals. He's going to be a special pitcher and this postseason proved as much. In the end, there's no shame in a team like the Red Sox finally catching up to him. In no way does that overshadow what this 22-year-old kid has accomplished only one calendar year after being enrolled in college.
Show Comments
Hide Comments