Aftermath of Carmelo Anthony trade messy for Knicks, Nuggets
Carmelo Anthony shines against his former team, leading the Knicks in a rout of the Nuggets. But the fallout of his trade still hangs over New York.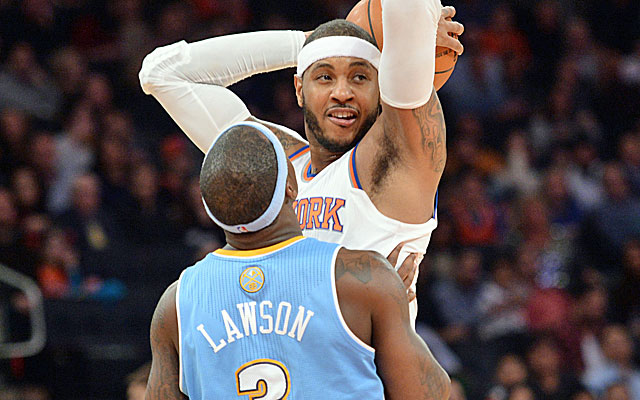 NEW YORK -- As the usual pregame buzz engulfed Madison Square Garden -- the music loud, the lights bright despite the Knicks' latest organizational crisis -- two men sat on the scorer's table and talked.
These two men had nothing to do with the franchise-shaping trade that sent Carmelo Anthony to New York three years ago this month. They're merely around for the aftermath.
And what an aftermath it has been.
Nuggets GM Tim Connelly has a young, unfinished roster with payroll flexibility and first-round picks for continuing the job that his predecessor, Masai Ujiri, started. He lacks, however, the one asset that Ujiri gave up in the blockbuster trade that charted two very different organizational paths: a superstar like Anthony.
Knicks GM Steve Mills has an aging, underachieving roster that has been bickering about coach Mike Woodson and his schemes. He has no dynamic potential replacement on the bench in the event Garden chairman James Dolan jumps out of character and assuages the media mob by firing Woodson during the All-Star break. He has no first-round pick this year or in 2016; the former was sent to Denver (or Orlando, via a subsequent trade) in the Anthony deal, while the latter will go to Denver or Toronto by virtue of the subsequent trade for Andrea Bargnani.
At a time when the role of third-best team in the East behind the Heat and Pacers is wide open, the Knicks sit 10 games under .500 with 32 games to play. They are two games out of the eighth playoff spot after Friday night's 117-90 blowout victory over the Nuggets. They do have the superstar player, the marketing clout and rich talent of Anthony. Despite Friday night's good times at the Garden, they don't have much else to suggest a championship is remotely plausible.
As the two teams that pulled off the massive and far-reaching Anthony trade at the 2011 trade deadline squared off, the only similarity was that they inhabited the same building for a night. Otherwise, they occupy different basketball universes in every sense.
The Nuggets still have Wilson Chandler and Timofey Mozgov, plus Danilo Gallinari, who is out for the year after ACL surgery. Raymond Felton, sent from New York to Denver, is back with the Knicks (regrettably, if you ask Knicks fans). Anthony Randolph, who went to Minnesota as part of the Eddy Curry salary dump that made the deal work, has since wound up with Denver -- in his usual garbage-time role.
The Nuggets later traded Andre Iguodala to Golden State, marching fully into the red zone of rebuilding. It should be noted that nobody is projecting an NBA Finals appearance for the Nuggets any time soon, either.
With the Knicks' 54-win season last year and this year's follies, plus the ongoing project in Denver, it remains too early to crown a winner in the Anthony affair. Each side of the equation is complicated and incomplete. Each path chosen is remarkably different.
But with a mere playoff berth now an achievement and the walls of the Garden closing in on Woodson, the possibility exists that when he returns from All-Star weekend, Anthony will be on his third coach in New York in as many years. If he re-signs as a free agent this summer, he could be on his fourth.
For the Knicks, the tangled web woven by the Melo trade is cumbersome. They have become like the old lady in the folk song who swallowed the fly, ingesting ever-larger creatures in the hopes that one of them will gobble up the previous mistakes.
And we all know what happened to that lady. She died, of course.
After acquiring Chauncey Billups with Anthony, the Knicks used their amnesty provision on him after the 2011 lockout to clear room for the Tyson Chandler trade. Now, with Amare Stoudemire making a noble effort to contribute on his ruined knees, that one-time amnesty provision would have been the only way to get out from under his contract, which has 23.4 million cap-clogging dollars on it next season.
After Linsanity expired and Mike D'Antoni quit and the Knicks' veteran-laden roster fell in the conference semifinals to Indiana, it was time to double down on the Melo plan. So of course, the Knicks relinquished their hold on the lesser of their 2016 first-round pick and Denver's in a trade with the Raptors for Bargnani, whose forgettable, 42-game Knicks career is on hold as he recovers from a torn elbow ligament. The Knicks, meanwhile, are recovering from third-degree burns sustained in another trade with Ujiri.
Before anyone got to see how all that worked out, GM Glen Grunwald was re-assigned to an advisory role, and Mills was hired out of nowhere to replace him as GM, a role he has never held in an otherwise distinguished management career.
Now, Mills is left holding the bag, with no particularly attractive options to fix it between now and the Feb. 20 trade deadline -- no more creatures big enough to ingest all the previously inhaled pests. Mills also operates at the whim of Dolan when it comes to the fate of the coach. He has been around the Garden long enough to know that there is no predicting that.
Through it all, Anthony continues to play some of the best, most complete, most inspired basketball of his 11-year career. He smiles through the bad times, blames no one, never complains about his plight. He had 31 points in 33 minutes Friday night as the Knicks snapped their latest losing streak in an effort to prove there is somewhere important to go from here.
That, like so much of this saga, remains to be seen. The only certainty is that the chemical byproducts of the Melo trade are still very much reacting. There will be more combustion, more fallout, before a winner can be crowned.
If any.
Show Comments
Hide Comments
Ray Allen and Baron Davis are among those who still want to play; is that a good idea?

Drake sinks a half-court shot while sitting down on the Hawks practice court

Jordan Kilganon puts on a show in front of Payton and Rice
Perhaps Houston's star is finding his footing as a leader

He's 100 percent correct on this, too

In a two-part episode, Zach Harper and CBSSports.com's Robby Kalland discuss Dwight Howard...