Heat-Nets Game 5 preview: How much rest can the Heat get?
Previewing Game 5 of the Heat-Nets Eastern Conference semifinal series.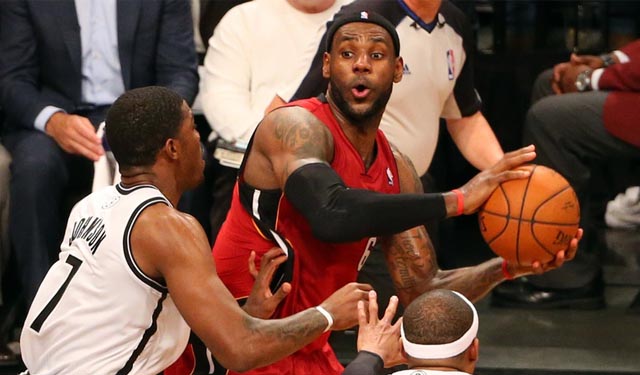 More postseason coverage: Playoff schedule, results | Latest news, notes
Previewing Game 5 of the Heat-Nets Eastern Conference semifinal series.
1. The Facts: 7 p.m. ET (TNT). Follow the action here. Brook Lopez is still out for the season. The Heat are good to go.
2. Where We Are: The Heat are up 3-1 after LeBron James went off for career-high tying 49 points in Game 4. The Heat went up 2-0 with relative ease in Miami, but an incredible shooting night for the Nets turned what looked like a foregone conclusion into more of your dog turning its head as it's trying to ascertain whether you're offering a dog treat or trying to put it in its kennel. The Nets shot 60 percent from 3-point range in Game 3 to take the home contest and remind Miami that they may not be better, but the Heat must work to end this series.
Miami responded poorly in Game 4 in terms of their own 3-point shooting but they did manage to cool the Nets off quite significantly. Brooklyn shot only 22.7 percent from downtown in Game 4 and couldn't take advantage of dominating the offensive boards or a slow night from Dwyane Wade on offense. James was simply too much for the Nets with his own scoring, and he also set up Chris Bosh in the corner on a huge 3-pointer that gave them control. James missed a meaningless free throw at the end that would have given him his first 50-point scoring night in the playoffs but he'll take the win.
3. The Big Number: 11.3. The Miami Heat have barely turned the ball over, giving away the ball only 11.3 percent of the time. That's an incredibly low turnover rate and something the Nets have to do a better job of increasing. The Nets aren't a team that likes to get out and run, but they could stand to get a few cheap points here and there by deflecting passes, scooping up the loose ball, and getting a quick score in transition. Especially against this Heat team, the Nets have to manufacture easy points to put the Heat on their heels. 
4. Key Adjustment: Get the ball out of LeBron's hands. LeBron's scoring in this series has been impressive, but he's not really racking up assists like we're used to seeing. He's played more and more of the role of bully on the court against a Nets team forced to go small with the absence of Lopez. While it's problematic to let James pick apart the defense with his passing, it's worse to let him get a full head of steam to drive to the hoop. He's been far too dominant in getting to the rim and putting Andrei Kirilenko on James could force some deflections and stops. You're not going to totally stop James, but curbing the quality of shots he gets is essential.
5. The Big Story: Can the Heat get some extra rest for the next two rounds? After going up 3-1, it seems unlikely the Nets are going to be able to come back and win three straight. The Heat certainly can't dismiss them, because that could lead to a replay of Game 3, but going into Game 5 at home with a chance to end the series when your next opponent has the potential of going the full seven is big. This Heat team has played so many games over the past four years, a few extra days of rest will matter, especially when it comes to Wade and his health. The Heat are trying for the rare three-peat and getting extra days off to fine tune everything will be key in accomplishing this.
Show Comments
Hide Comments
What does a first-round sweep mean for PG13's future in Indiana?

Celtics reverse course in Chicago; Pacers head home

Our NBA experts predict the first round of the postseason
Can the Clippers close the series without Blake Griffin?

The playoffs are starting to heat up

The Cavs are the first team to move on to the next round