J.R. Smith has small fracture in cheekbone, will wear mask Wed.
J.R. Smith fractured his face Sunday against the Thunder and will wear a mask because of it.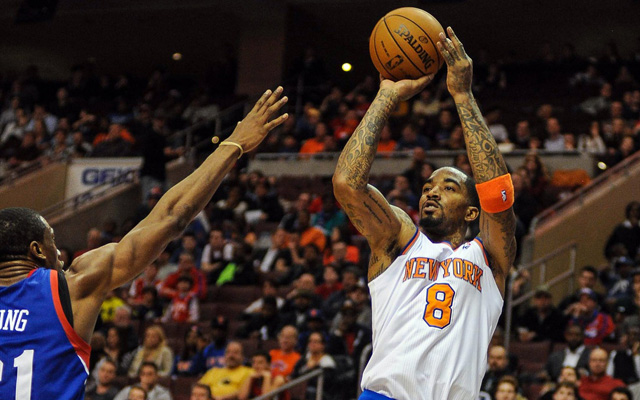 J.R. Smith will be wearing a mask for the next few games. So start preparing your jokes. 
After a nasty fall Sunday against the Thunder where Smith hit his face on Kevin Durant's knee, he suffered a small fracture in his cheekbone and is being fitted for a mask. 
Smith, who has been part of a number of issues and problems this season, has actually been playing quite a bit better lately, averaging 17.6 points in February on 46.9 percent shooting and 43.8 from 3. But dealing with a mask could take some adjusting and with the Knicks playing against the Kings on Wednesday, that'll be something to watch.
Smith, 28, is averaging 13.0 points and 4.0 rebounds in 40 games this season.
Show Comments
Hide Comments
The two best point guards in the East go at it in a series sure to be filled with drama.

Breaking down key matchups as the second season reaches the conference semifinal series

The second round of the 2017 NBA Playoffs tips off Sunday at 1 p.m. ET, with Game 1 of Cel...
The Spurs have homecourt advantage, and will host Game 1 Monday night at 9:30 p.m. ET

All-Star guard flew to Washington after Game 6 vs. Bulls to attend his sister's funeral Sa...

Some love for the Rockets over the Spurs, and at least one expert says the Cavs are going...