Kevin Durant says Carmelo can have the scoring title; should he?
The most recent NBA scoring champion to win an NBA title was Shaquille O'Neal in 2000. So maybe that's why Kevin Durant seemed so indifferent this week about taking his fourth consecutive scoring crown.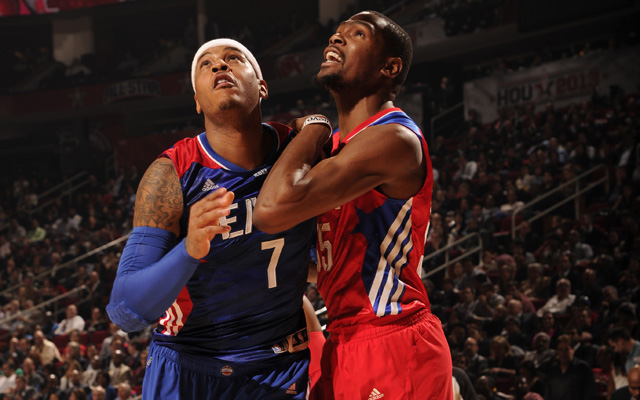 The most recent NBA scoring champion to win an NBA title was Shaquille O'Neal in 2000.
In fact, only four players in history have pulled off winning both: O'Neal in 2000, Michael Jordan six times from 1991-93 and 1996-98, Kareem Abdul-Jabbar in 1971 and George Mikan twice, in 1949 and 1950.
So maybe that's why Kevin Durant seemed so indifferent this week about taking his fourth consecutive scoring crown.
With a showdown coming Sunday between him (28.4 points per game) and Carmelo Anthony (28.3 points per game), Durant was asked how much it means to him.
"He can have it," Durant deadpanned to reporters. "I mean, the stuff he's doing right now, every time he touches the ball it looks like it's going to go in. He's having a nice run right now, and his confidence is high. I'm sure he's going to take over. If it happens, cool."
A fourth straight scoring title for Durant would place him in two rarified places: 1) He'd join Jordan and Wilt Chamberlain as the only players to win four in a row, and 2) if he can maintain them, he'll be the first player ever to win a scoring title with 50-40-90 percentages.
Seems good.
"I really wanted my first one. Don't get me wrong -- I never want to take stuff like that for granted. But if it happens, it happens," Durant said. "I'm just going to play my game. I'm not going to force it too much and think about it too much and try to get it. But if it's meant to be, then it will happen."
So Durant, at least on the surface, seems fine ceding the scoring title to Melo. But should he? Again, a fourth straight would put him in seriously rarified air. And while at the present that might not seem like the biggest thing in the world, when you reflect on his career, you're going to be putting his name on graphics with Wilt and MJ. Plus, you've got to win four straight to win seven straight, which is what both Wilt and MJ did. Plus, plus, Jordan won 10 total scoring titles, so a fourth puts Durant one closer to that.
And don't forget, this would be a fourth before the age of 25. That's something worth caring about.
For Anthony, it would be his first and a nice little bonus to what has been probably the best offensive season of his career.
Anthony has been on a monstrous run of scoring the past three games, becoming the first Knick since Bernard King to score 40 or more in three straight games. He has taken his average from 27.5 to 28.3 with games of 50, 40 and 41. It's the most impressive run of scoring this season, by far.
But in 14 fewer games, Anthony has also only taken six fewer shots than Durant. Anthony is much more of a volume player while Durant focuses on efficiency. Durant averages 18.0 shots a game while Anthony is right at 22 attempts per outing. And, again, Anthony has missed 14 games because of injury this season, so Durant has actually scored exactly 400 more points than Melo.
Another thing that has had an impact is the dominance the Thunder have shown over a lot of teams. Durant has sat the entirety of 14 fourth quarters this season. In the 62 final frames that he has played, he has averaged 8.8 points. So assuming Durant held his average, that's 123 more points to add to his total, which would bring his per-game average to 29.9.
On the other side, Melo has had a couple games himself where injury forced him to check out in the first half with only a handful of points to his name. Both things are part of the whole season and part of what makes taking that top average such an impressive achievement. But since Melo returned from getting his knee drained, he's only averaging 32.1 points on almost 50-percent shooting.
"It's April," Anthony told reporters Friday after dropping 41 on Milwaukee. "It's time to go. I always take it back to my knee. That was the most important thing to happen to me, getting to the bottom of that. I give credit to getting that procedure done."
As a player who often gets overshadowed by both Durant and LeBron James, topping the charts in something above both would be a nice little feather in his headband. Anthony is well regarded as one of the league's most gifted offensive players, but he has never topped the league in scoring. Of course, like Durant, he'll downplay the importance. But again, it would be something nice to add to the resume.
Thunder coach Scott Brooks doesn't really see it that way, though.
"That's probably not something that [Anthony] wants," Brooks said. "He wants a championship just as much as KD does, but it is exciting. It's always exciting when you're down to the last week of the season.
"Carmelo, Kevin, LeBron [James], Kobe -- there are a lot of guys if they really, really, really wanted to lead the league in scoring, they could score over 30 points a game," Brooks said. "They could run away with it. These guys [Durant and Anthony] are about trying to win a championship, about trying to do what's right for their team."
Will there be a George Gervin-David Thompson-like showdown over the remaining two weeks? By the way that both guys are downplaying it, that doesn't seem likely. Scorers, particularly one like Melo, often get pegged with being selfish, so gunning for a scoring title probably wouldn't be seen that positively.
But it's all about that final average. And while Durant is downplaying it, both players' play seems to suggest they're at least moderately interested in taking home the point title. Melo's recent explosion has been unbelievable while Durant has mostly maintained his prolific efficiency. On Friday, when Melo dropped 41, Durant came back with 34 of his own.
The Knicks will bring an 11-game win streak to Oklahoma City for Sunday's showdown between two of the league's top teams, both with eyes on competing for a title. Considering history isn't on the side of the scoring champion when it comes to the ultimate prize, maybe losing this race might actually be for the best.
Show Comments
Hide Comments
The playoffs are getting interesting

The Cavs and Warriors have both swept their first-round opponents

Houston has a 3-1 lead. Here's how to watch the rest of the series
The series returns to Los Angeles for a pivotal Game 5

How to watch the first-round series between L.A. and Utah

How to watch the first-round series between San Antonio and Memphis