Knicks-Celtics: Boston wilts after halftime for second straight game
After two games against the New York Knicks, the Boston Celtics have scored just 48 points in 48 second half minutes. They're down 0-2 in the series.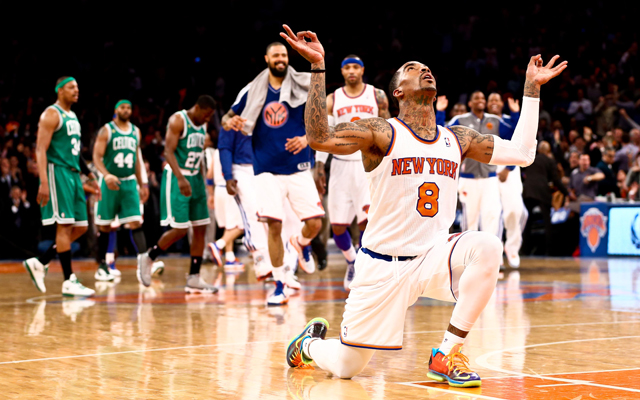 At a certain point, it gets almost too awkward to watch. 
Twice the Boston Celtics have taken a lead into halftime in this series and twice they have followed that up with an embarrassing second half performance that makes you wonder how they even got to the playoffs. In theory, the Celtics have enough talent to close out the final 24 minutes of a game. However, the age of their stars and the holes left by their injuries may have finally caught up to them.
Paul Pierce is battling for Boston and Kevin Garnett is trying to be the only competent big man on the floor for the Celtics. But they just don't have enough juice in their legs or sharpness left in their skills to carry a basketball team in a series like that for an extended period of time. And their supporting cast certainly isn't up to the task of joining them for the full 48 minutes.
How bad has it been for the Celtics in each second half of this series? They have 48 total points (25 in the first game, 23 Tuesday night) in the 48 seconds half minutes so far. The Celtics have made 14 of their 63 (22.2 percent) second half shots. In this same stretch, Carmelo Anthony has made 15 of his 27 (55.5 percent) shots. The Celtics have barely outscored Anthony with a 48-36 margin. 
Is there any way to pinpoint what's going wrong for the Celtics? Are the Knicks making adjustments at the half? Sure, they are. Their defense has become much more active, they seem to get more deflections, and they aren't allowing anything in the paint. The Celtics don't seem to be willing or capable of fighting and executing for better shots. 
Take a look at the shooting charts from the different halves in each game:
This looks more like the scene from the movie Outbreak when they're projecting the spread of the disease on a U.S. map than it does a shooting chart of a professional basketball team.
In Game 2, the Celtics ended up taking more shots at the rim in the second half than they did in the first half. And yet, they couldn't convert an acceptable percentage of them. That's where this Celtics team is right now; they're unacceptable. 
The injury to Rajon Rondo clearly takes away a lot of their playmaking against a team like the Knicks. Avery Bradley isn't a point guard, Paul Pierce is no longer capable of taking the team on his back and leading them with his creating, and Jason Terry is back to being a completely inconsequential player after a small flurry of good shooting in the first half of Game 2. It leaves the Celtics praying that Jeff Green can go off (he didn't) or that Jordan Crawford will be able to provide a spark (is it too late to start tanking?). 
They certainly can't handle the attack of Carmelo Anthony or even the defensive presence of Kenyon Martin. The Celtics will probably get a small boost at home in Boston, but it will be hard to find many people who think that will solve all of their second half problems. After a long run over the last half-decade and thousands of minutes on the odometers, the Boston Celtics seem to have finally run out of juice.
It was fun while it lasted.
Show Comments
Hide Comments
The restricted free agent will likely still see significant offers this summer

Texas' Mohamed Bamba and Arizona's DeAndre Ayton also in the top 3 in next year's NBA Draf...

The popular meme will be forever immortalized as a piece of body art
SportsLine forecasts a boost for the Timberwolves while Chicago could be on a path to irre...

Once Fultz realized Boston had no Chick-fil-A, he was fine with the Celtics trading the No....

This pick cost Boston Markelle Fultz and Jimmy Butler, so it better work out