Knicks-Pacers Game 6 Preview: Keep the pressure off of you
With the Indiana Pacers needing one more victory to head to the Eastern Conference Finals, the New York Knicks have to win to stay alive.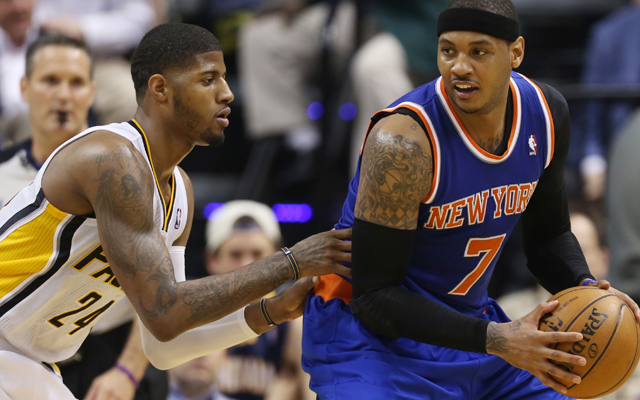 A preview of Saturday night's Game 6 between the New York Knicks and the Indiana Pacers.
1. Where We Are: The Indiana Pacers had a big hole at point guard to fill in Game 5 with George Hill missing the contest due to a concussions. The New York Knicks took advantage of D.J. Augustin having to fill in and smothered the offensive efforts of the Pacers. The victory at Madison Square Garden improved the Knicks' series record to 2-3 with their biggest game of the season coming in Indianapolis Saturday night. George Hill's status is still unknown for Game 6, so it's very possible the Knicks could continue to exploit the lack of depth Indiana has at the point and force them into a lot of bad shots. With a lack of leadership and order on offense, it will put more pressure on Paul George, Roy Hibbert, and David West to make plays in Hill's absence.
2. The Big Number: 35.7. That's Paul George's shooting percentage in this series, which is slightly worse than the 38.7 percent he's shot in the entire playoffs. George simply can't make shots and it's been a glaring deficiency in the Pacers' attack. When the Knicks go small, George is unable to take advantage of a possible size and athletic advantage to get buckets. When he ends up with Carmelo Anthony defending him, he can't seem to take advantage of a player with a less than stellar reputation as a defender. He's also shooting just 23.8 percent from 3-point range, which wouldn't be so horrendous if he weren't attempting 8.4 3-point shots per game. The new All-Star from this season simply can't get anything to go.
3. Key Adjustment: Find Paul George easy baskets. George didn't exactly live at the rim this season when he attempted just 30.2 percent of his shots in the restricted area. In this series, that percentage has dipped slightly to 28.5 percent. It's a big problem for him because he can't make shots right now unless he's around the rim. He's made 58.3 percent of his shots in the restricted area, and 26.6 percent everywhere else. The Pacers have to get him closer to the basket. Whether it's George running the pick-and-roll (although his 5.0 turnovers per game in this series don't exactly scream confidence in his playmaking ability) or running him off screens to get him cutting toward the basket more, they have to get him at the basket. Maybe a post-entry pass to Hibbert or West in the post and then running his man off the post player for a dump-down pass is the cure for this. Whatever they decide, George has to get more shots inside.
4. The Big Story: If Carmelo Anthony fails, can he be considered a winner? Carmelo Anthony helped his team get to the second round of the playoffs, which is the first time the Knicks have advanced past the first round since 2000. However, will that step in the right direction be enough for the New York media and the team's fans? Are baby steps allowed in the NBA, especially in the league's biggest market, or do the Knicks have to be title contenders and be no less than Eastern Conference Finals participants? Is losing out to the best defense in the NBA acceptable or is he expected to beat the opponent all by himself? Getting the Knicks to win has never been an easy thing, but did he get them to win enough this season?
5. The Facts: 8:00 p.m. ET tipoff. George Hill is questionable with a concussion.
Show Comments
Hide Comments
Our Latest Stories
Big Papi was more than happy to help a fellow countryman on his big day

Rose is reportedly more concerned about his impending trial than he is letting on

Curry gave a glimpse at one of his new tricks at Warriors practice
A look at the past, present and future of three superstars who do not play for a superteam

The movie star imparted what a shark tale celebrity status can be for the young athletes

No big shock, the unanimous MVP plans to stay in the Bay.