Kobe Bryant (ankle) will play against the Pacers
Los Angeles Lakers guard Kobe Bryant will start on Friday night against the Indiana Pacers, despite his severe ankle injury.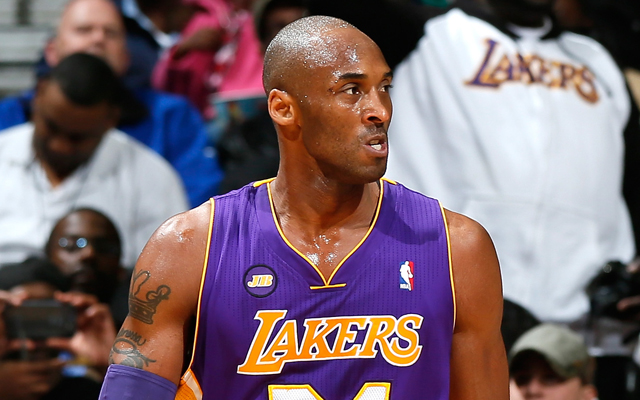 Los Angeles Lakers guard Kobe Bryant has been nursing a severely sprained left ankle for roughly 43 hours since he sprained it against Dahntay Jones on Wednesday night. He has received treatment for it and got to the arena early for a workout on Friday in Indianapolis to determine if he could give it a go against the Pacers.
After much deliberating and treatment, it looks like Bryant will start against Indiana and try to help his team beat a Pacers team that has the fifth-best home record in the NBA. From Mike Trudell of Lakers.com:
I'm sure you're all surprised: Mike D'Antoni anticipates that @kobebryant (severely sprained ankle) WILL start tonight at Indy.

— Mike Trudell (@LakersReporter) March 15, 2013
This entire Kobe Bryant "will he or won't he play" saga has been exactly like the Panda Watch that Brian Fantana had to report on in the movie "Anchorman." People have been trying to get access to Kobe and prodding every contact they could find to get a word on whether or not he would end up playing.
I'm pretty sure at one point Kevin Ding tried to get an interview with Bryant but they said, "No, you can't do that. He's a live bear; he will literally rip your face off." OK, maybe I'm just paraphrasing a line from the movie, but that has pretty much been the mood since Kobe went down with the ankle injury. 
There is no word on any minutes restrictions for Bryant. I'd imagine if he's feeling pain throughout the contest, they'll try to get him some rest and keep him on the stationary bicycle to keep everything moving. 
Will he be allowed to be Kobe Bryant on the court, or will he simply be a decoy for the Pacers to worry about?
Initially, D'Antoni said "we'll see" & "game-time decision." When pressed, said he expects Kobe will play, & that he won't just be a decoy.

— Mike Trudell (@LakersReporter) March 15, 2013
Oh, he'll be shooting. 
Show Comments
Hide Comments
Somehow, the Celtics have become a significantly better defensive team with Thomas on the...

Will Iggy stay with Golden State? Does anyone have any idea what to do with Derrick Rose?

Hoiberg was asked about Isaiah Thomas possibly carrying the ball during Game 5
Celtics point guard does not need anyone to hype up his defense

The Bulls had it, they had it ... and ... it's gone

The Bulls found they were without hot water following their Game 5 loss