Magic-Pacers Game 5: Indiana moves on, as Orlando heads to uncertain future
Pacers eliminate Magic, ending Orlando's rollercoaster year.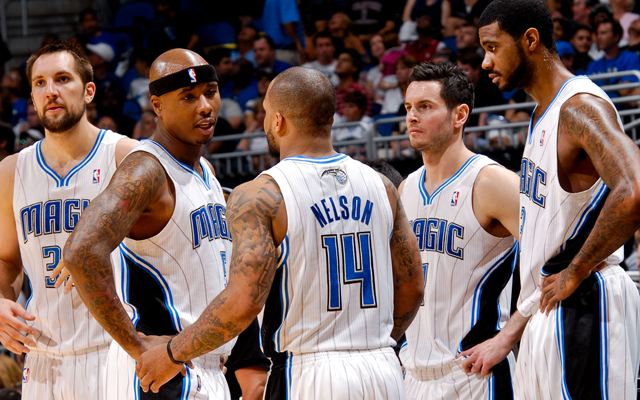 The Celtics have a chance to open at home in the second round depending on how Tuesday night goes.
(Getty Images)
And so it ends, not with a bang, or even a whimper, but this. A quiet first-round exit,
Dwight Howard
not in the building, but not in another uniform. Just another team that gave good effort and lost in the first round to the No. 3 seed, 4-1.
The Orlando
Magic
's craziest season in franchise history came to a close Tuesday night as the
Pacers
advanced to the Conference Semi-Finals to face the winner of the Heat-Knicks series. The Pacers beat the Magic 105-87 behind their best quarter of basketball since the series started, after a game in which the Magic refused to go away for three quarters.
Darren Collison
finished the job for Indiana with 19 points and six assists. There will be time to talk about Indiana and how it matches up with Miami
or New York
, but for now, let's look back at the Magic rollercoaster of 2012. 
For Orlando, it ends a season that started with Dwight Howard requesting a trade, as the Magic dealt with scrutiny and rumors throughout the season. Howard had seemingly relented in his demand before the trade deadline, before recanting that relent, then reversing that recanting of his relent. If you know what I'm saying. Finally Howard signed a waiver of his opt-out clause for the summer of 2012, locking him into his current contract until 2013.
Then followed a report regarding Howard requesting to Orlando management that Magic coach Stan Van Gundy be fired, a report which Van Gundy
then confirmed on camera to the press
. Howard denied the claims of his coach in a bizarre scene.
Then Howard
was listed out for the season
with a herniated disk in his back. He was under doctors orders not to travel with the team for the playoffs. He
will reportedly seek a trade once again
this summer. 
So what's next for the Magic?
It's hard to see SVG being retained after the drama, especially as rumors persist that Howard is
unhappy with how the coach revealed his feelings
. Otis Smith could be on his way out as well, but it's really impossible to predict the future, because this hasn't been about logical decisions, not for a long time.
Bear in mind the Magic rejected the prospect of losing Howard and the submarination of the season that was inevitable (despite some honestly good play from the Magic for months, it's hard to see their chemistry holding indefinitely under that weight even if Howard had been healthy), and held onto him blindly all year. A Magic executive resigned after texting Dwight Howard after a few glasses of wine. An reportedly, Magic brass resisted trading Howard based on the health of owner Rich De Voss instead of a legitimate look at the future of the franchise. You can't blame them, but it still means this is not a rational unit. It's an emotional unit.
The Magic could feature a new GM, a new coach, and a new starting center next season, or any combination of the three. They gave good effort against the Pacers, but that won't be remembered. All that will be remembered is a drama-filled year that did not doom or save the franchise, and what happens this summer as the story continues to unfold. 
But these players stuck together, and we should take a moment to note that. Glen Davis surprised everyone by becoming a legitimate weapon. Ryan Anderson struggled without Howard to create, something he's talked about a lot. Jameer Nelson had flashes. The team played tough and kept coming at the Pacers when they had every reason to surrender. There was no quit in this team of professionals, and they should be proud of that. 
But the biggest story of Game 5 of Orlando-Indiana was about someone sitting somewhere in California, with a series of big changes in front of him, one way or another.
Show Comments
Hide Comments
The bucket pushed the Spurs' lead to seven, and the Grizzlies never got that close again

The series shifts back to Washington for a pivotal Game 5

Trade Kanter? Re-sign Roberson? What about Westbrook?
The Celtics and Bulls meet in Boston for a pivotal Game 5

Here is how to watch the Celtics-Bulls series

The Bulls point guard's thumb is still broken, with significant swelling