Report: Clippers willing to let GM Olshey walk to Blazers job
ESPN reports that the Clippers are on the verge of allowing the 2012 NBA Executive of the Year walk out the door.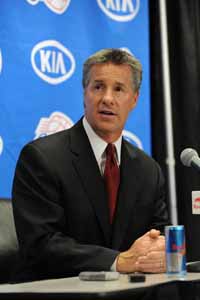 Neil Olshey is a finalist for the Blazers' GM position.
(Getty Images)
ESPN reports that the
Clippers
 are on the verge of allowing the 2012
NBA
Executive of the Year walk out the door.
Ken Berger of CBSSports.com reported earlier this week
 that Neil Olshey was a finalist. 
You see, Clippers general manager Neil Olshey is among the finalists for the Blazers job and all indications seem to be that the Clippers will simply let him go if the Blazers decide to offer him the job as there have been no new contract discussions between the Clippers and Olshey, according to sources close to the situation.
via GM Olshey finalist for Portland job - Los Angeles Clippers Blog - ESPN Los Angeles.


Once the Clippers, always the Clippers, it would seem. If the Clippers don't re-sign Olshey, who built the team that gave them their best year in franchise history, who orchestrated the Chris Paul trade, then there's just no hope for them. Olshey managed to cobble together a top-five seed from a rebuilding squad, and did so without sacrificing too much of the team's future.

He convinced Chris Paul to commit to the Clippers, for crying out loud.

And the Clippers might let him walk. It would be a major disappointment. It would also fit a pattern. While the Clippers can certainly pull this together at the last minute, there was thought that the re-signing of Vinny Del Negro sent a message that Olshey was on his way out, as Olshey wanted to go in another direction with the coaching position.

For the Clippers, it's a quality management mind who doesn't come with much of a public ego or persona, important for owner Paul Allen. It would be a great pick-up and put them on a good track going forward.  

Clippers gonna clip, man. Clippers gonna clip. Here's hoping they pull it together to keep Olshey. 
Show Comments
Hide Comments
Kerr's health situation is worse than previously thought

Golden State has a 3-0 lead heading to Portland on Saturday

The playoffs are starting to heat up
Our experts predict every series in the 2017 NBA postseason

Our NBA experts predict the first round of the NBA postseason

The Warriors continue to roll without Durant