Report: Drake recruiting Kevin Durant got Raptors fined $25,000
Drake, Toronto's "global ambassador," had the crowd at OVO Fest go nuts for Kevin Durant, reportedly resulting in a hefty fine for the Raptors.
• 1 min read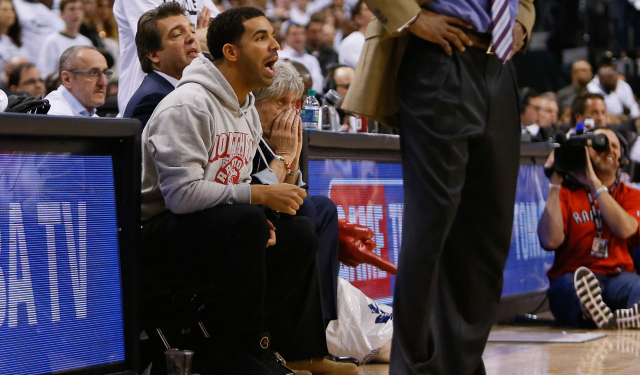 Offseason: Free Agency | Latest from Ken Berger | Rumors
You're probably aware that Drake is the Toronto Raptors' global ambassador, and that he had some fun with Kevin Durant at his OVO Fest last week. With the 2016 free agent in the crowd, Drake asked fans to show the MVP what would happen if he chose to come play in Toronto. They reacted about as you'd expect. In case you missed it:
Since Drake isn't technically employed by the team, this is all legal, right? Wrong, according to ESPN's Marc Stein:
Hearing Raptors fined $25,000 for comments Drake made at a concert about Kevin Durant that were seen as violation of anti-tampering rules

— Marc Stein (@ESPNSteinLine) August 11, 2014
Nothing has been announced yet on the subject, but it'd be interesting to hear the rationale behind the punishment. It's reportedly the same amount as New York Knicks president Phil Jackson was fined for openly talking about the possibility of hiring Derek Fisher as head coach while still under contract as a player.
While it's understandable that the Oklahoma City Thunder wouldn't be pleased about the situation, this is sort of uncharted territory. Toronto is the only team with a rapper as a global ambassador.
For what it's worth, Durant enjoyed his time in the city:
I love the 6. Thanks @drake, nikko, chubs, future, P Reign and the rest of the crew. Y'all showed so much love. Back in the 405!!!

— Kevin Durant (@KDTrey5) August 5, 2014
Show Comments
Hide Comments
Club reportedly wants to keep stars, but doing so promises more of confusion and falling s...

Warriors star talks to CBS Sports about how he gets his mind right

Vince Carter, Norman Powell and Nene have also shined on the big stage
A fantastic series will pit two of the best players in the league against one another, aga...

What does this mean for the future of Paul George?

Father's dream of his own billion-dollar brand prevents his son from landing a deal with the...