Report: Hawks interested in trade for Jeff Green
Celtics forward reportedly drawing interest from Atlanta, who would have to way long-term implications.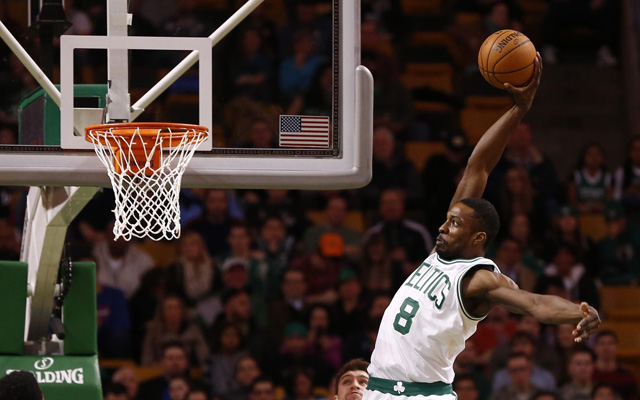 The New York Daily News reported Sunday that the Atlanta Hawks are interested in Celtics foward Jeff Green, and would have to include at least forward DeMarre Carroll in return.. 
We're hearing #Hawks looking to get Jeff Green, who is being shopped hard by Danny Ainge and the #Celtics.

— Mitch Lawrence (@Mitch_Lawrence) February 9, 2014
It's going to cost #Atlanta DeMarre Carroll and more

— Mitch Lawrence (@Mitch_Lawrence) February 9, 2014
This is a fascinating idea. GM Danny Ferry has signaled that he's reluctant to add long-term salary. Green has $18.4 million left over the next two seasons in Boston, with a player option for his last year at $9.2 million. Is that a big enough chunk to keep them away from a deal like this? Carroll is only on the books for $2.4 million next season. They have Elton Brand's expiring $5 million and Lou Williams only has one more season left at a little over $5 million. 
Is Green enough of an upgrade to warrant long-term committment from Ferry without a superstar? I'll admit that a Teague-Green-Millsap-Horford core sounds great, but it's also not a title contender. The fact that Atlanta's even mentioned with Green at this point may signal that Ferry's looking to at least make a significant upgrade through trade rather than pursue pure salary space. 
HT: Peach Tree Hoops, salary data courtesy of ShamSports.com
Show Comments
Hide Comments
They had to open up rosters spots in order to add Barber

Three straight summers of Sager going through this treatment and he's still in good spirit...

It's tough getting dealt away from a contender, but the big man is embracing the move
The Warriors and Nuggets will travel to Canada to take on the Raptors in the preseason

Injuries all over New Orleans slowed The Brow's progress. Now he gets another crack

Miami star wants back on the court, but will team allow him to return?