Report: Hawks interested in trade for Jeff Green
Celtics forward reportedly drawing interest from Atlanta, who would have to way long-term implications.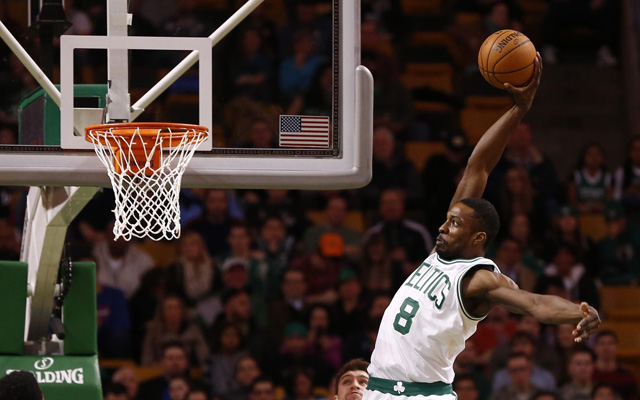 The New York Daily News reported Sunday that the Atlanta Hawks are interested in Celtics foward Jeff Green, and would have to include at least forward DeMarre Carroll in return.. 
We're hearing #Hawks looking to get Jeff Green, who is being shopped hard by Danny Ainge and the #Celtics.

— Mitch Lawrence (@Mitch_Lawrence) February 9, 2014
It's going to cost #Atlanta DeMarre Carroll and more

— Mitch Lawrence (@Mitch_Lawrence) February 9, 2014
This is a fascinating idea. GM Danny Ferry has signaled that he's reluctant to add long-term salary. Green has $18.4 million left over the next two seasons in Boston, with a player option for his last year at $9.2 million. Is that a big enough chunk to keep them away from a deal like this? Carroll is only on the books for $2.4 million next season. They have Elton Brand's expiring $5 million and Lou Williams only has one more season left at a little over $5 million. 
Is Green enough of an upgrade to warrant long-term committment from Ferry without a superstar? I'll admit that a Teague-Green-Millsap-Horford core sounds great, but it's also not a title contender. The fact that Atlanta's even mentioned with Green at this point may signal that Ferry's looking to at least make a significant upgrade through trade rather than pursue pure salary space. 
HT: Peach Tree Hoops, salary data courtesy of ShamSports.com
Show Comments
Hide Comments
Will Iggy stay in Golden State? Does anyone have any idea what to do with Derrick Rose?

Hoiberg was asked about Isaiah Thomas possibly carrying the ball during Game 5

Celtics point guard does not need anyone to hype up his defense
The Bulls had it, they had it ... and ... it's gone

The Bulls found they were without hot water following their Game 5 loss

Wall finished with 20 points and 14 assists in win over the Hawks