Report: Mike Woodson could be fired by trade deadline
Knicks coach may not survive the month of February if things don't turn around in a hurry after loss to the Bucks.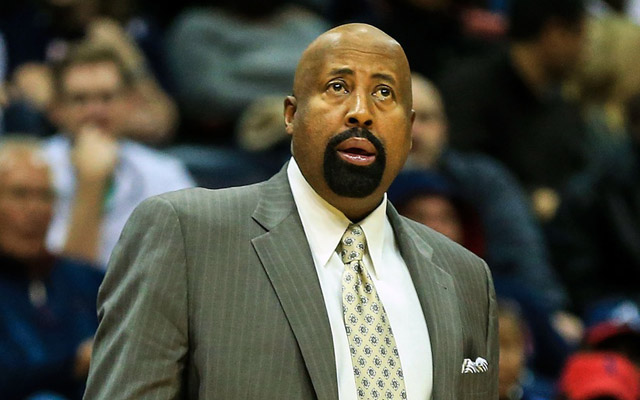 For months, we've wondered what it was going to take to put Mike Woodson on the hot seat with the Knicks. As last year's No. 2 seed spiralled further and further down a pit of despair, reports remained adamant that Woodson wasn't in danger. The problem is that if you don't get the nose up on the plane eventually, someone gets tossed out the back. And the New Jersey Record reports that New York may have opened the cargo bay doors. 
You know what they say about a sinking ship? The rats desert the ship and the captain goes down with it — and coach Mike Woodson may be on his last days afloat.

Left behind to explain the team's latest round of troubles were Woodson and a pair of veterans, Tyson Chandler and Amar'e Stoudemire.

And what they had to say wasn't exactly reassuring — Woodson's words not encouraging for the team's fading chances and in particular, the usually positive Stoudemire's words not encouraging for Woodson, whom one league source said could be removed before the Feb. 20 trade deadline.
via Popper: Mike Woodson in trouble as Knicks continues to flounder : page all - NorthJersey.com.
I know, I know "shocking news," right? But again, the Knicks are a leaky ship with an ironclad front gate and yet this hasn't gotten out in this form yet. But the Knicks lost to the Buckson Monday, and they trailed for almost the entire game. Milwaukee is basically a lifeboat with a paper awning at this point, and it mowed down the S.S. Knickerbocker. 
There just may not be any coming back from that. 
The big problem is who to turn the team over to. There are a lot of politics involved in everything that goes on at MSG, and finding someone willing to take over and get this wreckage to shore could be difficult. 
And still, the Knicks are two games out of the Eastern Conference 8th seed. A good run before the All-Star break, get healthy over the break, then put together any level of consistency, and Woodson could save himself. The sand's not through the hourglass yet. But gravity seems to be catching up with him. 
Show Comments
Hide Comments
On a night of blowouts, Stephen Curry led the Warriors to a sweep and the Raptors got their...

The playoffs are getting interesting

The Cavs and Warriors have both swept their first-round opponents
Our NBA experts predict the first round of the playoffs

Our experts predict every series in the 2017 NBA playoffs

Golden State swept the series, 4-0