Steve Kerr accepts reported five-year, $25M offer from Warriors
Steve Kerr has turned down the Knicks and accepted the Warriors' head coaching offer.
More Offseason Analysis: Coaching changes, news | Free Agency | Draft
Update: The Warriors officially announced that they have reached an agreement in principle with Kerr, and Golden State owner Joe Lacob commented on it to Yahoo Sports: 
"We love Kerr. Incredibly prepared. We got him because of our players. The Golden State Warriors' future is bright," Joe Lacob says in text.

— Marc J. Spears (@SpearsNBAYahoo) May 15, 2014
NBA.com reports that Steve Kerr has turned down the Knicks' offer to join Phil Jackson in New York and will instead accept the Warriors' job. 
Stunner: Steve Kerr spurns the Knicks, accepts Warriors' head coach job. Story coming on http://t.co/tv9kc59jsI.

— David Aldridge (@daldridgetnt) May 15, 2014
Yahoo Sports reports on the size of the deal, and it's a big one: 
Steve Kerr has agreed to a 5 year, approximately $25 million deal with Golden State, source tells Yahoo.

— Adrian Wojnarowski (@WojYahooNBA) May 15, 2014
This one is in fact a stunner, as Kerr was thought to be too far in discussions with New York to pull out, especially given his relationship with Jackson. It leaves the Knicks without their primary option who Jackson had spoken with several times over the past few months, dating back to before Jackson joined the Knicks officially. 
Meanwhile, the Warriors land a huge get. A former player who can connect with Steph Curry as a shooter, has a strong relationship with the front office, and the most sought-after candidate in coaching circles. It's a massive recoup by the Warriors who were thought to be scrambling after Stan Van Gundy signed with Detroit. 
Kerr's family lives in San Diego, and it was thought proximity to them would be a priority. The longer the process drug out, you wondered why it was taking so long.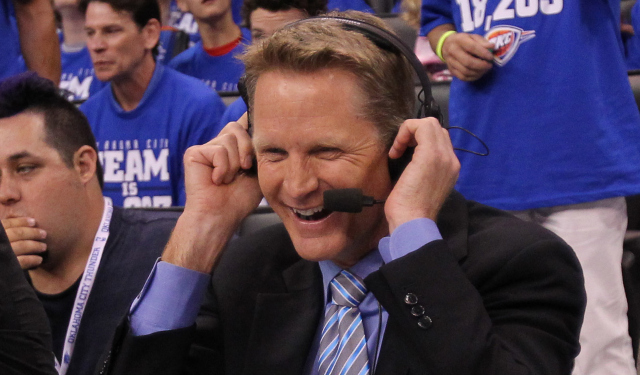 Chris Paul, Blake Griffin and Gordon Hayward lead the pack among stars who could be on the...

The 24-year-old swingman will become an unrestricted free agent

The youngster hit Oladipo with a nutmeg during a one-on-one game at Oladipo's camp
The Cavs will be looking to upgrade their squad after their Finals loss to the stacked War...

Denver is reportedly also in talks on a three-team trade that would send them Kevin Love

Barclays Center hosted the BIG3's inaugural slate of games on Sunday, with The Answer as a...