Thunder-Spurs series: Free-throw shooting could play big role
Thunder coach Scott Brooks pointed out something pretty interesting at the team's shootaround Sunday morning. The Spurs don't foul.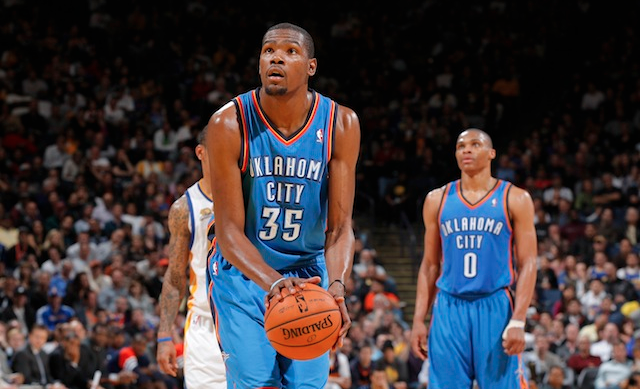 The free throw line could play a major part in the series.
(Getty Images)
SAN ANTONIO --
Thunder
coach Scott Brooks pointed out something pretty interesting Sunday at the team's shootaround: The
Spurs
don't foul.
In the regular season, the Spurs allowed the second-fewest free throw attempts in the league. Contrast that to the Thunder, who attempted the second-most free throws in the league.
"They don't foul," Brooks said. "They're one of the lowest teams in the league that gives up free throws. You don't get a lot of free throw attempts. You have to attack the basket and really get them moving."
The Thunder, though, did just beat the team that allowed the fewest number of free throws, and they did it in five games. During the series against the Lakers, Oklahoma City averaged 24.6 free throws a game. In the regular season, that number was 26.4.
In three games against the Spurs this season, the Thunder averaged 25.6 free throws per game.
The Thunder possess two of the most aggressive players in the league in
Kevin Durant
and
Russell Westbrook
, as well as
James Harden
, who found his way to the stripe quite a lot. Those three were all in the top 10 in total free throws attempted during the regular season. OKC's offense is fantastic, but one of the reasons it's so incredibly efficient is because of all the extra points at the line.
The Spurs though, as Brooks noted, defend extremely well without allowing those freebies. It starts in the middle with
Tim Duncan
who is one of the greatest interior defenders ever.
"Duncan is smart. He knows how to play," Brooks said. "He's their only shot blocker, and he's always around the basket. We have to get him involved in some pick-and-rolls, we have to move him around the floor, put him in spots he doesn't want to be in.
"They've been together a long time," he continued. "What they do offensively is only half the things they do defensively. Defensively they don't get a lot of credit for it because they've kind of changed their offense where they're running more, getting more points. But their defense is still top notch."
The Spurs finished the season first in offensive efficiency and 10th in defensive efficiency. They allowed 96.5 points per game, 16th in the league. But only 14.1 of those points came via the charity stripe. So if the Thunder are going to score their points, they're going to have to earn them from the floor. 
Show Comments
Hide Comments
Cleveland can complete the sweep on Sunday

The Warriors continue to roll without Durant

How to watch Cleveland and Indiana in their first-round series
The playoffs are starting to heat up

The Bulls' point guard was still trying to make an impact, even from the bench

Kerr's health situation is worse than previously thought