Bears DE Ed Sprinkle, football's 'meanest man' in 1940s, dies at 90
Ed Sprinkle, who died Monday, was a four-time Pro Bowler for the Bears.
• 1 min read
More NFL: Photos |  Videos & GIFs |  Training Camp updates | Manziel
Once labeled the "meanest man in football" by Collier's Weekly magazine in 1950, former Bears standout defensive end Ed Sprinkle died at the age of 90 on Monday.
Sprinkle played for the Bears from 1944-55 and made four Pro Bowls and the All-Decade team for the 1940s, while quickly becaming a favorite of Bears founder George Halas.
Though he insisted he wasn't a mean guy, he was also known to use his forearm to smash in an opponent's face or throat -- as the NY Times points out, this was a legal maneuver back in those days -- and once said "I'd knock the hell out of a guy if I got the chance."
As Charlie Trippi found out in the photo below (credit to Collier's Weekly for that shot).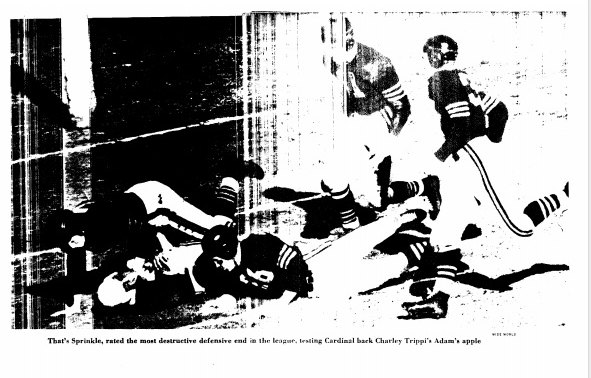 As far as being the meanest guy around, though?
"I don't know where it started. I hit guys. I never stood around. Sometimes they interpreted that as being mean instead of being tough," Sprinkle told the Reporter Online when he was 89. "Halas tried to defend me. He said I wasn't a dirty player. I was mean as everyone out there."
Halas loved Sprinkle's play so much that he called him the best pass rusher he'd ever seen while assigning Sprinkle the No. 7 jersey -- the same jersey Halas himself had worn.
And Halas defended him all day long.
Said Halas in that Collier's story: "He's got to push and shove his way past those blockers, and if somebody gets an unintentional whack in the nose now and then, well, that's football."
Show Comments
Hide Comments
Our Latest Stories
Beckham took off his helmet after scoring and now has to give the NFL some money back

Suh has a history of skirting the line of dirty play but won't draw a fine this time

The sheriff in King County, Washington took exception to being blamed for a lack of eviden...
Buffalo's first-round pick Shaq Lawson is set to make his NFL debut this week

Here's an look at the updated lines for all NFL games being played in Week 7

The NFL has placed Brown, who is likely done in New York, on the commissioner exempt list