NFL Draft surprise? Raiders may take Hayden third overall
Several teams believe the Raiders are ready to take cornerback D.J. Hayden with the third pick in the first round, if they can't trade down.
• 1 min read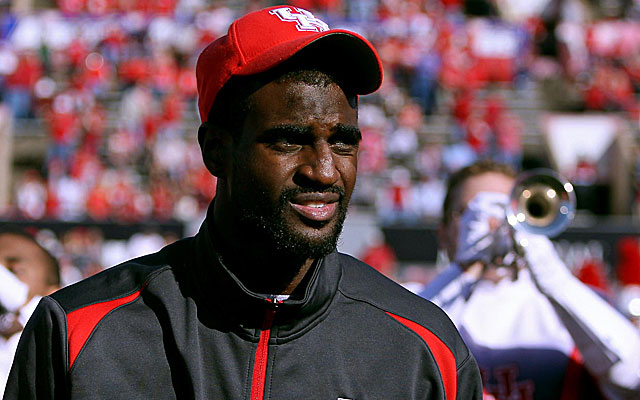 Several teams picking in the high end of the first round believe the Raiders, if they cannot trade down, will take Houston cornerback D.J. Hayden with the third overall pick, which would certainly qualify as the first shocker of this unpredictable draft.
Hayden has made a tremendous rise since taking a blow to his heart from a helmet in November and nearly dying.
Multiple clubs have him rated as the top corner available, according to league sources. And as his medical issues have subsided and his months of recovery have him back in peak condition, teams have increasingly elevated his draft stock.
Still, going third overall would be a surprise to many. The Raiders are high on him and are seen as a true wild card at the top of the draft. And though they are trying to trade down, other clubs are penciling them with Hayden in their projections. One GM in the top 10 believes Oakland will be able to pull off a trade down -- in which case, Hayden would be the target of that move.
Oakland has been linked with Florida defensive tackle Sharrif Floyd, as well as any of the top three offensive tackles. But the Hayden buzz is growing. If the Raiders keep the third pick and Hayden's name is called, I can't consider it a surprise anymore.
And several executives that I was in contact with would be surprised to hear any other name called at this point.
Show Comments
Hide Comments
Todd Bowles previously assigned a vague deadline for Ryan Fitzpatrick to return as the sta...

Adrian Peterson, Golden Tate and Pernell McPhee are among the non-Packers standouts

Dockett racked up the seventh-most sacks in franchise history
After a forgettable 2015 season, the Colts are ready for a do-over

Hopkins tied for the league-lead in receptions last year

Brady also won't even be able to discuss anything football-related with teammates, per NFL...