NFL Draft surprise? Raiders may take Hayden third overall
Several teams believe the Raiders are ready to take cornerback D.J. Hayden with the third pick in the first round, if they can't trade down.
• 1 min read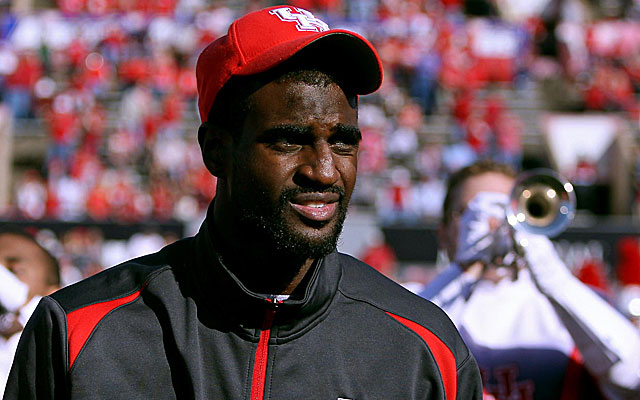 Several teams picking in the high end of the first round believe the Raiders, if they cannot trade down, will take Houston cornerback D.J. Hayden with the third overall pick, which would certainly qualify as the first shocker of this unpredictable draft.
Hayden has made a tremendous rise since taking a blow to his heart from a helmet in November and nearly dying.
Multiple clubs have him rated as the top corner available, according to league sources. And as his medical issues have subsided and his months of recovery have him back in peak condition, teams have increasingly elevated his draft stock.
Still, going third overall would be a surprise to many. The Raiders are high on him and are seen as a true wild card at the top of the draft. And though they are trying to trade down, other clubs are penciling them with Hayden in their projections. One GM in the top 10 believes Oakland will be able to pull off a trade down -- in which case, Hayden would be the target of that move.
Oakland has been linked with Florida defensive tackle Sharrif Floyd, as well as any of the top three offensive tackles. But the Hayden buzz is growing. If the Raiders keep the third pick and Hayden's name is called, I can't consider it a surprise anymore.
And several executives that I was in contact with would be surprised to hear any other name called at this point.
Show Comments
Hide Comments
These 11 players could have a Dwight Freeney-type impact for the right team

Last week, Mark Davis revealed that he had refunded and re-sold about 1,000 tickets

Vick's legacy with the franchise that drafted him remains complicated
Navy SEAL Kyle Milliken, who died during a raid in Somalia, met Brady at Gillette Stadium in...

Cowboys fans will probably disagree with Claiborne's statement

'I want to score a lot of touchdowns. I want to see a lot of celebrations,' Harbaugh said