Redskins seem content on letting Brian Orakpo play under tag
With the way Redskins coach Jay Gruden talked Wednesday, it sounds like Brian Orakpo shouldn't expect a long-term deal yet.
• 2 min read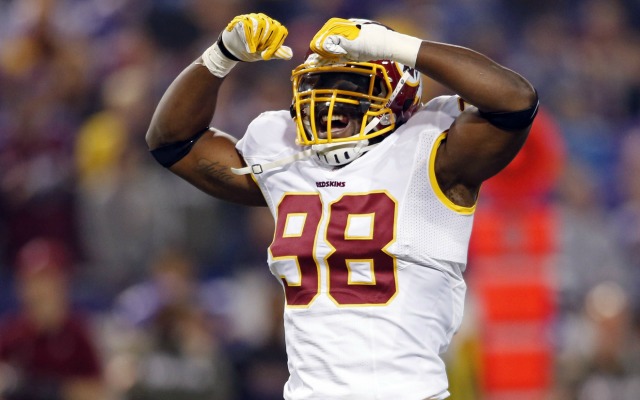 More NFL offseason: Mock Drafts | Prospect Rankings | Pro Days | Top free agents
Earlier this month, the Redskins used their franchise tag for 2014 on linebacker Brian Orakpo, meaning they would have to pay him $11.45 million if the two sides couldn't agree to a long-term deal.
Sounds like Orakpo can expect the $11.45 million.
Redskins coach Jay Gruden said at Wednesday's owners' meetings that he's not opposed to simply letting Orakpo play under the tag for the season.
"We'd like to get him here for as many years as we can, but right now I wouldn't mind letting him play out this franchise tag and see what happens," Gruden said, via the Washington Post. "He's a talented player. I think he can do a little bit better. [We] can ask more of him where he could be more productive as far as getting his hand down and rushing more instead of dropping [into pass coverage] quite so much. We have high hopes for Brian and whether the deal gets done or not, we know he'll be a big part of our success [in 2014]."
Orakpo has battled injuries during his career, but he still managed 10 sacks in 15 games last season. At the combine, Gruden said Orakpo was one of the team's top priorities but apparently that didn't relate to making a long-term commitment to him.
"Pass rushers don't grow on trees, and at the time we did it we weren't sure what pass rushers would be available," Gruden said Wednesday. "There was still a chance for Seattle to franchise [Michael] Bennett, or some of the top pass rushers out there we weren't sure who would be available. So, we thought it was very important to take care of one of our own, who we groomed and coached up, and also the fact that pass rushers don't grow on trees. We thought it was very important we got one and we're happy with Brian."
We're not sure how Orakpo will feel about Gruden's latest idea, but when he was originally tagged, he seemed OK with it.
"Hopefully we can get something done as far as long-term, but at least this is a step moving forward and not backward," Orakpo told the Post in early March. "...Normally, the Redskins like to get rid of homegrown talent, or homegrown talent doesn't develop the way they want to. But they prioritized myself as far as having a career here. I'm still in my prime and had the one injury setback, but still came back very strong and so I commend them on that. I want something that can work out for the both of us and this was that one step moving forward, and I'm happy to continue hopefully being a part of the Redskins and hopefully getting something done long-term eventually."
If that long-term extension does come to fruition, it sounds like it won't be happening any time soon. 
Show Comments
Hide Comments
Brett Hundley was apparently on the block during Day 2 of the draft

The Bills fired their GM Sunday morning, then cleaned house

Get ready to start hearing a lot about Sam Darnold and Josh Rosen
College players who didn't get drafted are now free to sign with any team in the NFL

Benjamin has had weight issues going back to college

As one exec put it, 'We don't know what the hell they were doing'