Third Circuit court upholds the NFL's $900 million concussion settlement
Objectors to the $900-plus million settlement appealed to the Third Circuit last year.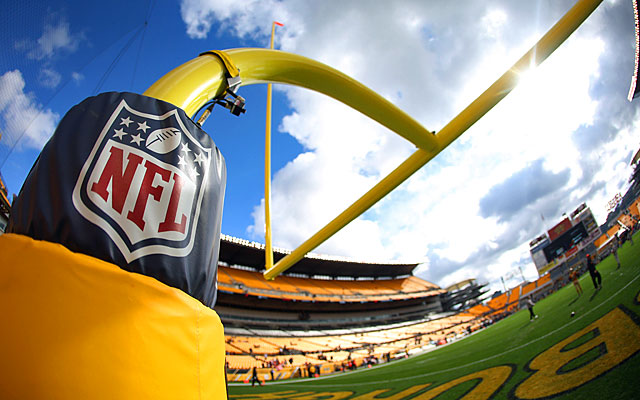 The U.S. Third Circuit court of appeals on Monday upheld the settlement the NFL reached with retired players in 2013 to resolve a concussion-related lawsuit. The settlement, which originally totaled $765 million, was revised such that it was expected to reach $900-plus million.
The revised settlement was provisionally approved in April 2015 by a Judge Anita Brody of the U.S. District Court in Philadelphia, who called the settlement "fair, reasonable and adequate." Objectors to the settlement appealed it to the Third Circuit in November 2015.
According to a report, the settlement calls for former players diagnosed with certain neurological disorders to receive payments of up to $5 million each. In announcing the decision to uphold the settlement, the Court on Monday said that though it was "not perfect, it is fair."
Third Circuit addressed recent admission re CTE here, the NFL "conceding something already known": pic.twitter.com/hZE80qTpG8

— Andrew Brandt (@AndrewBrandt) April 18, 2016
Court: "Settlement is a testament to players, researches and advocates who have worked to expose true human costs of a sport so many love."

— Andrew Brandt (@AndrewBrandt) April 18, 2016
Third Circuit's "Conclusion" in today's opinion upholding NFL concussion settlement: pic.twitter.com/Pk7fayarUq

— Daniel Wallach (@WALLACHLEGAL) April 18, 2016
As stated by legal analyst Andrew Brandt, it is important to note that the NFL admitted no liability in its settlement with retired players. The lawsuit was brought on behalf of more than 5,000 retired players. It could eventually cover more than 21,000 former players, according to the court.
Show Comments
Hide Comments
Our Latest Stories
The Broncos GM and the Cowboys owner have been hanging out, though

The versatile Stanford star would wear a lot of hats in Green Bay

Finally some information out of Washington from the team president
Packers cornerback Makinton Darleant is also charged in incident early Sunday morning

Panthers owner Jerry Richardson won't be in attendance as he continues to battle health is...

The Raiders vote is expected as early as Monday, and 'pace of play' is also high up on the...