2014 Winter Classic: Just another game? Table set for a true Classic
Wednesday will see the sixth edition of the NHL Winter Classic at Michigan Stadium between the Leafs and Wings, an event that shows no signs of losing any steam.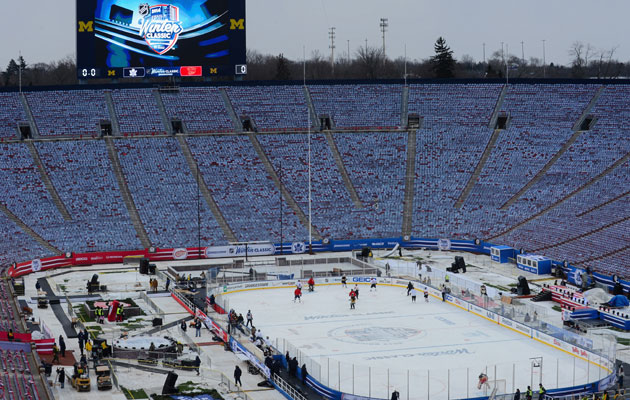 More NHL: Scores | Standings | League Leaders | Odds | Injuries | Power Rankings
DETROIT -- Before this, what is already the sixth edition of the NHL's Winter Classic, some will try and tell you that it's just another game. It is one of the five regular-season battles between the Maple Leafs and Red Wings, game No. 42 for each, officially beginning their march into the second half of the schedule.
While all of that is true, it is also all pretty much false. While the significance in the standings is no more than, say, Carolina at Columbus, in the grand scheme of things, the Winter Classic continues to feel different. Very different. That majestic appeal has yet to wear off. The Winter Classic remains the sport's equivalent of a 6-year-old kid waking up and seeing the presents Santa left under the tree. It has that level of unbridled excitement and anticipation.
It doesn't get treated like just another game because it's not. What other time do you recall seeing a crowd in excess of 110,000 to watch an NHL game? The answer is you can't recall it because you've never seen it. Staff from the Guinness Book of World Records will be on hand to see if this game eclipses the previous record for biggest hockey crowd, again at the Big House between Michigan and Michigan State (104,173 verified). It's expected the barrier will be broken. This annual game is covered almost as if it were a one-game Stanley Cup Final, not your average couple-of-beat-reporters-in-the-dressing-room night in March.
Simply, it's just not the same. It's still special.
In fact, it feels like the anticipation for this game at Michigan Stadium is as great as we've seen for the event in years now (there is one possible positive from the lockout, it delayed this game a year and increased the anticipation). When the people in the NHL offices first dreamt of playing outdoor games, what lies ahead in Ann Arbor is likely what was envisioned right down to the final details (including the gouging beer prices).
For those that love their history -- and we know hockey fans can't get enough lore -- the game features two Original Six teams. Also for the first time, it incorporates a Canadian team into what had previously been just an American event, giving this game even greater appeal North of the Border.
Ratings should be as strong as ever, particularly with the forecast calling not only for temperatures well below freezing but plenty of snow, too. It could be the first Classic since the first Classic to actually look like it's being played outdoors in the winter time.
Who doesn't remember Sidney Crosby slowly moving down the ice in the face of all the falling snow flakes to push the puck past Ryan Miller to win the shootout for the Penguins? It was an iconic moment and on Wednesday in Ann Arbor, we could see something like it again. That's the promise of a game such as this, in a locale such as this. As long as Mother Nature doesn't overdo the precipitation, the conditions could actually produce a decent enough playing surface to make for good hockey, too. The elements are what make the Classic live up to its namesake. There is little that is ordinary about it.
All of the ingredients are here for the NHL to add another incredible chapter into what has undoubtedly become its signature event, one that has helped Commissioner Gary Bettman seem not so crazy when he said he wanted to challenge college football for New Year's Day supremacy. Hockey's Granddaddy of Them All is set to have its grandest spectacle to date.
The Winter Classic's uniqueness is going to be tested this year. One thing that makes the game so special and such a hit is that it is different. But this game marks the start of a stretch of six outdoor games in the span of two months. It's a real concern that outdoor game fatigue is going to set in and it will become tired, somewhat similar to the criticism many have had about HBO's groundbreaking series 24/7 in its third year. The novelty is wearing thin.
But when more than 50,000 Red Wings fans and more than 50,000 Maple Leafs fans walk down the tunnels at Michigan Stadium and settle down to cheer and produce some of the most raucous sounds ever heard at a hockey game, none of that will matter. The players will be jacked up, the fans will be juiced and the NHL? Well the NHL will be enthused because as yet, there are no signs this one, special outdoor game is losing its steam.
Show Comments
Hide Comments
Ottawa recovers from a 7-0 loss in Game 5 to quiet Pittsburgh's offense

Series schedules, results and updates from the Eastern and Western conference finals

Out for the remainder of the postseason, Johansen is still part of the Predators' playoff...
Nashville refuses to back down despite taking fewer than 20 shots against fill-in goalie Jonathan...

Anaheim will be without two key forwards and possibly its No. 1 goalie in Nashville on Mon...

Pittsburgh makes a fool of Ottawa's top-line defense with four goals in the first period a...