Blackhawks acquire Dale Weise, Tomas Fleischmann from Canadiens
The Chicago Blackhawks made another trade, this time acquiring Dale Weise and Tomas Fleischmann from Montreal for Philip Danault and a second-round pick in 2018.
Just when you thought they couldn't do anything else, the Chicago Blackhawks made another move ahead of Monday's trade deadline. The defending champs acquired forwards Dale Weise and Tomas Fleischmann from the Montreal Canadiens for young forward Phillip Danault and a 2018 second-round draft pick.
Additionally, Montreal is reportedly retaining 30 percent of Weise's salary. Both Weise and Fleischmann will be unrestricted free agents this summer. Here's how the additions break down in terms of salary:
Cap hit summaries:#Hawks:
Fleischmann $750,000
Weise $717,500
Total: $1,467,500#Habs:
Danault $863,333
Weise $307,500
Total: $1,170,833

— General Fanager (@generalfanager) February 27, 2016
The deal comes a day after the Blackhawks swung for the fences and landed veteran forward Andrew Ladd in a trade with the Winnipeg Jets. The team also acquired veteran defenseman Christian Ehrhoff in a trade Friday afternoon with the Los Angeles Kings. This one should do it for Chicago, though, as it's pretty much all out of cap space.
Weise and Fleischmann will bring some more veteran depth to the Blackhawks' forward group, which is something head coach Joel Quenneville was openly hoping for as the team aims to make another title run.
Weise has 26 points including 14 goals in 56 games this season. He plays a physical style and should slot rather easily into Chicago's bottom six. Fleischmann, meanwhile, came to the Habs on a professional tryout contract in the offseason. He had 20 points including 10 goals in 57 games so far this season and has some versatility, which will allow the Blackhawks to move him around the lineup as needed.
Meanwhile, this trade signifies the Canadiens have settled into sell mode as their playoff hopes continue to falter. They add an NHL-ready player and Quebec native in the deal and get a higher draft pick for a few years down the road.
Danault had appeared in 30 games this season, posting a goal and four assists while playing in a depth role for Chicago. At 23 years old, the former first-round draft pick still has a little more potential to tap into, but the Habs have high hopes for him. In a statement released following the trade, GM Marc Bergevin said this:
"Phillip Danault is a young and gifted player who will be part of our core group of young forwards for many years to come. I am very pleased to have him join our organization. As a member of the Blackhawks management group, I was instrumental in the selection of Phillip in the first round of the 2011 NHL Draft."
The Habs do get a nice piece, but selling Danault as a core player seems like a bit of a stretch. Either way, they got something of value out of a pair of guys they were going to lose this summer anyway.
Going back to the other side of this deal, Blackhawks GM Stan Bowman has signaled to the rest of the league that he is all in for another Stanley Cup run. That surprises no one, but repeating has not been easy. It has never happened in the salary cap era and not at all since the Detroit Red Wings won back-to-back Cups in 1997 and 1998. Arguably the league's top GM, Bowman -- whose dad Scotty, a Blackhawks adviser, was the Red Wings' coach when they repeated -- is doing his part to put his team in the best position to succeed.
Chicago still has some concerns on the back end, but that was also true last season and it didn't matter. There was also some weakness at forward, but those holes have been filled over the past two days, positioning the Blackhawks much better going forward.
It's hard to believe, given all of the team's complications with the salary cap figures this year and having to dump so many pieces from last season's championship team to clear space, that the Blackhawks are able gear up like this for what should be another deep playoff run.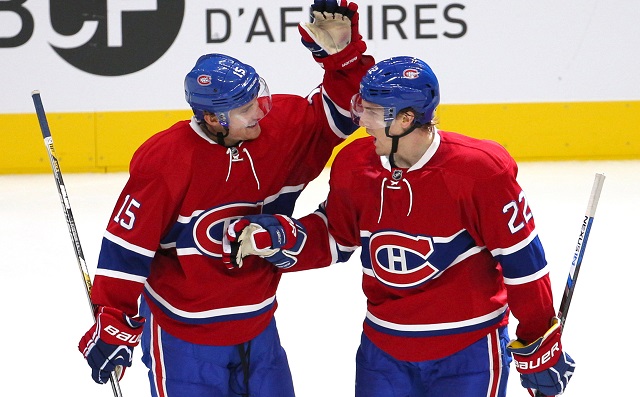 Show Comments
Hide Comments
Series schedules, results and updates from the second round of the Stanley Cup race

Here's how to stay on top of all of the NHL's second-round playoff series, which begin Wed...

Series schedules, results and updates from the first round of the Stanley Cup race
Ottawa took a 3-2 decision to send Boston home, and Washington outlasted Toronto, 2-1

Stevens was L.A.'s interim coach for four games in the 2011-12 season

St. Louis, New York and Edmonton eked out victories that eliminated Minnesota, Montreal and...