Report: Steve Downie was traded over incident with Gabriel Landeskog
Why did the Avalanche trade Steve Downie amid an excellent start? Reportedly it went back to training camp and an issue with Gabriel Landeskog.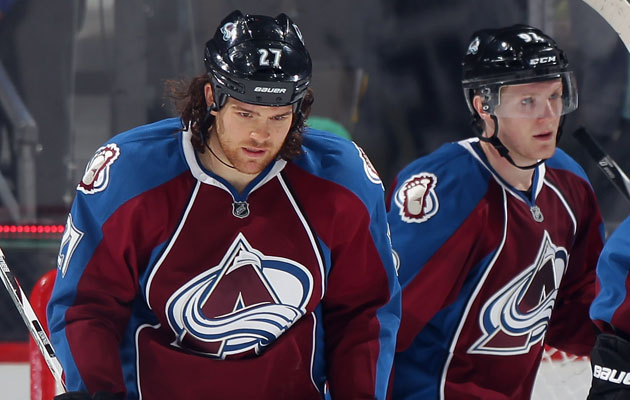 More NHL: Scores | Standings | League Leaders | Odds | Injuries | Power Rankings
Last week when the Colorado Avalanche traded forward Steve Downie to Philadelphia for Maxime Talbot, it was a bit mysterious. For starters, in a straight swap it seemed like the Avs were giving up the better player by a decent margin.
Secondly -- although perhaps as important -- was the timing of it all. The Avalanche were in the midst of a ridiculously hot start to the season and the idea of possibly altering the chemistry they had been developing seemed like a risky play. It's not often you see a team trade away the better player in a deal when they're winning.
Even though the timing did seem odd, the Avs had apparently been looking at such a deal for a while. Elliotte Friedman was on Sportsnet 960 in Calgary on Tuesday and gave a little more background on the deal.
"Basically what it goes back to was during training camp Downie got mad at [Captain Gabriel] Landeskog for a trip during a scrimmage and he drilled him. I was just told from that day, considering Downie was a bit unrepentanant about it, I just heard the Avalanche decided they were going to make the change at that time. You can't have guys doing that. The timing is still very odd, it's an interesting time for the deal, but I was told basically the Avalanche had decided that when that happened and Downie was basically unapologetic about it, the time was going to come where he was going to get dealt."
So as is the case with just about every trade, there was apparently more than met the eye with this deal. Given Downie's reputation as being more on edge and an agitator, it's not that far-fetched to believe, now is it?
Still, even if there was a little animosity between the two of them it didn't seem to be a big problem in the way the team was playing. But if Patrick Roy and Joe Sakic (and Greg Sherman, can't forget Sherman I guess) had decided to move along already then the good start for Downie probably only helped matters. If there was any animosity it's pretty clear to see why the Avs would want to remedy the situation so early.
Show Comments
Hide Comments
The Magic Man is feeling right at home with SKA St. Petersburg

Las Vegas owner Bill Foley is known to be partial to 'Knights' related names

Bednar recently led the Lake Erie Monsters to the AHL's Calder Cup
Crosby will don the 'C' once again after captaining Canada to gold at the 2014 Olympics

The Panthers cut costs, while the Coyotes add a former first-round pick and extra cap spac...

Braid will be the team's full-time skating coach, working with players throughout the orga...