Union defeats Minnesota for college hockey national championship
Union College is the 2013-14 college hockey national champion after a 7-4 win over national power Minnesota.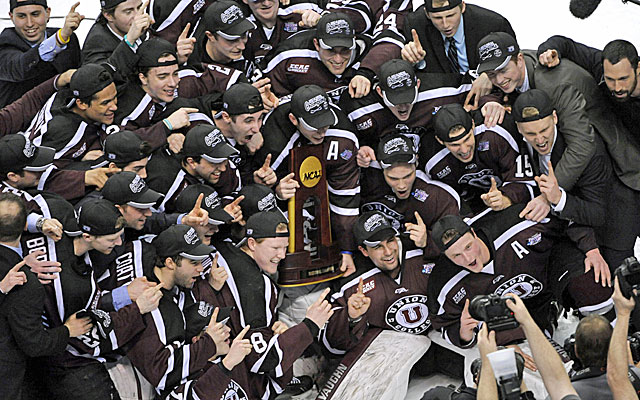 More NHL: Scores | Standings | League Leaders | Odds | Injuries | Power Rankings
For the first time in their school's history, Union College is the national champion in ice hockey. The Dutchmen defeated national powerhouse and No. 1 overall seed University of Minnesota, 7-4, to claim college hockey's top prize in Philadelphia.
It was a wild game that included a six-goal first period in which Union scored three times in a span of 1:54 to erase a 2-1 deficit early in the game and own a 4-2 lead after the first 20 minutes.
The Gophers got one back in the second period and controlled most of the middle frame as well. Union responded in the third period, however.
Max Novak scored 5:31 into the third period to give Union a 5-3 lead, but Minnesota was not going to go quietly.
A power-play goal by Buffalo Sabres prospect Hudson Fasching gave Minnesota life with 4:40 to play in regulation, but the momentum was short lived.
Kevin Sullivan took a chip pass from Mat Bodie and deposited the puck under Minnesota netminder Adam Wilcox to make it 6-4. Bodie, the team's captain, put home an empty-netter to ice it with just over 44 seconds remaining.
Union, a program with no athletic scholarships and with an enrollment of 2,241, has made two trips to the Frozen Four in the last two years. They defeated Boston College 5-4 in the semifinal Thursday to earn their first trip to the national championship game against Minnesota.
Union dispatched two of the most successful programs in all of college hockey to win this national title, so it is a championship well earned.
The game was highlighted by the play of defenseman Shayne Gostisbehere, a native of Margate, Fla. The junior blueliner is a Philadelphia Flyers prospect and Union's only drafted player. In the building he will probably one day soon call home as a member of the Flyers, he scored Union's first goal, had two assists and finished the game as a plus-7. So, yeah, Union did not score a goal without him on the ice.
It was one of the most dominant performances in college hockey you'll see.
One would have to imagine Flyers GM Paul Holmgren had the contract at the ready for Gostisbehere (pronounced GOSS-tiss-bear) as soon as he stepped off the ice.
Union finished the season 32-6-4 and won the ECAC conference's regular-season and playoff championships. Now the Dutchmen can say without a doubt that they are the nation's best team.
Pittsburgh also has been linked to Matt Duchene and could be in the mix for Tyler Bozak

Nashville extends its 24-year-old restricted free agent with what could be bargain numbers

Calgary forward is all for playing for the Flames, but he also likes the idea of going to...
Plans for renovating KeyArena are now also being overseen by NHL-to-Seattle hopefuls

With Leslie Anderson selling the Rockets, there is newfound hope for hockey in Houston

Pittsburgh Penguins' repeat Conn Smythe Trophy winner has more than hockey on his athletic...