BCS Championship Game predictions: Seminoles favorite over Auburn
Our senior college football writers and bloggers pick their winners for Monday night's BCS title game between Florida State and Auburn and explain the reasons behind their selections.
Our senior college football writers and bloggers pick their winners for Monday night's BCS title game between Florida State and Auburn and explain the reasons behind their selections.
Dennis Dodd
Florida State is confident, bordering on cocky. No doubt you've seen the quotes.
-- "Where in the rulebook does it say that we can't blow out everybody that we play?" – Jameis Winston
-- "I think you always play for respect. When you quit playing for respect, to me, you quit playing." –Jimbo Fisher
Fisher and the Noles have something for Auburn. You see it in their body language, read it in their quotes. FSU is going to win, big.
That shouldn't be a surprise. The Noles have won every game big. The counter is that all those blowouts came in the ACC. The ACC was actually better this year, producing an NCAA-record 11 bowl teams and a Clemson team that beat Ohio State. It had three 10-win teams for the first time and three different top-10 teams.
So let's get past that.
FSU didn't get to this point playing in the MAC. It got to this point with the biggest, most intimidating set of receivers in the country. It got here with a defensive front with each starter a five-star coming out of high school. It got here with a ball-hawking defensive back (Larmarcus Joyner). It got here with a physical, spiritual, singular talent at quarterback. It got here because it looks, plays and feels like teams in the conference that have won the past seven national championships.
The SEC streak will end in Pasadena because of an SEC-like team will break it. And Auburn. Florida State 34, Auburn 24
Bruce Feldman
I know Florida State has blown everyone out, but my hunch is DC Jeremy Pruitt and company will have their hands full with Gus Malzahn's funky misdirection, power-football, up-tempo scheme.
The Noles have the most talent Auburn has seen on defense, but I still expect the Tigers, led by Tre Mason and a really, really underrated O-line, to do some damage. Don't forget in five SEC games away from Jordan-Hare Stadium, Mason averaged 180 yards rushing. That came against some pretty stout defenses, including his 304 against Mizzou and the country's No. 14 run defense.
FSU has yet to play in anything close to a tight game this season, and that's another thing that should scare some Noles fans, especially since Auburn has had a few magical (re: bizarre) rallies late in games. That said, I think for as dynamic as QB Nick Marshall can be, his accuracy isn't great and FSU has some ball hawks in the secondary.
I also expect Heisman winner Jameis Winston to come through for FSU in the clutch. I do think the redshirt freshman is that special. I also buy that the Noles have the best receiving corps in the country and Auburn's secondary is suspect. Florida State 35, Auburn 31
Tony Barnhart
On paper Florida State should win this BCS championship in a runaway. The Seminoles lead the nation in scoring (53 ppg). They have the Heisman Trophy winner at quarterback and big elite wide receivers going against Auburn's undermanned secondary. The Tigers' defense ranks No. 88 nationally (423 yards per game).
Since trailing 17-3 at Boston College back in September, Florida State has dominated every opponent. But Auburn is resourceful. The Tigers have played a more difficult schedule and have been tested more than once.
There is a grit on this team that defies the limitations of talent. If Auburn can get the game into the fourth quarter it will win. Auburn 35, Florida State 31
Jeremy Fowler
Florida State knows Auburn's fourth-quarter heroics, so it will keep a safe enough distance to avoid that threat. FSU is the deeper team with more options offensively. Jameis Winston has four high-level passing targets and three capable running backs to play with, along with an imposing offensive line. No one's shutting the Seminoles' offense down this deep into the season, especially not with a month to prepare. FSU appears to have an edge to it this week. An underplayed storyline this week is that FSU hasn't given up a rushing touchdown all season.
Auburn will get yardage with that vaunted rushing attack, but FSU will be OK with that as long as it limits big plays. Hold Auburn to field goals when it can. Gus the scientist will concoct some new plays or formations that could fluster the Noles at times, but FSU has game tape from all the SEC teams that overplayed Auburn's offensive misdirection. The Noles will learn from that.
If Auburn can apply consistent pressure on Winston -- and actually bring him down -- perhaps the Tigers can keep him off the field and control the pace of the game. Good luck with that. Florida State 34, Auburn 24
Tom Fornelli
I don't want to say that I think we're going to have a game on par with Texas-Southern Cal in Pasadena in January 2006, but I have a strong feeling that we're all in for an exciting and thrilling finish to the 2013 season on Monday night. That means Florida State -- which has won its 13 games by an average of 42 points -- will find itself in an unusual position.
The Seminoles will be in a game that is still undecided come the fourth quarter.
I believe this will be the case because, although Florida State has one of the best defenses in the country, particularly when it comes to stopping the run, strong run defenses haven't done anything to stop Auburn. Alabama has allowed only 3.32 yards per carry this season, and that's even after you factor in the 296 yards Auburn rushed for in the Iron Bowl.
They've long said that "defense wins championships," though for the better part of this season, offense has been the show. That's not going to change on Monday night, as somebody's offense is going to win its team a title. Florida State 38, Auburn 35
Jerry Palm
Florida State is looking to finish a season of unprecedented dominance with one more blowout win. Only one team, Boston College, has stayed within four touchdowns of the Seminoles. They can beat you with their offense, led by Heisman Trophy winner Jameis Winston. They can beat you with their defense, which has NFL talent at every level. They can beat you with special teams, which includes Lou Groza winner Roberto Aguyao. It's going to take a special effort just to play these guys close, maybe even a little luck.
Hey, Auburn knows something about luck. This is a team that has led something of a charmed life. Toward the end of the season, whatever they needed to happen, happened. Need a ball to bounce off two Georgia defenders and land in a receiver's hands? Got it. Need a last-second FG attempt to fall short? Got it. Need Michigan State to beat Ohio State? Got that too. None of that would matter if the Tigers weren't also very good. They boast the top rushing offense in the nation, averaging 335 yards per game. They're going to need to control the ball to have a chance to stay in this one.
Auburn probably needs to generate a couple turnovers too. If the Tigers aren't at least plus-2 in turnover margin, it's going to be hard to keep the game close. If they can, then the advantage goes to Auburn. It has won a number of close games this year, while Florida State has yet to take a meaningful fourth-quarter snap.
It says here that FSU doesn't let down, doesn't make the key mistakes, and doesn't let this game stay close enough for the fourth quarter to matter. Florida State 38, Auburn 21.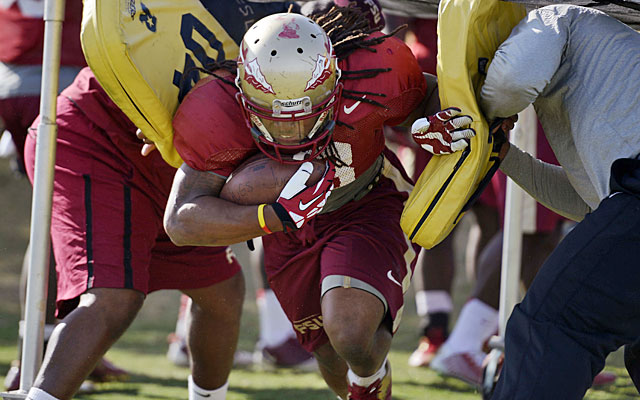 Jerry Hinnen
It's eye-opening that for all of the "team of destiny" chatter surrounding Auburn and Gus Malzahn's thrilling offensive wizardry -- factors that have purportedly made the Tigers the favorite of "public" Vegas bettors this past month -- enough money has nonetheless been wagered on Florida State to establish the Seminoles as full 10-point favorites as of Monday morning, up from an opening line of 7½.
Though Auburn has merrily ignored the Vegas expectations all season long (the Tigers have won their past 10 against the spread, and have already won four games straight up as an underdog), it still has to give Auburn backers some pause when so many "sharps" expect Jimbo Fisher and Co. to not only win the game, but do so by double digits.
It's easy to understand the thinking. The Tigers' Tre Mason-led demolition of Missouri may have been the most impressive offensive performance of the season, but over the course of all 13 games Jameis Winston and pals were even better by nearly any statistical measure you care to name. On the other side of the ball, Auburn's bend-but-don't-break defense (38th in scoring D) might be underrated, but the Seminoles' edge there is still wide enough to pave and label a major interstate.
If the Seminoles are roughly as good on offense and far better on defense -- and are those points even debatable? -- why is this game even considered in doubt, again? For starters, because the record of SEC teams in the BCS title game -- 8-0 straight up and against the spread vs. teams from all other conferences -- is too good to dismiss. Because the Seminoles' precision passing may suffer more disruption from the deep-sea-worthy pressure of this stage than an Auburn zone read game Nick Marshall can operate in his sleep. Because if Jeremy Pruitt gets a month to prepare for Auburn's option, that also means Gus Malzahn -- who has been at this high-stakes play-calling thing for much longer than his adversary -- gets a month to prepare for Florida State's defense. And most substantially, because the Auburn ground game from the Georgia Dome was an "on paper"-shredding, reality-warping monster that could win the game for the Tigers even if they lose every other matchup on the field. To boot: if the "Florida State hasn't had to play a close game" angle is overrated, the "Florida State hasn't played any spread-option attack that would even qualify as Auburn's scout team" angle is not.
Florida State is the better team, and the more likely victor. But Auburn has shown too many times this season that that doesn't mean nearly enough to expect this to be anything but a nailbiter. Florida State 38, Auburn 35
Chip Patterson
Florida State has been the best team in college football all year. Most fans outside of Tallahassee may not have even seen much of the Seminoles in the fourth quarter; because why would you want to see this ruthless group slowly squeeze the last bit of hope out of its opponent when there are much, much closer games on?
Auburn's advantage in being the hottest team in college football gives Nick Marshall and Tre Mason an opportunity to put Auburn ahead early with some explosive plays. After watching Florida State start slow against Duke and Florida -- two teams with offenses that don't exist on the same plane of reality as Auburn's -- I think the Tigers will have an opportunity to get on the scoreboard fast and early.
But once both teams settle in, I think Florida State will hit a rhythm on both sides of the ball and take control. With Jameis Winston at the helm, the offense can get into a machine-like streak of three or four straight scoring drives. Very quickly, Nick Marshall will realize that no possessions can be wasted and that mounting pressure -- along with actual pressure from Florida State's attacking defense -- could lead to a bad read or a turnover. The first half should be thrilling, but as the second half wears on it will be Florida State pulling away to claim its first national title under Jimbo Fisher. Florida State 44, Auburn 31
Show Comments
Hide Comments
Caleb Joshua Halley, who was the mascot for four years, was fatally stabbed in 2015

Michigan's trip to Italy has been fantastic, if you enjoy that sort of thing

The ex-Notre Dame quarterback would be eligible to play immediately in 2017
Tuberville has been mulling a decision to run in 2018

Ranking the best draft-eligible college football players in the 2017 draft class

Taking a closer look at what went down during one of the biggest weekends of spring football...