O'Leary names Pete DiNovo UCF starting quarterback
George O'Leary said Sunday that redshirt freshman Pete DiNovo will replace Blake Bortles as UCF's starting quarterback.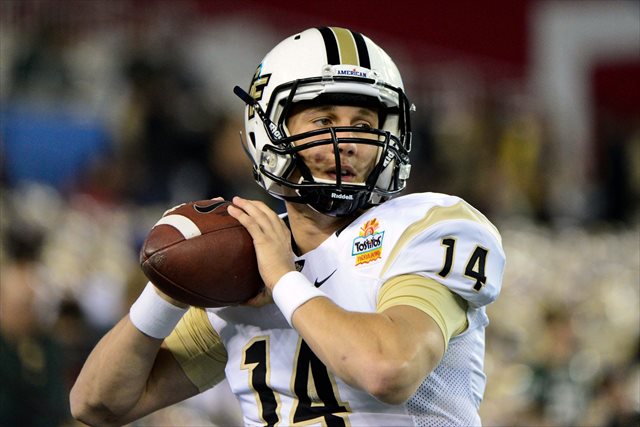 More college football: Jon Solomon | Dennis Dodd | Jeremy Fowler | Latest news
George O'Leary has his man at quarterback.
O'Leary told reporters Sunday that redshirt freshman Pete DiNovo will be UCF 's starting quarterback when the Knights open their season Aug. 30 against Penn State in Dublin, Ireland. DiNovo earned the nod over sophomore Justin Holman, Boise State transfer Nick Patti and Tyler Harris.
"I think all four of them can play, I think right now we're in a good situation," O'Leary said, according to the Orlando Sentinel. "But we need to move on and he's 1."
Holman and DiNovo had separated themselves in fall camp, with Holman apparently having a slight edge coming out of spring. Offensive coordinator Charlie Taafe said that Holman and the other competitors could still shake up the depth chart later in the season, but that for now, DiNovo -- who took all the first-team snap in Sunday's practice -- had earned the nod. 
"This is not in stone forever and ever," Taaffe told the Sentinel. "But the thing you gotta be careful of is you can't have a quarterback looking over his shoulder every play if he makes a mistake [he thinks] he's gonna get yanked. So there's a fine line there and Pete's been the most consistent."
DiNovo was a three-star recruit out of Tarpon Springs, Fla., in the class of 2013. He redshirted last season, with Holman appearing in three games while backing up Bortles and completing 9 of 14 passes.
Show Comments
Hide Comments
The Wolverines will get a unique education in Italy, and maybe that's all that matters

Fitzerald is already the program's leader with 77 wins

Darryl Rudolph was just 55 years old
The Michigan coach nearly caused an international incident throwing a football

Using college stats and math to determine which FBS quarterbacks will be the most successf...

The LSU quarterback has been dealing with back issues for some time