Chipper Jones gets his special send-off
In his final All-Star Game, future Hall of Famer Chipper Jones collected a hit and the National League won. Jones' teammates couldn't have been happier for him.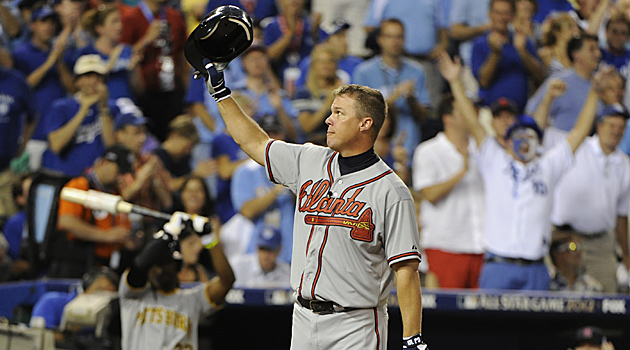 It was a night to remember for the future Hall of Famer.(Getty Images)
KANSAS CITY -- In his final All-Star Game, future Hall of Famer Chipper Jones really wanted to go out with a bang. He gave a speech before the game to his National League teammates and, to a man, every single teammate told the media they knew how much this one meant to Jones and wanted to help win the game for him.
"He talks, we listen," David Freese very succinctly pointed out, noting the motivation may have been a part of the National League jumping all over Justin Verlander for five runs in the first inning.
The fans wanted a great moment from Jones as well. He was given a standing ovation from the Kansas City crowd, which may have affected him more than those fans may have thought.
"It was hard because anytime you get a standing ovation from 50,000 people, you get a little misty," he said. "Then you have to step in and face Sale, who's throwing 97, 98 (mph). The fans here, much like the fans over in St. Louis, are very knowledgeable."
Then it was up to Jones to deliver. And deliver he did, with a single to right field.
He would remark it was probably the first time in his career that he collected a hit with a tear in his eye. Perhaps that's why it was such a close call, as it could have ended up a groundout if the defense was positioned differently.
"I don't think he would've drawn it up that way, but it was great to see him smiling and enjoying himself like that," Joey Votto said.
It was no accident Jones swung at the first pitch, either.
"He definitely told us 'I'm swinging at the first pitch,'" said Matt Kemp.
Jones himself added, "you're not going to get a hit unless you swing the bat."
Now, did Ian Kinsler tank the play? He appeared to be going after that ball awfully slow, especially for a player with great range. Jones won't bite on that one. In fact, it wouldn't have mattered had Kinsler run down the ball, right?
"I had that beat out, no problem," he deadpanned as he spoke. "I've never been more certain of a hit in my life."
More on All-Star Game
Related links
Considering what a great moment it was, there's no reason to analyze it any further. Jones recorded a hit in his final All-Star Game. He is now 6-for-14 (.429) with a home run, RBI and three runs scored in his All-Star career. We know he's headed to Cooperstown in five years, but his cap and glove will beat him there. He donated both to the Hall of Fame Tuesday night.
"A guy comes up and asks you for your hat and bat and tells you they're going to Cooperstown, what am I going to say? No?" he asked. "I'll be taking my kids there to see them."
The admiration of Jones was almost palpable from his temporary teammates Tuesday night after the game. Gio Gonzalez, for example, answered two questions about himself before -- voluntarily -- speaking up about Chipper.
"I just want to say that it's been an honor to be on the side of Chipper Jones," said Gonzalez. "We really wanted to win this one for him, so he could go out like this."
"He's a pro. He's so great, so cool and we wanted to show just how much respect we all have for him," Votto added.
As alluded to earlier, they weren't alone. Almost every member of the NL team was asked about Jones and every time they raved about the respect and admiration they have for one of the truly great baseball players of this era.
In a career that has had an inordinate amount of special moments -- like a World Series championship and an NL MVP -- Tuesday night's moment felt extra special. It was one final, respectful send-off from the entire baseball community. If anyone in this generation deserves that, it's Chipper Jones.
For more baseball news, rumors and analysis, follow @EyeOnBaseball on Twitter, subscribe to the RSS feed and "like" us on Facebook.