Robinson Cano: KC fans crossed a line booing his family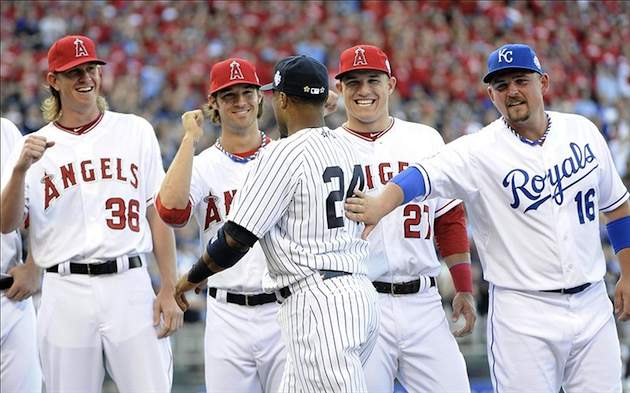 Billy Butler (16) was one Kansas City resident who held no hard feelings toward Robinson Cano (24). (US Presswire)
KANSAS CITY -- No matter how much the New York media harped on it, nor how much the Kansas City fans booed, Yankees second baseman Robinson Cano steadfastly denied the boos directed at him during the All-Star festivities bothered him in the least -- but he said the Kansas City fans went too far when they booed his family during Tuesday's All-Star Game at Kauffman Stadium.

"They were yelling stuff at my family and I don't see that as the right thing," Cano said. "If I get booed, I don't care, but if you boo my family, that's over the line."

The reason for his booing has been much ballyhooed, but if for some reason you missed it -- Cano was the captain for the American League Home Run Derby squad and had said he was planning to name a Royal to his team to avoid a repeat of last year's booing of National League captain Prince Fielder in Phoenix. Instead, Cano took three non-Royals. He failed to hit a homer in his 10 swings on Monday, but his three picks -- Fielder, Jose Bautista and Mark Trumbo -- finished with the three highest homer totals. That didn't satiate the home crowd, who still wanted to see one of their own. That provincial attitude caused a furor from the provincial New York media and with the news wash, it became a thing.

Fast forward to Tuesday when not only had the home fans been slighted by Cano the night before, they listened to a day of mocking from the media capital of the word about the midwest yokels and their desire to -- gasp -- see one of their own. The superior attitude gave the usually inviting Midwesterners more motivation to make it known they weren't happy -- and Cano was booed at just about every turn on Tuesday. At the parade Tuesday afternoon, Cano was booed. During batting practice -- booed. During the introductions, boy was he booed. And, of course, when he came up to bat in the first inning, he was not only booed, but then bombarded with a chant of "BIL-LY BUT-LER, BIL-LY BUT-LER." He popped out to third and was booed again. He singled in the fourth, and the MIdwestern politeness accidentally kicked in and some fans cheered, maybe forgetting they were supposed to boo, or maybe just bored of the whole thing by then. That didn't stop the New York media from defending their own on Twitter, but by the time Butler finally got to bat against Cole Hamels in the seventh, the story transformed into one of a city and its lone representative.

By the time Cano spoke to the media, sometime around the sixth inning of the game, he'd gotten tired of the questions as well.

"It's part of the game," Cano said, answering the question the same way he had the night before and earlier in the day. "I have no hard feelings for Kansas City fans, it's just part of baseball."

He said Butler himself said something to him, hoping he knew he harbored no hard feelings toward the Yankees second baseman. And, as Derek Jeter noted, it's not exactly a new phenomenon for a Yankee to be booed in Kansas City.

"I played in the All-Star Game in Boston in '99 -- it sounded like cheers Robby got," Jeter said. "They don't just boo anybody. Sure, they booed him, but I'm sure he'll get over it."

So should eveyone else.
For more baseball news, rumors and analysis, follow @EyeOnBaseball on Twitter, subscribe to the RSS feed and "like" us on Facebook.