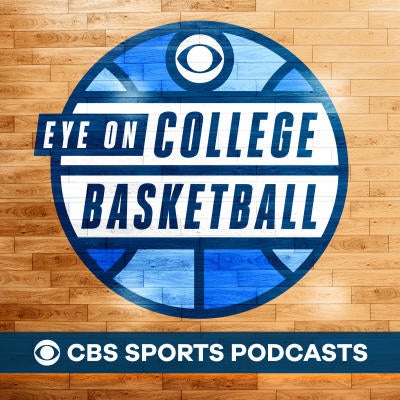 Eye On College Basketball
CBS Sports' official college basketball podcast is the most entertaining and informative of its kind. Gary Parrish and Matt Norlander bring the sport into your ears three times per week with commentary, reporting, insider information and statistical analysis throughout college basketball all year long.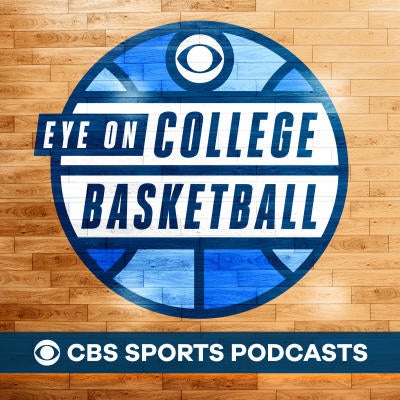 Eye On College Basketball
CBS Sports' official college basketball podcast is the most entertaining and informative of its kind. Gary Parrish and Matt Norlander bring the sport into your ears three times per week with commentary, reporting, insider information and statistical analysis throughout college basketball all year long.
Most Recent Episode
Indiana makes us look silly; why many league tourneys should probably not happen; weekend picks! (College Basketball 01/22)

Let's have some fun. Today's episode opens with Indiana's highly significant upset at Iowa from Thursday night, and so there will be crow to eat. At the 14:30 mark, the guys then get to Norlander's piece (link below) from Thursday that details the potentially messy situation awaiting college basketball in March: should conference tournaments be played? Norlander polled more than 40 coaches, and more than a quarter of them believe they should not be. There's a lot to unpack here; we think you'll enjoy this back-and-forth. The Final Four + 1 picks (43:45) are all Saturday games, with a quick tour on another five or six to be aware of beyond the ones the guys make picks on.




https://www.cbssports.com/college-basketball/news/more-than-one-out-of-every-four-coaches-surveyed-say-conference-tournaments-should-not-be-held-this-season/
Episodes of This Show
Alabama is almost as awesome at basketball as it is as football. What? Plus: Duke in trouble, NCAA Tournament rants (College Basketball 01/20)

Gary Parrish and Matt Norlander open with Alabama's record-breaking win at LSU on Tuesday night. The Crimson Tide are a top-10 team at the moment, so let's get into it. After that, a few words on Pitt's win over Duke (16:30) and a quick tour of some other results from Tuesday night, like Purdue, Oregon State and Florida all getting Ws (24:00). On Tuesday, the NCAA announced the schedule for all rounds of the 2021 NCAA Tournament (28:30) and Norlander has more information to report, in addition to some rants about what could have been changed with the format this year. The guys wrap with a quick heads-up on a few Thursday evening games to keep an eye on (48:30).

Weekend recap: Best win is Virginia, worst loss is Illinois, Louisville or Creighton; Pac-12 top tier; big mailbag segment (College Basketball 01/17)

We know our Friday preview ep was shorter than usual, so we made up for it with our Sunday recap one. The guys open on Virginia, which had the most impressive win of the weekend. Then they get to Illinois (11:45) and try to answer why it's falling short of expectations. The weekend whiparound (25:15) includes thoughts on Creighton, Pac-12, Gonzaga, Baylor, UNC, Louisville and more, and then the guys — probably for the last time this season — dedicate a little time to what John Calipari (40:40) said on Saturday. And a special elongated mailbag segment (50:20) this week, which includes interesting questions, fake stories and some D-I college hoops connections. As Norlander references on the pod, here's a link to his weekend takeaways column, which you can read while you listen. Enjoy!

https://www.cbssports.com/college-basketball/news/college-basketball-scores-takeaways-virginia-romps-michigan-fine-despite-loss-illinois-weirdly-unreliable/

Texas Tech's huge week; Indiana's bad loss; NCAA's tourney tweak; weekend picks (College Basketball 01/15)

The weekend is here. GP and Norlander open with some lingering thoughts from Texas Tech's nice win at Texas, then touch on Indiana's problematic home loss to Purdue on Thursday night (8:30) and discuss the NCAA's one-year-only modification to the bracketing process (12:15), which is an improvement. And since it's Friday, you know it: Final Four + 1 picks (19:00) for our favorite games. 

Michigan moves into top tier; Duke, Kentucky, Kansas all take different kinds of losses; NCAA kicks the can on NIL (College Basketball 01/13)

Michigan's powerful home win over Wisconsin on Tuesday night was so convincing, it's got us thinking that this is the best team in the Big Ten. The guys open on that, then get to Duke, Kentucky and Kansas (15:15) all losing, with thoughts on each of those games and why each loss was different. Also, on Monday, significant NCAA news came down when the D-I Council opted against recommending a vote on NIL rules and transfer rulers (35:30). Norlander provides a rundown on why, while Parrish levies an accurate attack against the NCAA over the stall on immediate eligibility for transfers.

Texas' Andrew Jones is the top story of the weekend; Gonzaga/Baylor vs. the field; loaded listener mailbag (College Basketball 01/10)

The weekend wrap-up edition opens with Texas' last-second win at West Virginia, punctuated by Andrew Jones hitting the winning shot three years to the day from when his teammates found out he had leukemia. Gary Parrish and Matt Norlander then ask: Gonzaga and Baylor (12:15) or the field to win the 2021 NCAA Tournament? Then it's our usual Sunday night whiparound (25:00) wherein we touch on Kentucky, Alabama USC, Michigan State, Rutgers, UConn, Iowa and more. And then it's our biggest listener mailbag segment yet (43:00), with plenty of wonderful reviews and Qs to get to. Keep 'em coming! And here's Norlander's takeaways piece from the weekend, if you'd like to read while you listen:




https://www.cbssports.com/college-basketball/news/college-basketball-scores-weekend-takeaways-andrew-jones-huge-shot-iowa-avenges-loss-kentuckys-revival/

Illinois' Hulk-like second-half destruction of Northwestern; 13-0 Drake; weekend picks and preview (College Basketball 01/08)

What Illinois pulled off Thursday night against Northwestern was among the most unlikely second-half performances in college hoops history. We start there, then get to the other Big Ten scores from Thursday (11:00), in addition to general talk on the league and how a few teams are facing urgent games this weekend. This week, Norlander wrote up a story on 13-0 Drake (you can read it here), and that discussion starts about at the 19-minute mark. There's a completely ridiculous tangent about an extinct animal embedded in the segment, but eventually the guys make their way to the Final Four + 1 (35:00), picking five games along with Norlander's tour around the weekend of the other matchups to keep an eye on. 

UConn's first season in Big East going well; details on NCAA Tournament in Indiana; high-profile transfers (College Basketball 01/06)

It's been a while since we've led a pod with the UConn Huskies, but after that huge comeback road win at Marquette, it's where we start. Gary Parrish and Matt Norlander then get to the confirmation of the NCAA Tournament securing six venues in and around Indianapolis (16:45) for the 2021 NCAA Tournament. Norlander has more details, including a look at a potential schedule for the Dance. Off-the-court news this week (36:00) with WVU's Oscar Tshiebwe and Houston's Caleb Mills both transferring out of their programs. The pod wraps around the 44-minute mark with what to watch for Wednesday and Thursday night in college hoops.

Texas blasts Kansas, Kentucky plot twist, teams that helped themselves the most this weekend, listener mailbag (College Basketball 01/03)

We hope you got a lot of hoops watching in this weekend. The show opens with some … Leaky Black! Then moves to Texas' 25-point win at Kansas and Kentucky's season mayyyybe (18:45) getting saved by Dontaie Allen. The guys do a 20-minute whiparound at the 32-minute mark with the notable results from this weekend, touching on nearly 10 scores of note. The pod wraps (52:00) with some reader reviews. We love them — keep sending, and be sure to include some questions to spice it up going forward. 

Unbeaten Michigan and Tennessee state their cases as the top teams in their leagues; previewing a LOADED Saturday slate (College Basketball 01/01)

Welcome to 2021! Here's our reward: a fabulously loaded Saturday, from noon until nearly midnight, of compelling college basketball games. Before Norlander and Parrish get to the Final Four + 1 picks and previews, they open with undefeated Michigan, then get to undefeated Tennessee (13:45). Also, Friday morning brought bad news for West Virginia (20:00): Oscar Tshiebwe has left the team, putting WVU's Final Four aspirations in doubt. The stuffed weekend preview starts around the 24-minute mark. 

Northwestern atop the Big Ten; will the league get 10 tourney bids? And: Why Gonzaga going undefeated is now realistic (College Basketball 12/27)

Northwestern is 6-1 with a 3-0 record in the Big Ten. Yes, we are opening the podcast talking NORTHWESTERN. Gary Parrish and Matt Norlander also discuss the Big Ten (10:00) and evaluate the league's chances of sending at least 10 teams to the 2021 NCAA Tournament. Then it's Gonzaga (19:30) and the likelihood it runs the regular-season table, but also why this would be a very good thing for college basketball (the convincing case made therein). The duo unexpected gets into a discussion about Seinfeld and VCRs, but Norlander steers it back on track by looking ahead to the games to know for Monday and Tuesday (42:15) before the pod wraps with some entertaining shoutouts to the listeners who left notable reviews (57:00) — so be sure to leave yours if you want some love on a future pod. 

Merry Christmas, everybody! We talk Indiana, preview a great holiday slate and touch on our favorite Christmas go-tos (College Basketball 12/24)

Merry Christmas, everyone, and happy holidays. Our Christmas Eve episode brings a lot of basketball and holiday cheer. We open with Indiana, then get to notable results from Wednesday (12:00) before moving on to discussing the Big Ten opting to play games on Christmas (21:00) and making our picks in the Final Four + 1 (29:00). The pod wraps with some Christmas chatter, like favorite holiday songs, family traditions (good or bad) and what are the top five days of the year? What's better: Christmas Eve of the first Thursday of the NCAA Tournament? Enjoy, we wish you and yours a safe, happy, grateful holiday.

UNC's fatal flaw; everyone underrated Kansas; Kentucky's ongoing drama, Festivus grievances! (College Basketball 12/23)

North Carolina lost at NC State on Tuesday night, bringing to light an unfortunate possibility: the 14-19 team last season might mean UNC struggles to make the 2021 NCAA Tournament. The guys also touch on Kansas (12:15) and its runaway home win over West Virginia. Looks like everyone underestimated KU heading into the season. As for Kentucky (20:30), the news gets worse as John Calipari takes the unusual action of publicly criticizing a player -- and asking him to temporarily step away from the team. On Tuesday, more great Keyontae Johnson news (35:30), as the Florida star left the hospital. The pod wraps with some quick holiday talk, focusing in on Festivus and few airing of grievances.

Kansas ekes by Texas Tech; Saint Louis, hello!; picks, previews for a loaded weekend (College Basketball 12/18)

It's not good that the biggest discussion topic off a huge Big 12 Thursday game is the officiating. But that's the case with Kansas' 58-57 win at Texas Tech Thursday night. GP and Norlander start there, then get into the myths and facts about Billikens (14:00). Oh by the way: Saint Louis is 6-0. After a conversation that goes in many directions, it's time for the Final Four (and one), with picks and previews for the weekend (27:00). Included is talk on Gonzaga-Iowa, Louisville-Wisconsin, UNC-Kentucky and Indiana-Butler, among others!

Florida's Keyontae Johnson remains hospitalized after in-game collapse; Mizzou is thriving; Kentucky is careening (College Basketball 12/13)

On Saturday morning Florida's Keyontae Johnson collapsed in the first half of UF's game at Florida State and was rushed to the hospital. The latest update as of our recording time was that Johnson remains in "critical but stable condition." The pod starts there, and we of course send only our very best to Keyontae and his loved ones in wishing for a quick recovery as soon as possible. Gary Parrish and Matt Norlander also discuss Missouri's three-point win over Illinois (16:15), bringing Mizzou to 5-0 and legitimately to a level of top-20 status in the sport. What's more, the guys touch on some housekeeping items from the weekend (25:05) like Clemson, Cade Cunningham, cancellations — with a focus on Kentucky now having its worst start in 36 years. They wrap with Nate Oats' Saturday evening apology to Coach K (41:00) and why Oats' words were not surprising, and if anything, promptly appropriate. 

Nate Oats takes aim at Coach K, while Duke ends its nonconference schedule; plus -- weekend preview and picks! (College Basketball 12/11)

Duke will not play Gardner-Webb, meaning it has canceled the remainder of its nonconference schedule. The pod opens with that, plus gets into Alabama coach Nate Oats taking aim at Mike Krzyzewski's comments about considering a temporary halt to the college basketball season. There's a lot to unpack there, so here we go. The guys also give some love to San Diego State starting the season 5-0 and picking up where it left off in 2019-20 -- its undefeated run. And the Final Four + 1 is back! We pick and preview the five best games of the weekend, plus give a heads-up on another half-dozen tips of note scheduled for Friday, Saturday and Sunday. Come on in and prep for a good weekend of hoops. We hope this finds you well!

Illinois exposes Duke, Coach K questions the season, Iowa proves its worth vs. UNC (College Basketball 12/09)

You were locked in to a big Tuesday night of hoops, so we've got you covered here on a Wednesday. The opener of the pod discusses Duke's issues — Parrish still has the Blue Devils ranked — and Illinois totally looking the part of top-five team. There was also Mike Krzyzewski's criticism of even playing college basketball right now; the guys touch on that, too. Then it's time to talk Iowa (20:00) over North Carolina and Kansas (27:05) over Creighton. Maybe even a little Rutgers, too? Sure! Michigan State-Virginia has been postponed unfortunately, but there's still a good Wednesday night slate and one very good game to know for Thursday. 

CBS Sports Presents - 'The Early Edge: A Daily SportsLine Betting Podcast'

'The Early Edge: A Daily SportsLine Betting Podcast' debuts on Thursday, December 10. Download and subscribe now on Apple, Spotify, Stitcher and whenever else podcasts are found to get the first episode in your feed as soon as it is released!

Looking for the best picks against the spread, sharp action on the total and props you can take to the ticket window? Join Jonathan Coachman on the Early Edge as he speaks with the best handicappers to preview every day's biggest games in 10 minutes or fewer. From primetime picks to off-the-radar locks, Early Edge is bringing you the best bets in a quick, informative and easy to digest podcast. We promise to keep it short, sweet and to the point as SportsLine's best experts come together to put some green into your pocket. Early Edge is in your feed every single day by 11 AM ET, don't lay a wager without listening to our SportsLine experts.

Kentucky is 1-3 for the first time in 20 years. Is this John Calipari's worst team at Kentucky? (College Basketball 12/06)

The two biggest headlines from Sunday in college hoops were Kentucky looking terrible against Georgia Tech and dropping to 1-3 for the first time since 2000-01 … and Gonzaga announcing it is going on COVID-19 pause through Dec. 14. The pod opens with a discussion on why alarms should legitimately be hit for UK right now. Then GP and Norlander get to Gonzaga (19:30) halting for a bit and discuss the nature of college basketball cancellations we should expect on a daily basis for the entire season. More: Villanova over Texas (38:15) amounts to the biggest win by any team in college basketball so far this season. The guys chat that, a history-making 40-0 run by Ohio and tie some threads together from the recent previous podcasts. And we wrap with a few binge-worthy TV recs as of late. 

🚨Gonzaga-Baylor called off; both coaches are insistent on rescheduling the game later this season (Emergency Podcast)

We have quick reactions to Saturday's huge and unfortunate news: Gonzaga-Baylor was called off due to two positive COVID-19 test results in Gonzaga's program. The details of how it happened, when it happened and a layout of the potential scheduling routes that will allow for these teams to play each other again later this season. Mark Few and Scott Drew were publicly ambitious Saturday afternoon about getting this game in THIS season. Here's Parrish's column on the matter as well.

Champions Classic reactions on Kentucky, Duke, Michigan State and Kansas; why Bubbleville has been a success (College Basketball 12/2)

Tuesday night's Champions Classic saw Michigan State win at Duke and Kansas win an ugly game over Kentucky. The pod opens with MSU-Duke chatter before transitioning to UK-KU (10:00). With Norlander back from Bubbleville, he shares some initial impressions on potential No. 1 2021 pick Evan Mobley (22:30), who played for USC on Tuesday in a huge win over BYU in Bubbleville. Norlander also gives a rundown on the success of Bubbleville so far and why it can work. (As promised, here's the piece, if you'd like to read it.) From there, the pod goes in a bunch of weird directions which we think you'll enjoy. Anyone remembers pogs?

Kentucky gets rocked by Richmond; can it recover and beat Kansas? Plus: Maui/Asheville preview and predictions (College Basketball 11/30)

Virginia, Villanova and Kentucky have all lost as top-10 teams through five games of the season. Texas Tech took a surprising defeat as well vs. equally good Houston on Sunday. Today's episode recaps the biggest events of Saturday and Sunday, plus gives a look ahead to the most interesting games of Monday and Tuesday, let by the Maui Invitational, which is taking place in Asheville, North Carolina.

Gonzaga dominates but has positive COVID tests, Virginia might have fooled everybody, and Villanova doubles down on casino hoops (College Basketball 11/27)

Gonzaga has looked incredible on the court through two games, beating KU and Auburn. But the outstanding play has been overshadowed some due to the fact GU has multiple COVID-19 positives in its program. That didn't stop Gonzaga from playing Auburn on Friday. The guys get into that mess of a topic and then discuss Gonzaga's impressive 2-0 start. From there, Virginia getting knocked over by San Francisco (23:15) and Jeremiah Robinson-Earl having arguably the best two-game start of any player are discussed. Norlander also goes behind the scenes to show how Villanova agreed to stick around Bubbleville and surprisingly pick up another game, plus the guys give their initial tidbits and goodies on a few other results from the first 2.5 days of action.

THE. SEASON. IS. HERE. (College Basketball 11/25)

Say no more. We have finally made it. Get ready and bask in the regular season by listening to the pod as you watch games all day and all night long. Allons-y!

The season starts in two days and cancellations are landing by the hour (College Basketball 11/23)

It's been the longest offseason in 40-plus years in college basketball, but the week has finally arrived. The season will start Wednesday. There will be games -- and plenty of postponements and cancellations. On Monday, we learned Duke and Arizona will not play their season-openers due to COVID-19. Even the news of Rick Barnes testing positive broke mid-podcast. The guys discuss the logistics around starting the season this week and all the entanglements. They also get to Auburn, which is not expected to be good this season, self-imposing a postseason ban for 2021. Gary Parrish said this practice should no longer be part of the equation in the penalty process for the NCAA.

Top 10 Countdown: The Gonzaga Bulldogs are the No. 1 team heading into the start of the season next week (College Basketball 11/20)

Mark Few has never before had Gonzaga at No. 1 heading into a season, but that is now the case. We wrap up our preseason top 10 series with an episode dedicates to the Zags -- and a peek around the WCC while we're at it as well.

Top 10 Countdown: The Baylor Bears are No. 2 and ready to do what they've never been able to achieve before (College Basketball 11/19)

Baylor as a top-two team heading into the season? We're a long way from Bill Henderson. Bill who? BILL HENDERSON! Just listen to the pod -- we're less than a week to the start of the season, people!

Top 10 Countdown: Villanova is the No. 3 team according to Parrish ... but the No. 1 team according to Norlander! (College Basketball 11/18)

There seems to be a clear top three in college hoops heading into the season. The order they should go in is however you prefer. We discuss Villanova in the 3 spots, as that's where Gary Parrish has it in his preseason rankings. Norlander thinks this is the top team in the sport. Let's have at it.

🚨Gregg Marshall has resigned from Wichita State and will be paid $7.75 million to do so (Emergency Podcast)

After being credibly accused of physical and verbal assault of multiple former players, student-athletes and an assistant coach -- and denying the physical assault in October -- Gregg Marshall stepped down Tuesday as coach of the Wichita State men's basketball program. This emergency pod provides context as to why WSU felt it necessary to pay Marshall $7.75 million to leave, discusses if Marshall will return to coach in college, and ends with the initial list of candidates to replace him in 2021.

Top 10 Countdown: Reigning champion Virginia will have some new faces but still checks in at No. 4

Tony Bennett has brought Virginia to a plane of existence UVA fans could have never imagined six or seven years ago: the Cavaliers are expected to be one of the 10 best teams in college basketball almost every season. Here's why Gary Parrish and Matt Norlander both size up this seasons' Virginia squad as a Final Four contender.

🚨NCAA decides to move the entire 2021 NCAA Tournament to one area, likely greater Indianapolis (Emergency Podcast!)

The 2021 NCAA Tournament will be held in one general location, with that location hopefully being the greater Indianapolis area. What is and isn't doable, what has and hasn't been decided, what should and shouldn't happen: Gary Parrish and Matt Norlander give you 30 minutes of reaction to Monday's big news.

Top 10 Countdown: This should be the best team in the history of the Iowa Hawkeyes (College Basketball 11/16)

Hello, and let this be your first notice that college basketball starts NEXT. WEEK. Our countdown series continues with an examination of Gene Wilder's alma mater: Iowa. Parrish has the Hawkeyes ranked fifth, Norlander has them 10th. The AP Top 25 has Iowa fourth, its highest preseason ranking in history.

2020 NBA Mock Draft podcast special: Projecting lottery picks and the rest of the first round for Wednesday's NBA Draft

Wednesday night is the 2020 NBA Draft. It's never happened in November and never been so close (only ONE WEEK) up against the start of the college basketball season. If you're looking to get a sense of who will be picked -- or who SHOULD be picked -- in the first round, Gary Parrish and Matt Norlander mock out the lottery and the rest of the top 30 picks on this episode. They also give insight to the names rising and falling, and include a few more players just outside the first round of this mock who probably work their way into the top 30 on Wednesday evening.

Top 10 Countdown: The Illinois Freaking Fighting Illini are No. 6 and capable of winning the national title (College Basketball 11/13)

Illinois doesn't get many seasons like this anymore. Preseason top-10 expectations and boasting two of the 20 best players in the sport. Brad Underwood enters his fourth season in Champaign with a chance to win the Big Ten at Illinois for the first time in 16 years. Here's all you need to know about a team getting a good dose of preseason hype -- and who Norlander and Parrish are higher on than the preseason metrics.

Top 10 Countdown: Kansas was the best team in college basketball last season; now we think it's No. 7 (College Basketball 11/12)

Kansas was securely the best team in college basketball in 2019-20. That's probably the No. 1 reason why the Jayhawks, who have a roster that's far from stacked the way other KU teams have been stacked in the past 15 years, nonetheless finds itself ranked No. 7 in our preseason countdown. As Norlander promises on the pod, here's a link to our Top 100 And 1 players list, which published Wednesday.

Top 10 Countdown: No. 8 Duke doesn't looks as loaded as recent years, but here's why it deserves the benefit of the doubt (College Basketball 11/11)

Duke is No. 8 in Gary Parrish's preseason Top 25 And 1. Norlander's got Duke No. 12. KenPom rates Duke No. 3 heading into the season. It's an interesting team with plenty of questions, but on today's episode the guys give the case for and against Duke as a Final Four contender for the season ahead.

Top 10 Countdown: Creighton has its most anticipated season in school history thanks to its highest preseason ranking ever (College Basketball 11/10)

Gary Parrish and Matt Norlander lay out the case for Creighton as a top-10 team (though Norlander has it No. 11 in his 1-357 rankings) and why the Bluejays are looking at school history. Greg McDermott's done a stellar job guiding CU from Missouri Valley pillar to Big East power player in the past seven/eight seasons.

Top 10 Countdown: The 10th-ranked Wisconsin Badgers should have one of the strongest frontcourt duos in America (College Basketball 11/09)

We begin our top-10 countdown series with an examination of the under-hyped Wisconsin Badgers, who are Final Four contenders thanks to so many quality players returning from a team that would have been the No. 1 seed in the Big Ten tournament last March. Greg Gard's doing quite well for himself after all.

NBA Draft Profiles: Cassius Winston will make idiots out of teams if he drops into the second round

Cassius Winston was a highly rated point guard prospect coming out of high school. He went on to a stellar four-year career at Michigan State. No 2020 NCAA Tournament may have dinged his draft stock, but in this episode Gary Parrish and Matt Norlander explicitly make the case for why Winston should be taken in the mid-to-late 20s of Nov. 18's draft.

CONFERENCE PREVIEW: The American could be anywhere from a two-to-five-bid league this season (College Basketball 11/06)

The Houston Cougars are looking like the best team in the American Athletic Conference. Memphis isn't far behind. But then? Well, it's going to get interesting. This is a big year for the American, which loses UConn. It's still a major-seven conference, but that distinction isn't promised for the years to come. What teams will be in the NCAA Tournament mix? Our final league preview is here.

CONFERENCE PREVIEW: The Big East has, by far, the biggest gap between its top two teams and the rest of the league (College Basketball 11/05)

OK, it's settled. The Big East by far the most unpredictable league Nos. 3-8 in college basketball. Our latest podcast episode takes an informative scan of every team in the conference. Parrish and Norlander only agree on the placement of four teams. Villanova is the best, that's clear. Creighton is right behind. Then? Hey, UConn is back here, and they've got good potential. As Norlander notes, his 1-357 has now published in full. You can read the top tier, No. 1-68, right here.

CONFERENCE PREVIEW: The SEC looks to be a toss-up between loaded Tennessee and brand-new Kentucky (College Basketball 11/04)

Let's chat now about the SEC, which has NCAA Tournament contenders in Tennessee, Kentucky, Florida, Alabama, LSU ... and then who? There's a lot to be determined there, a lot of intrigue. Gary Parrish and Matt Norlander fill you in in the fifth of our seven conference preview eps.

CONFERENCE PREVIEW: The Pac-12 will be a three-team race and the conference could send seven to the NCAA Tournament

Gary Parrish and Matt Norlander do not agree on the best team in the Pac-12 this season. In fact, they might disagree more about this league than any other. That's a great thing for Pac-12 teams, because it means the conference is again built to put a minimum of five teams into the NCAA Tournament and a maximum, most likely, of seven. Which seven? What are the tiers? Should Arizona State be the pick? We hope you get out and vote on this Election Day, and if you are, and if this podcast helped pass the time while waiting in line, we're happy to have provided some info and entertainment. Five stars and nice comments, you know what to do!

CONFERENCE PREVIEW: Baylor is predicted to win the Big 12 for the first time in program history (College Basketball 11/02)

The Big 12 has seven of its 10 teams in position to be NCAA Tournament-good this season. But there seems like there's a top half and a bottom half, though. Who's in the top five beyond Baylor, Kansas and West Virginia? Well it's Texas Tech and Texas, clearly. But are the Longhorns really a sleeper team to win the league? There is a case. Also, the conference could have the best player in America: Oklahoma State's Cade Cunningham.

NBA Draft Profiles: Kentucky's Tyrese Maxey needs to tighten up a few things about his game, but there's a good case to take him in the lottery

After seven straight years of producing at least one top-10 pick, John Calipari's Kentucky program is looking at a second straight year of not getting a Wildcat taken in the top 10. This was a wild streak to begin with, but no shame in it ending. If there's one guy who has a distant shot, it's combo guard Tyrese Maxey.

CONFERENCE PREVIEW: All evidence points to the Big Ten being the best league in America for a second straight season (College Basketball 10/30)

Our conference-preview pod miniseries continues with the B1G. Gary Parrish and Matt Norlander take a good look at a great league. Ten teams figure to be good enough to make the NCAA Tournament, and four of them are built to be a top-three seed come NCAA Tournament time.

CONFERENCE PREVIEW: The ACC has Virginia in the catbird seat, with Duke, North Carolina, Florida State and Louisville all giving chase (College Basketball 10/29)

Virginia is our pick to be, clearly, the best team in the ACC. But who's the best player? Best freshman? How many tournament teams are going to come out of a league that had only four tournament locks last season? The ACC might be coasting on its reputation a bit, and maybe that becomes more exposed this season if UNC can't get back to top-25 status and if Duke winds up living outside the top 10 in the polls much more often than it does in most years. A scan of the conference inside, with predictions on 1 all the way to 14.

Our picks for All-American teams, Player of the Year, Freshman of the Year and Coach of the Year (College Basketball 10/28)

Happy hump day. We've got our preseason awards-show special for you. CBSSports.com published our First, Second and Third All-America teams this week, in addition to the collective's picks for preseason Player, Freshman and Coach of the Year. Gary Parrish and Matt Norlander reveal all those on this episode, but also reveal their personal ballots and disclose which of their picks did NOT make it on to the CBS Sports All-America teams. So much to get to, and two Trivia Time! segments, as well!

NBA Draft Profiles: Precious Achiuwa has his draft stocked helped more than any other player thanks to James Wiseman leaving

We hope you're enjoying our weekly draft profiles, and guess what? For the next month, Eye on College Basketball will be coming into your feed on an almost-daily basis with preview pods, reaction pods, draft pods and more. Today's episode focuses on Memphis one-and-doner Precious Achiuwa who, when he's picked, will clinch the first time in 15 years that the Tigers produced two first-round picks in the same year.

Major news: ESPN bails on its Orlando bubble entirely and Arizona has been hit with NINE allegations of wrongdoing from the NCAA (College Basketball 10/26)

On Sunday, The Athletic broke the news that Arizona has been assessed with nine NCAA violations, including five of the worst variety, by the NCAA. One of them is a Level I toward coach Sean Miller. The podcasts first 30 minutes touch on that (and Norlander's back from vacation), and then at the 30-minute mark, GP and Norlander react in real time to the news that, following Norlander's report from Sunday, ESPN has decided to kill all of its games and multi-team events scheduled to be held from Nov. 25-Dec. 4 in Orlando at Walt Disney World. That has huge scheduling fallout, of course. Will it lead to conferences opting to go league-only? Maybe.

Who replaces Pat Chambers? Olivier Sarr and Jacob Toppin eligible for Kentucky (College Basketball 10/23)

We start with the resignation of Penn State coach Pat Chambers after an internal investigation into his conduct (0:10). After the break Gary and Kyle discuss who they think is in line to replace Chambers as the next coach for the Nittany Lions (11:30). We wrap with Olivier Sarr and Jacob Toppin becoming eligible for Kentucky after clearing transfer waivers. What impact will they have on the Wildcats this season (24:35)?

2020 NBA Mock Draft: LaMelo Ball, Anthony Edwards or James Wiseman at No. 1? (College Basketball 10/19)

October isn't typically 'Mock Draft' season, but this year is different. On this episode, Gary Parrish is joined by Kyle Boone to go through their picks for the entire first round of the 2020 NBA Draft. The guys alternate their picks from Timberwolves at #1 to the Celtics at #30. Will LaMelo Ball, Anthony Edwards, James Wiseman be the top pick? Where does Obi Toppin deserve to be selected? Who will be the surprises of the draft? All the guys mentioned plus other top prospects like Deni Avdija, Isaac Okoro, Cole Anthony, R.J. Hampton, Killian Hayes, Tyrese Haliburton and Onyeka Okungwu are discussed. Listen to this mock draft podcast to get you ready for November 18.

NCAA does the right thing; Gregg Marshall denies assaulting his players; latest with Kentucky getting Olivier Sarr eligible (college basketball 10/15)

The NCAA's Division I Council voted on multiple significant items on Wednesday, and two of them we get into on this podcast: 1) all winter-sport athletes get an extra year of eligibility no matter what, which clearly will have a big impact on college basketball. No. 2) When the vote is passed in January, every NCAA scholarship athlete will be able to transfer without having to sit a season the FIRST time they opt to do so. So those two topics, in addition to how Olivier Sarr's situation at Kentucky fits into all this. The podcast wraps with the latest on Gregg Marshall, who on Wednesday denied every physically assaulting anyone with his program. It's a denial Parrish and Norlander did not anticipate, and certainly not six days after the allegations surfaced.

CBS Sports Presents: ¡Qué Golazo! A Daily CBS Soccer Podcast

'¡Qué Golazo! A Daily CBS Soccer Podcast' debuts on Wednesday, October 14. Download and subscribe now on Apple, Spotify, Stitcher and whenever else podcasts are found to get the first episode in your feed as soon as it is released!

A daily soccer podcast from CBS Sports, bringing you the very best analysis, commentary and gambling help from the world's game. CBS Soccer host and insider Luis Miguel Echegaray is joined by a team of CBS talent to bring you the latest in Europe and beyond. From our Champions League coverage to Europa, the Premier League, La Liga and the top leagues, this is your one and only stop for your daily soccer fix.

NBA Draft Profiles: Iowa State is becoming a reliable factory for NBA picks, and Tyrese Haliburton should be a lottery lock

Our latest draft-centric episode focuses on the statistically magnificent Haliburton, whose season was cut short more than a month before COVID canceled college basketball. Gary Parrish and Matt Norlander give an overview on the 1.5 seasons worth of production from Haliburton, who was a terrific college player and is one of the three or four best point guards in a point guard-heavy 2020 draft.

🚨Bombshell allegations against Wichita State coach Greg Marshall: repeated physical and verbal abuse of players and coaches

On Thursday evening, two reports dropped that revealed Wichita State has been investigating its coach, Gregg Marshall, after allegations of multiple incidents of physical and verbal abuse over the past half-decade. One story, via Stadium's Jeff Goodman, cites 26 former players and 10 former coaches giving credibility to the accusations. Marshall's job is clearly in jeopardy.

College basketball keeps adding huge November and December games; John Calipari responds to Chris Mack; Bob Huggins update

Matt Norlander broke the news this week that Final Four frontrunners Gonzaga and Iowa have agreed to play each other Dec. 19 in South Dakota. What's the story? We've got it for you, and not only that, but let's look around and see how many top 25-level games are already in the works for the first two weeks of the season. Plus: GP and Norlander discuss John Calipari's weaker-than-wanted attempt at clapping back at Chris Mack, though there is a huge positive from it. The pod's got randomness as well: spanning the globe and checking in with our listeners in Chile, Sweden, Australia. You know, the usual spots. And we have a Bob Huggins update!

NBA Draft Profiles: On Duke's Tre Jones, who could be picked in the teens or the low 30s. We say he's a first-rounder

Tre Jones had a very good two-year run at Duke. He's left the Blue Devils behind and is now a prospect placed anywhere from No. 17 or 18 on draft boards to as low as No. 36 or 37. Is the truth somewhere in between? Yeah, probably. Gary Parrish and Matt Norlander project the draft placement and career of Tre Jones, and share a Fred VanVleet story along the way as well.

Chris Mack going at John Calipari is absolutely amazing; Gonzaga-Baylor announced; Norlander reveals Big 12 December schedule in full

We are thrilled to share a lively episode -- including a scoop on the Big 12. Gary Parrish and Matt Norlander open with audio of Louisville coach Chris Mack airing the dirty laundry with Kentucky coach John Calipari. An elongated, appreciative breakdown of Mack's two-minute Twitter exposé that was a top-three highlight of the offseason. Stories aplenty, too. Beyond a beefy first segment, the guys discuss the existential issue threatening college basketball's season: testing inconsistency and quarantine mandates (32:30), which are even affecting the NFL right now. The podcast closes (51:00) with some great news from Thursday: Gonzaga vs. Baylor on CBS in December. Details on that, and then Norlander unveils the entirety of the Big 12 league schedule in December, which has not been officially released yet but was agreed to by the league earlier this week. A number of top-25 matchups await between Dec. 6 and Dec. 22. Come on in and enjoy.

NBA Draft Profiles: Villanova's assembly line of reliable NBA picks should absolutely continue with NBA-ready Saddiq Bey

Gary Parrish and Matt Norlander are back with another appetizer-portioned podcast that focuses on an NBA Draft prospect of note. Today: Villanova's Saddiq Bey, who went from being the least heralded Villanova recruit two years ago to knocking on the door of being a top-10 pick. Norlander thinks he might be a top-five rookie. Parrish thinks he's lasting at least a decade in the NBA.
CBS Sports HQ Newsletter
We bring sports news that matters to your inbox, to help you stay informed and get a winning edge
Please check the opt-in box to acknowledge that you would like to subscribe.
Thanks for signing up!
Keep an eye on your inbox for the latest sports news.
Sorry!
There was an error processing your subscription.