Dickey to start WBC opener for Team USA
R.A. Dickey will be the starting pitcher Friday night, when Team USA opens the World Baseball Classic with a game against Mexico. Team USA manager Joe Torre has yet to announce the rest of his pitching plans, but suggested that Derek Holland will start Sunday against Canada.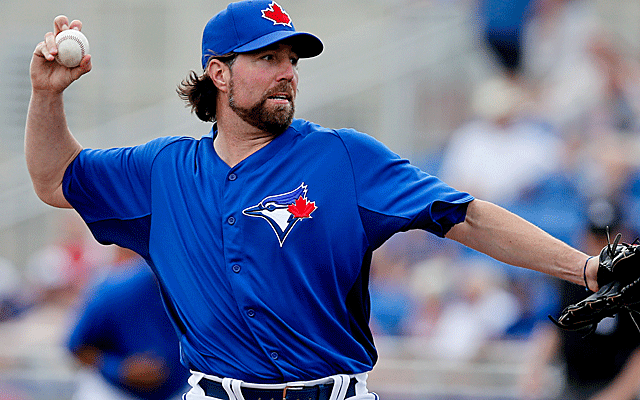 R.A. Dickey will start Team USA's first game Friday night against Mexico.
(USATSI)
SCOTTSDALE, Ariz. -- Justin Verlander said no to the World Baseball Classic. So did Clayton Kershaw and David Price .
At least Team USA manager Joe Torre still had a Cy Young winner willing to open the WBC. R.A. Dickey will be the starter Friday night against Mexico, Torre announced Monday.
Team USA will play three first-round games this weekend in Phoenix, but Torre didn't announce starters to face Italy on Saturday or Canada on Sunday. He did say Derek Holland will start Tuesday's exhibition game against the Chicago White Sox , which would line him up to start Sunday.
Torre had previously told the Washington Nationals to have Ross Detwiler ready to pitch Saturday. Team USA also has Ryan Vogelsong on the roster for the first round. Gio Gonzalez is the other Team USA starter, but he is scheduled to pitch the first game of the second round and didn't even join the team in Arizona this week.
Starting pitchers are limited to 65 pitches in the first round of the tournament.
Torre said J.P. Arencibia will catch Dickey, his new Toronto Blue Jays teammate. Joe Mauer and Jonathan Lucroy are the other two catchers on the U.S. roster.
The rest of the Team USA lineup is set, with Mark Teixeira at first base, Brandon Phillips at second, Jimmy Rollins at short and David Wright at third base. Torre said Ryan Braun will start in left field, with Adam Jones in center and Giancarlo Stanton in right.
Show Comments
Hide Comments
Our Latest Stories
It also works if you appear during a television broadcast

They call it the 'Triple Play'

This year is the 25th anniversary of the classic episode 'Homer at the Bat'
O's VP John Angelos is the son of team owner Peter Angelos

The sense of urgency in D.C. is the highest in MLB, but they might be in position to do something...