Joe Maddon wants Rays fans to cheer for the Rays, not Derek Jeter
The fans at Tropicana Field have been showing Derek Jeter a lot of love this weekend, and Joe Maddon doesn't like it.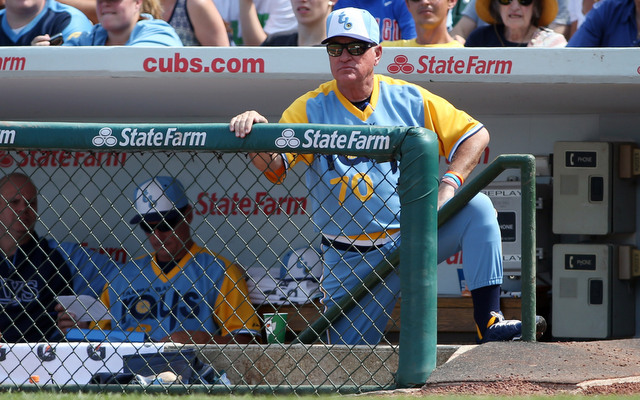 More MLB: Power Rankings | Expert Picks | Latest news & notes | Fantasy news
The Yankees and Rays will wrap up a three-game series in Tropicana Field on Sunday afternoon, and, as has been the case all season, Derek Jeter has been hearing a ton of cheers every time he's stepped to the plate this weekend. Fans have been showing the Yankees captain respect and admiration all year.
Saturday afternoon's game was sold out -- only the second sell out of the season at the Trop behind the home opener -- and the fans got to see Jeter drive in the game-winning run with a ninth inning single (NY 3, TB 2). The cheers were very, very loud even though the home team was losing.
After the game, Rays manager Joe Maddon gently ripped the home fans for cheering an opposing player. Here's what he said, courtesy of NJ.com's Brendan Kuty:
"Yeah it's great," Maddon said. "It's great that it's sold out. And I understand that the people like Derek Jeter. But you've got to come out and root for the Rays, too, you understand. I mean, I totally understand what's going on. But I'm not going to sit here and defend all of that noise in the Yankees' favor in our ballpark. I'm not going to defend that. So we're going to come out and root for the Rays. We'd appreciate that."
The Yankees have a very strong presence in the Tampa area -- the team's spring training complex is in Tampa and there are a ton of transplanted New Yorkers living in Florida -- and there are always plenty of Yankees fans at Tropicana Field whenever the team is in town. Jeter himself makes his offseason home in Tampa.
I understand Maddon's frustration, but this simply isn't a battle he's going to win. Jeter has been getting cheered on the road all season and that doesn't figure to stop now that there are only 41 regular season lefts in his career.
Show Comments
Hide Comments