Mariners send closer Wilhelmsem to Triple-A for work as starter
After struggling mightily for two months, the Mariners have sent closer Tom Wilhelmsen to Triple-A Tacoma. He'll get a chance to start.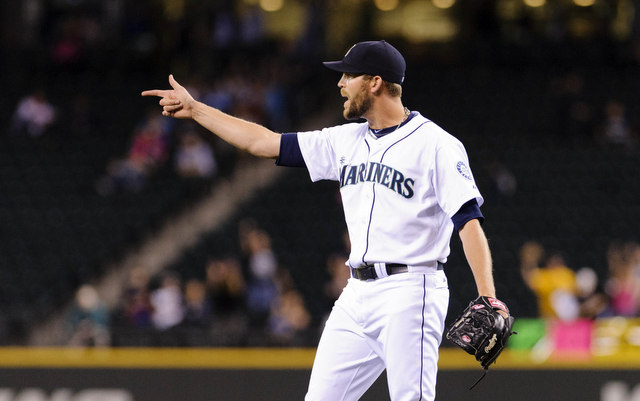 More MLB: Scoreboard | Standings | Probable Pitchers | Sortable Stats | Odds
Just last season, right-hander and former bartender Tom Wilhelmsen pitched like an All-Star for the Mariners. He went 29 for 34 in save chances with a 2.50 ERA and 9.9 K/9 in 79 1/3 innings. Seattle's ninth inning leads were more than safe.
Things have been much different for Wilhelmsen this year. The 29-year-old pitched just fine for the first two months of the season, going 12 for 14 in save chances and carrying a 0.75 ERA into June, but the last two have been a disaster. Since June 1, Wilhelmsen has allowed 21 runs (8.10 ERA) with as many walks as strikeouts (18) in 23 1/3 innings, costing him his closer's job.
On Monday, the Mariners sent their struggling former closer to Triple-A Tacoma so he could work things out. While he's down there, he'll also get a chance to show if he can hack it as a starter. From MLB.com's Greg Johns:
#Mariners will let Wilhelmsen throw a few innings today. Not saying they're making him a starter yet, but want to see him in that situation.

— Greg Johns (@GregJohnsMLB) August 6, 2013
The idea with Wilhelmsen is to let him work on all his pitches in a multiple-inning situation and see how things progress.

— Greg Johns (@GregJohnsMLB) August 6, 2013
This isn't so much a "we're making him a starter" thing as it is a "he needs innings to work on stuff, so let's see how he does in extended outings at the same time" thing. Johns doesn't make it sound like the Mariners are 100 percent committed to the idea if it doesn't work out.
PitchFX Data at FanGraphs says Wilhelmsen has thrown four different pitches in his three-year big-league career: mid-90s two- and four-seam fastballs, a hard upper-80s changeup and an upper-70s curveball. A fastball and two offspeed pitches are usually enough to start, but as Johns noted, Wilhelmsen needs to work on throwing strikes and rebuilding confidence more than anything.
Wilhelmsen made his first start for Tacoma on Tuesday afternoon, and he surrendered a home run on his very first pitch of the ballgame. That's not a good start. The second batter singled to right and the third batter hit another homer. Three batters, three hits, three runs. Definitely not a good start at this point. Not at all.
To his credit, Wilhelmsen settled down and retired the next six men he faced -- four on strikeouts -- to end his two-inning outing. He threw 21 of 31 pitches for strikes. This wasn't a positive first Triple-A outing, but at least he finished well and can build off that going forward. Whether he does that in the rotation or back in a familiar bullpen role remains to be seen.
Show Comments
Hide Comments