Kevin Garnett's future with Nets unclear
The Nets will wait and see what Garnett decides to do, as he hasn't given any answers yet.
• 1 min read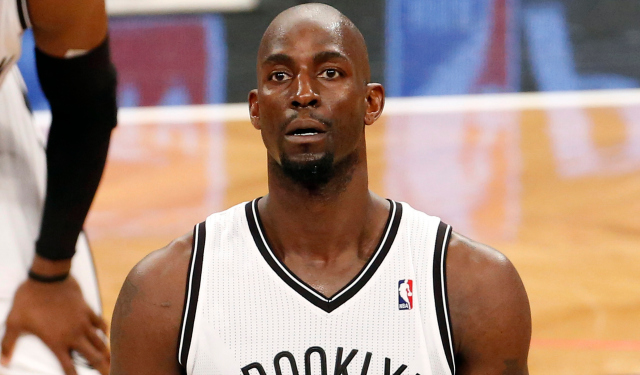 More NBA: Season Awards | Grades: East | Grades: West | Seasons in Review
There is a possibility that Kevin Garnett played his last NBA game on Wednesday, but he has not spoken on the matter yet. Garnett did not speak to the media after the Brooklyn Nets' Game 5 loss in Miami, and he skipped their end-of-season press session on Thursday. Head coach Jason Kidd said that Garnett would be welcomed back if he wants to keep playing:
Jason Kidd said #Nets definitely want Kevin Garnett back next season and he has a decision to make. Said it's tough knowing when to retire.

— Rod Boone (@rodboone) May 15, 2014
Kidd on KG: "The biggest thing & concerns that I've talked to him about is you don't want to leave with someone carrying you off the court."

— Rod Boone (@rodboone) May 15, 2014
Garnett, who is 37 years old and just finished his 19th season, obviously did not look like his younger self with Brooklyn. He did get better in the second half of the year, though, and made a difference in the Nets' Game 6 and 7 wins against the Toronto Raptors in the first round. Kidd had him on a nightly limit of 20-to-25 minutes, and he averaged 20.5 minutes in 54 regular-season appearances.
If he returns, Garnett will make $12 million next season. General manager Billy King told reporters that he spoke with him on the team plane flying back from Miami, via the New York Times' Andrew Keh, and that King told Garnett he didn't need an answer right away.
That $12 million would be a lot of money to turn down, but Garnett has not given any indication what his plans are. He started at center when Brooklyn turned its season around after Brook Lopez broke his foot, and next year, if he returns, it might have to play a reduced role.
Spike Lee couldn't be happier after learning the Phil Jackson era is over in New York

Reports came late Tuesday night that Jackson's job in New York was not secure

Could this have an effect on Carmelo Anthony's future in New York? What about Kristaps Por...
Chicago needs to decide whether to pay Rondo $13.4M next season or buy him out for $3M

Rose played in 64 games for the Knicks before a season-ending knee injury

Durant chose an odd way to shout out his former OKC teammate