Mavericks' Dirk Nowitzki says he comes 'close' to hating the Heat
Dallas Mavericks forward Dirk Nowiztki says he doesn't really hate much, but where the Miami Heat are concerned, it's close.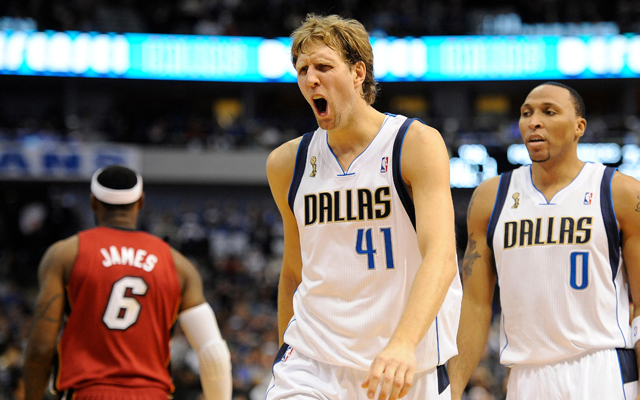 Dallas Mavericks' forward Dirk Nowitzki has a history with the Miami Heat. They took away his first shot at a championship when Dwyane Wade went nuts against them in the 2006 NBA Finals. Nowitzki and his teammates blew a 2-0 lead in the series and lost in six games. In 2011, Nowitzki got his revenge by taking down the vaunted Big 3 of the Heat in the NBA Finals and finally getting his ring.
So all of those battles should be water under the bridge, right? Not necessarily. Nowitzki went on Dallas radio on Friday and told the interviewers that he basically hates the Miami Heat. Dirk is a fiery guy on the court but off the court he's always seemed so mild-mannered and easygoing. He can't really hate the Heat, right? Via ESPN Dallas:
"In life, I don't really hate much," Nowitzki said Friday on ESPN Dallas 103.3 FM's "Fitzsimmons and Durrett" after taking batting practice to prepare for his Heroes celebrity baseball game. "I'm an easygoing guy, but that's probably about as close as it gets."
The Miami Heat are certainly a polarizing team. Just look around in comment sections on the Internet or message boards. People love discussing the Heat, their players and just how underappreciated or overrated they are. They love making fun of Chris Bosh and Dwyane Wade. They love touting and tearing down LeBron James' legacy. It's just something that The Decision has fueled in the basketball community.
Coach Erik Spoelstra coming out and saying that the 2013 NBA Finals victory over the San Antonio Spurs was the toughest series the Heat had played in also didn't help Dirk's feelings about the team, apparently. 
"He might have preferred to say 'the toughest series that we won,'" Nowitzki said. "Yeah, for sure, the way they fought that out in Game 7 was an unbelievable series, but we did get 'em."
Regardless, Nowitzki can be added to the people in the basketball community who are upset about the Heat. 
Show Comments
Hide Comments
Thunder fans used the term 'cupcake' in reference to Durant after he left OKC in free agen...

There appeared to be some wishful thinking on the part of Charlotte general manager Rich C...

Thompson is one of the best shooters in the league, but it appears dunking isn't his speci...
Cuban was willing to part ways with employees who leaked ahead of the official announcemen...

Draymond wasn't mad about the move, though. He was mad about the way he heard about it

All-Star forward was sent from the Bulls to the Timberwolves on draft night