Report: Clippers considering signing Stephen Jackson
Los Angeles desperate for wing depth after injuries to perimeter corps.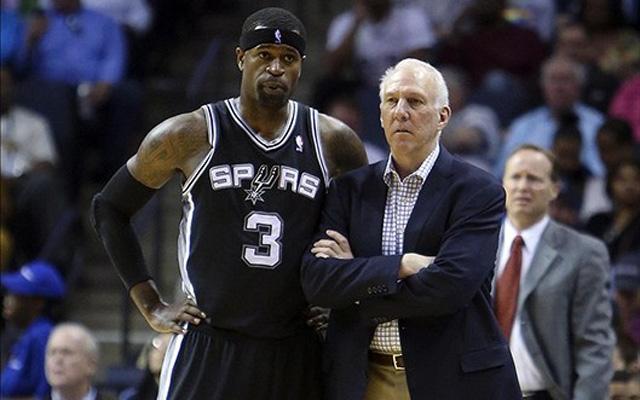 ESPN reports the Los Angeles Clippers are giving thought to signing former Spurs and Warriors wing Stephen Jackson in the wake of a rash of perimeter injuries that have crushed the team's depth.
The Los Angeles Clippers are strongly considering the signing of former San Antonio Spurs swingman Stephen Jackson to fill their growing need on the wing, according to sources familiar with the team's thinking.

Sources told ESPN.com that Jackson, who has been searching for a new team since his sudden release by the Spurs shortly before last season's playoffs in April, has emerged as a prime candidate for the Clippers to sign as early as this week after a series of injuries have decimated L.A.'s depth.
The Clippers are without J.J. Redick, Matt Barnes, and rookie Reggie Bullock with injuries. 
Jackson last played for the Spurs before an attitude schism between he and Gregg Popovich forced San Antonio to waive him last year. Since then he's been working out for several teams, posting a lot on Instagram and focusing on his rap career. He provides a lot of what the Clippers want and need, a veteran wing who can defend and shoot, but you have to wonder if both age and time away from the game will impact those areas too much.
It's also unclear how this might affect the team's plans to sign Lamar Odom, which they've reportedly been in talks to do over the past few weeks. 
Jackson, 35, averaged six points and three assists last year for San Antonio on 37 percent shooting from the field. 
Show Comments
Hide Comments
Never go up against the G.O.A.T., kids.

Knicks star would not walk a thousand miles for you.

The problem is, all the reasons he lists are basketball reasons
Everything sounds good in the summer

The thing is, he's a good and relatively cheap player

What role will the youngster play in L.A.'s hopeful resurgence?